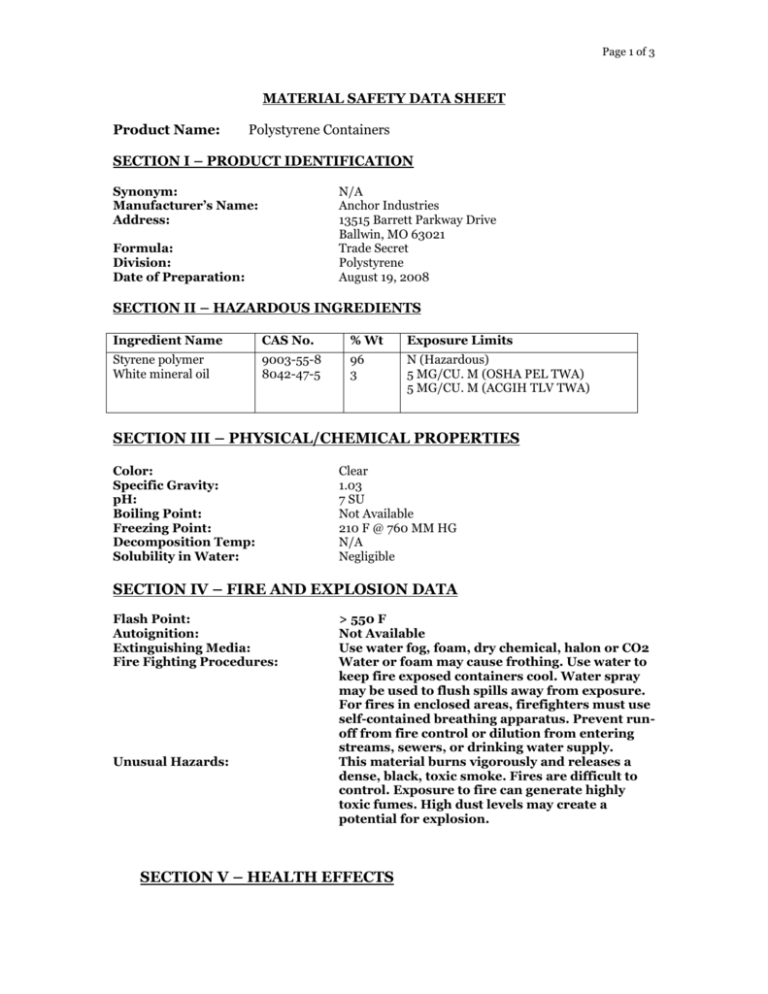 Page 1 of 3
MATERIAL SAFETY DATA SHEET
Product Name:
Polystyrene Containers
SECTION I – PRODUCT IDENTIFICATION
Synonym:
Manufacturer's Name:
Address:
N/A
Anchor Industries
13515 Barrett Parkway Drive
Ballwin, MO 63021
Trade Secret
Polystyrene
August 19, 2008
Formula:
Division:
Date of Preparation:
SECTION II – HAZARDOUS INGREDIENTS
Ingredient Name
CAS No.
% Wt
Exposure Limits
Styrene polymer
White mineral oil
9003-55-8
8042-47-5
96
3
N (Hazardous)
5 MG/CU. M (OSHA PEL TWA)
5 MG/CU. M (ACGIH TLV TWA)
SECTION III – PHYSICAL/CHEMICAL PROPERTIES
Color:
Specific Gravity:
pH:
Boiling Point:
Freezing Point:
Decomposition Temp:
Solubility in Water:
Clear
1.03
7 SU
Not Available
210 F @ 760 MM HG
N/A
Negligible
SECTION IV – FIRE AND EXPLOSION DATA
Flash Point:
Autoignition:
Extinguishing Media:
Fire Fighting Procedures:
Unusual Hazards:
> 550 F
Not Available
Use water fog, foam, dry chemical, halon or CO2
Water or foam may cause frothing. Use water to
keep fire exposed containers cool. Water spray
may be used to flush spills away from exposure.
For fires in enclosed areas, firefighters must use
self-contained breathing apparatus. Prevent runoff from fire control or dilution from entering
streams, sewers, or drinking water supply.
This material burns vigorously and releases a
dense, black, toxic smoke. Fires are difficult to
control. Exposure to fire can generate highly
toxic fumes. High dust levels may create a
potential for explosion.
SECTION V – HEALTH EFFECTS
Page 2 of 3
Eyes:
Immediately rinse eyes with running water for 15
minutes. If irritation develops, seek medical attention.
Skin:
If burned by contact with hot material, cool molten
material adhering to skin as quickly as possible with
water and get medical assistance for removal of adhering
of material and treatment of burns.
Ingestion:
If swallowed, dilute with water and immediately induce
vomiting. Never give fluids or induce vomiting if the
victim is unconscious or having convulsions.
Inhalation:
Move to fresh air. Aid in breathing, if necessary, and get
immediate medical attention.
Special Precautions:
None known
SECTION VI – REACTIVITY DATA
Stability Data:
Stable
Incompatibility:
Strong oxidizers, and aromatic and chlorinated
hydrocarbons.
Conditions/Hazards to Avoid:
Excessive temperatures
Hazardous Decomposition/Polymerization:
Hazardous Decomposition Products: Carbon monoxide, possibly
hydrocarbon fragments, monomers, acrolein,
acids, ketones and aldehydes.
Polymerization:
Does not occur
Corrosive Properties:
Not available
Oxidizer Properties:
Not available
SECTION VII – SPILL OR LEAK PROCEDURES
General:
Spills should be contained, solidified, and placed
in suitable containers for disposal in a licensed
facility. Wear appropriate respiratory protection
and protective clothing and provide adequate
ventilation during clean-up.
Waste Disposal:
Incinerate in a licensed facility. Do not discharge
into waterways or sewer systems.
Page 3 of 3
Container Disposal:
Dispose of in a licensed facility. Recommend
crushing or other means to prevent
unauthorized reuse.
SECTION VIII – EXPOSURE CONTROLS/PERSONAL PROTECTION
Ventilation Requirements:
Local exhaust should be used to control the emission of
air contaminants.
Personal Protective Equipment:
Eye/Face:
Wear chemical safety goggles/glasses to prevent eye
contact.
Respiratory:
If dusts are generated, wear an approved dust respirator.
Other Protective
Clothing/Equipment:
Gloves, coveralls, apron and boots as necessary to
prevent contact.
SECTION IX – STORAGE AND HANDLING
General:
Store in a cool area.
SECTION X – DISCLAIMER OF LIABILITY
As the conditions or methods of use are beyond our control, we do not
assume any responsibility and expressly disclaim any liability for any
use of this material. Information contained herein is believed to be true
and accurate, but all our suggestions are made without warranty,
express or implied, regarding accuracy of the information, the hazards
connected with the used of the material or the results to be obtained from the use thereof.
Compliance with all applicable Federal, State, and
Local laws and regulations remains the responsibility of the user.