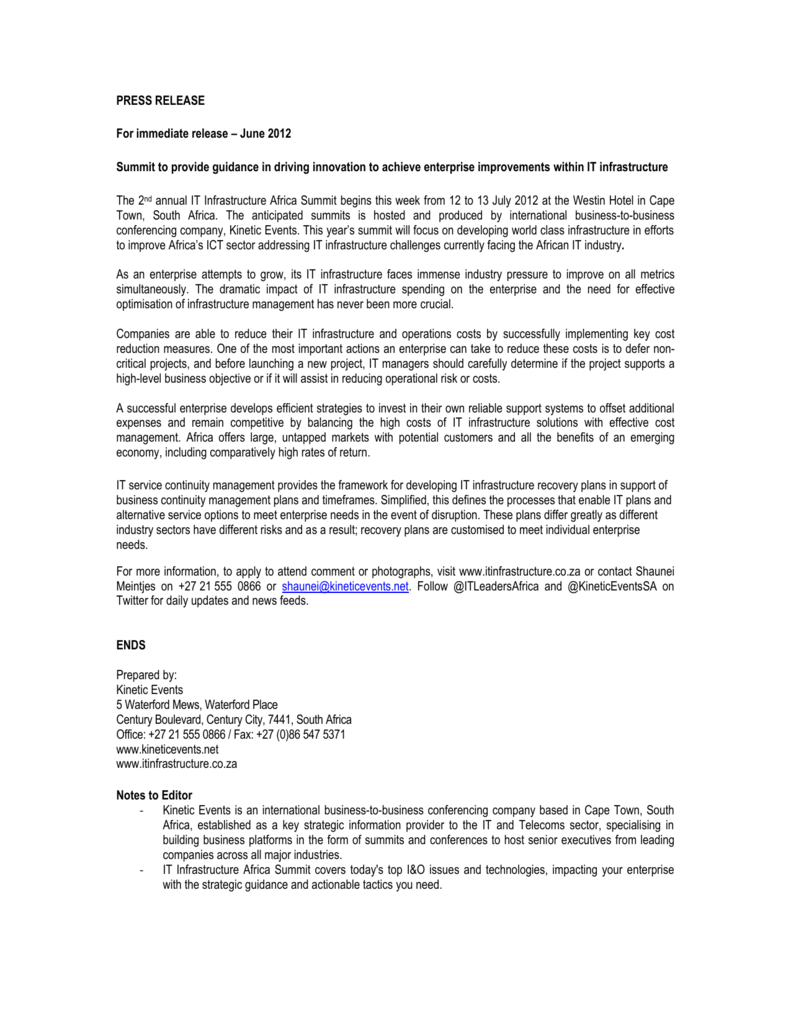 PRESS RELEASE
For immediate release – June 2012
Summit to provide guidance in driving innovation to achieve enterprise improvements within IT infrastructure
The 2nd annual IT Infrastructure Africa Summit begins this week from 12 to 13 July 2012 at the Westin Hotel in Cape
Town, South Africa. The anticipated summits is hosted and produced by international business-to-business
conferencing company, Kinetic Events. This year's summit will focus on developing world class infrastructure in efforts
to improve Africa's ICT sector addressing IT infrastructure challenges currently facing the African IT industry.
As an enterprise attempts to grow, its IT infrastructure faces immense industry pressure to improve on all metrics
simultaneously. The dramatic impact of IT infrastructure spending on the enterprise and the need for effective
optimisation of infrastructure management has never been more crucial.
Companies are able to reduce their IT infrastructure and operations costs by successfully implementing key cost
reduction measures. One of the most important actions an enterprise can take to reduce these costs is to defer noncritical projects, and before launching a new project, IT managers should carefully determine if the project supports a
high-level business objective or if it will assist in reducing operational risk or costs.
A successful enterprise develops efficient strategies to invest in their own reliable support systems to offset additional
expenses and remain competitive by balancing the high costs of IT infrastructure solutions with effective cost
management. Africa offers large, untapped markets with potential customers and all the benefits of an emerging
economy, including comparatively high rates of return.
IT service continuity management provides the framework for developing IT infrastructure recovery plans in support of
business continuity management plans and timeframes. Simplified, this defines the processes that enable IT plans and
alternative service options to meet enterprise needs in the event of disruption. These plans differ greatly as different
industry sectors have different risks and as a result; recovery plans are customised to meet individual enterprise
needs.
For more information, to apply to attend comment or photographs, visit www.itinfrastructure.co.za or contact Shaunei
Meintjes on +27 21 555 0866 or [email protected] Follow @ITLeadersAfrica and @KineticEventsSA on
Twitter for daily updates and news feeds.
ENDS
Prepared by:
Kinetic Events
5 Waterford Mews, Waterford Place
Century Boulevard, Century City, 7441, South Africa
Office: +27 21 555 0866 / Fax: +27 (0)86 547 5371
www.kineticevents.net
www.itinfrastructure.co.za
Notes to Editor
Kinetic Events is an international business-to-business conferencing company based in Cape Town, South
Africa, established as a key strategic information provider to the IT and Telecoms sector, specialising in
building business platforms in the form of summits and conferences to host senior executives from leading
companies across all major industries.
IT Infrastructure Africa Summit covers today's top I&O issues and technologies, impacting your enterprise
with the strategic guidance and actionable tactics you need.
-
Discover how to deliver IT projects and services that enable business growth and innovation while
successfully leveraging existing resources and investments. Advance your goal of operational excellence
and powerfully demonstrate the value of your IT organization to the business at large.