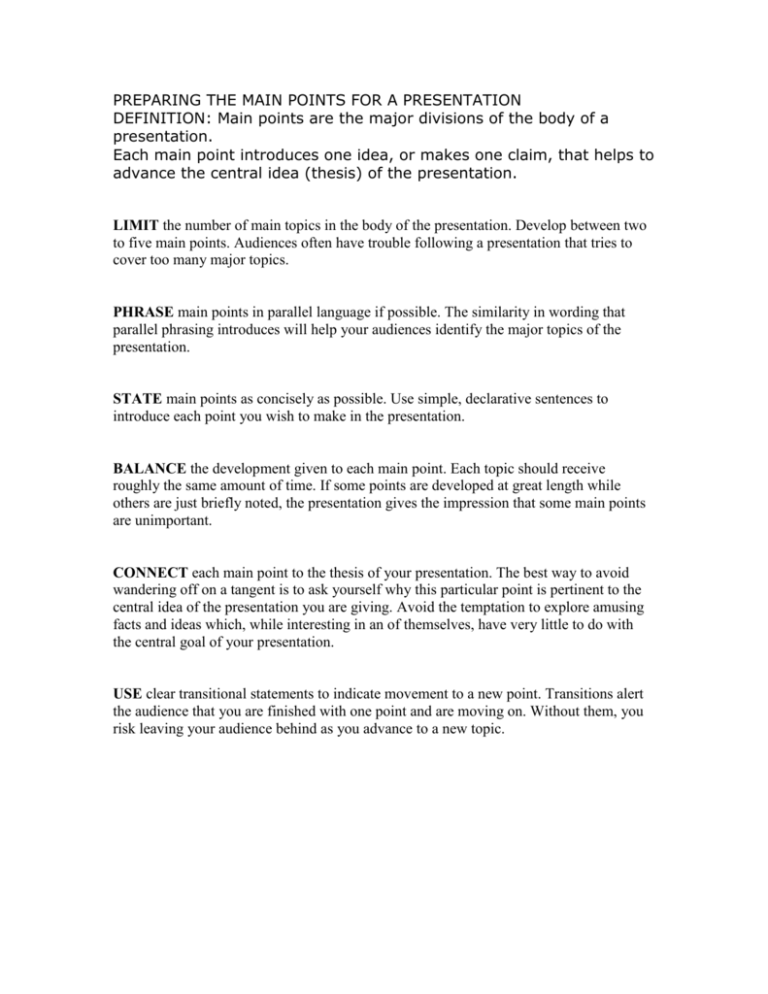 PREPARING THE MAIN POINTS FOR A PRESENTATION
DEFINITION: Main points are the major divisions of the body of a
presentation.
Each main point introduces one idea, or makes one claim, that helps to
advance the central idea (thesis) of the presentation.
LIMIT the number of main topics in the body of the presentation. Develop between two
to five main points. Audiences often have trouble following a presentation that tries to
cover too many major topics.
PHRASE main points in parallel language if possible. The similarity in wording that
parallel phrasing introduces will help your audiences identify the major topics of the
presentation.
STATE main points as concisely as possible. Use simple, declarative sentences to
introduce each point you wish to make in the presentation.
BALANCE the development given to each main point. Each topic should receive
roughly the same amount of time. If some points are developed at great length while
others are just briefly noted, the presentation gives the impression that some main points
are unimportant.
CONNECT each main point to the thesis of your presentation. The best way to avoid
wandering off on a tangent is to ask yourself why this particular point is pertinent to the
central idea of the presentation you are giving. Avoid the temptation to explore amusing
facts and ideas which, while interesting in an of themselves, have very little to do with
the central goal of your presentation.
USE clear transitional statements to indicate movement to a new point. Transitions alert
the audience that you are finished with one point and are moving on. Without them, you
risk leaving your audience behind as you advance to a new topic.