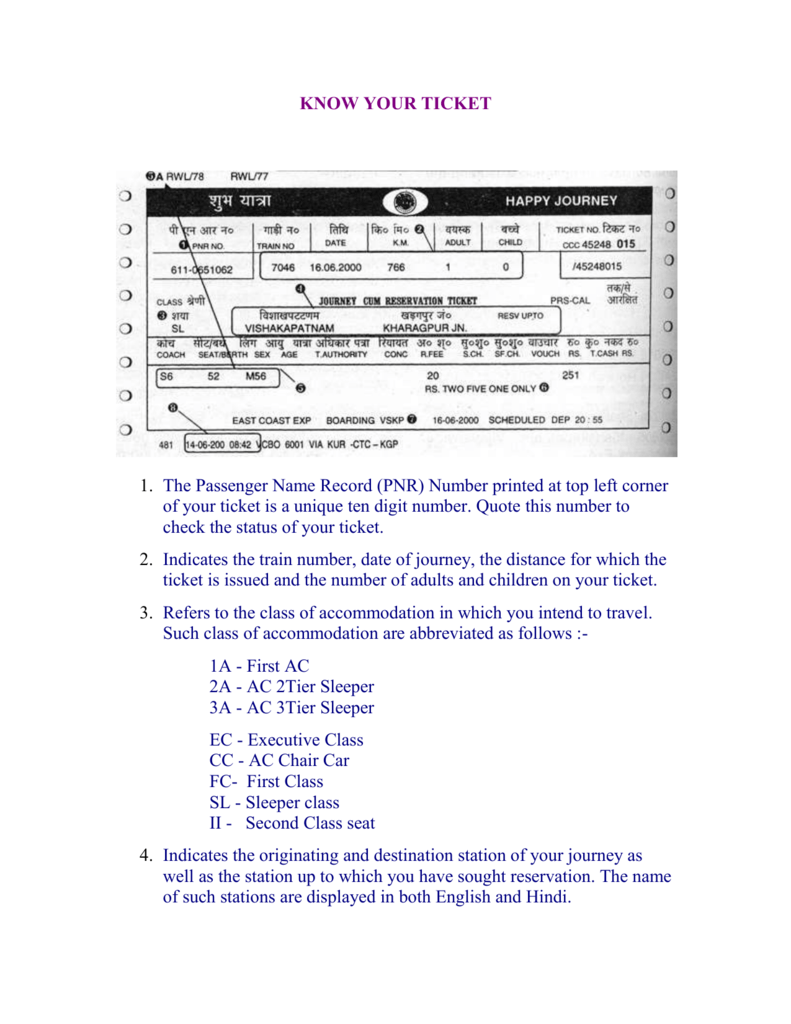 KNOW YOUR TICKET
1. The Passenger Name Record (PNR) Number printed at top left corner
of your ticket is a unique ten digit number. Quote this number to
check the status of your ticket.
2. Indicates the train number, date of journey, the distance for which the
ticket is issued and the number of adults and children on your ticket.
3. Refers to the class of accommodation in which you intend to travel.
Such class of accommodation are abbreviated as follows :1A - First AC
2A - AC 2Tier Sleeper
3A - AC 3Tier Sleeper
EC - Executive Class
CC - AC Chair Car
FC- First Class
SL - Sleeper class
II - Second Class seat
4. Indicates the originating and destination station of your journey as
well as the station up to which you have sought reservation. The name
of such stations are displayed in both English and Hindi.
5. Indicates the confirmed status of your ticket viz. Coach no. S6,
Berth/Seat No. 52, Sex: M (Male)/ F (Female), Age: 56. In case you
have a AC First Class or First Class Ticket , the coach number or
seat/berth number is not displayed. The word confirmed will be
displayed instead. Such passengers may ascertain their actual
accommodation status from the reservation chart.
5A. indicates your waitlisted position. Two such wait list numbers are
indicated; the first, is the running waiting list number and the second,
the current waiting list number at the time of booking your ticket. The
former is unique for a given train, date, route and class combination you
are traveling on. Please look at the reservation chart with reference to
your running waiting list number to instantly ascertain the final status of
your ticket.
6. Indicates the amount paid for your ticket, both in words and figures.
This may include charges such as reservation fee i.e.R FEE_, Super
fast charges (SF.CH.) and voucher charges (VOUCH) .CONC
indicates the concession code, for eg. STDNT means students
concession, SRCTZN means Senior Citizen, etc.
7. Displays the name of the train, your boarding station and the date and
time of your travel.
8. Displays the date and time you bought your ticket.