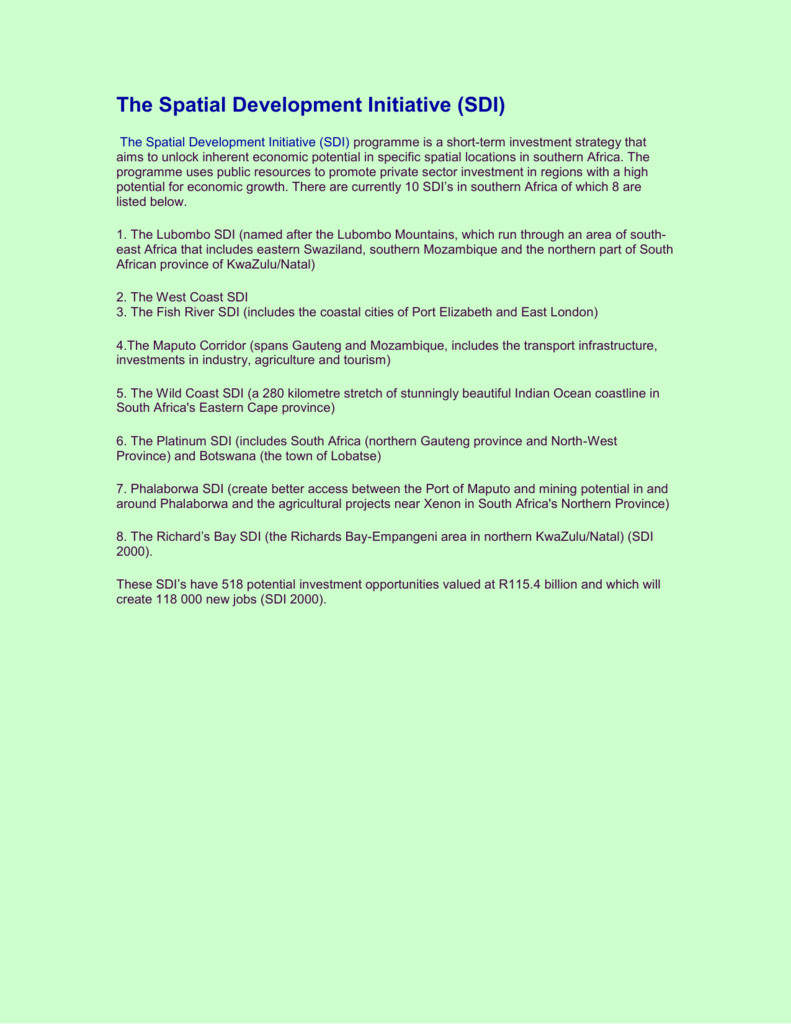 The Spatial Development Initiative (SDI)
The Spatial Development Initiative (SDI) programme is a short-term investment strategy that
aims to unlock inherent economic potential in specific spatial locations in southern Africa. The
programme uses public resources to promote private sector investment in regions with a high
potential for economic growth. There are currently 10 SDI's in southern Africa of which 8 are
listed below.
1. The Lubombo SDI (named after the Lubombo Mountains, which run through an area of southeast Africa that includes eastern Swaziland, southern Mozambique and the northern part of South
African province of KwaZulu/Natal)
2. The West Coast SDI
3. The Fish River SDI (includes the coastal cities of Port Elizabeth and East London)
4.The Maputo Corridor (spans Gauteng and Mozambique, includes the transport infrastructure,
investments in industry, agriculture and tourism)
5. The Wild Coast SDI (a 280 kilometre stretch of stunningly beautiful Indian Ocean coastline in
South Africa's Eastern Cape province)
6. The Platinum SDI (includes South Africa (northern Gauteng province and North-West
Province) and Botswana (the town of Lobatse)
7. Phalaborwa SDI (create better access between the Port of Maputo and mining potential in and
around Phalaborwa and the agricultural projects near Xenon in South Africa's Northern Province)
8. The Richard's Bay SDI (the Richards Bay-Empangeni area in northern KwaZulu/Natal) (SDI
2000).
These SDI's have 518 potential investment opportunities valued at R115.4 billion and which will
create 118 000 new jobs (SDI 2000).