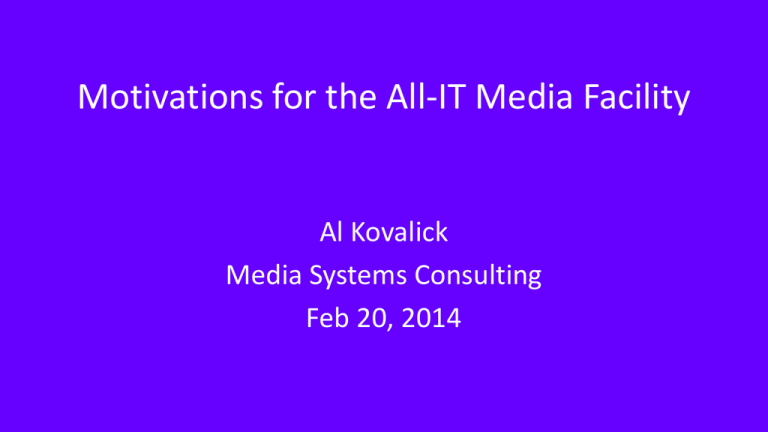 Motivations for the All-IT Media Facility
Al Kovalick
Media Systems Consulting
Feb 20, 2014
Migration Patterns
Traditional
AV
Cloud-grade
Traditional
IT
private/public
Six Undeniable Technical Trends
Moore's Observation
4TB
Transistor on Chip Density Growth 2x/2Yr
❶
Wikipedia
❷
Disc Storage Capacity Growth ~60%/Yr
❹
•
•
•
•
•
•
❸
Metcalf's Law
- Connectivity
(160K)
Everything is virtualized
On-demand resources
Scale, agility
Persistent storage
Speed of deployment
Proven ROI in the enterprise
SaaS, Web Apps
❺
"Software is dead" – Marc Benioff
Web Apps (SaaS or captive) are the future of the UI.
Any location, browser based, not installed; Gmail…
Desktop Virtualization has a share too.
Ethernet Celebrated its 40th anniversary in May of 2013
@2017 – 400 Gb/s Ethernet,
1Tb/s in 2024
~300 3G SDI links will
fit into one 1 Tb link
Switches/Routers
$21B in 2013 (IDC, 2013)
❻
Leveraging the Trends
Facility Core and Edge Views
Core IT
Infrastructure
Core Facility
IT
Edge becomes smaller
and more IT friendly
over time.
Hybrid AV+IT
for many years.
Cloud
resources
S/M/L/XL, fixed, mobile
Edge; AV consoles, capture/display devices, I/O legacy, SDI
But, is Ethernet/IP up to the streaming challenge?
Packetized AV Streaming ?





Lossless QoS, low delay
Mammoth rates (HD, UHD, 4K, 8K)
Point to multipoint
Sync'd
Frame switched …?
Three Methods to Packet Stitch AV Streams
1. Source Timed control method
• Not as SDI switching. Frame accurate effect
2. Switched Timed control method
• As SDI switching, stream switch during VBI. Frame accurate
3. Destination Timed control method
• Not as SDI switching. Destination assists in "splicing" two streams.
Frame accurate effect.
A→B
A→B
Video
at C
To all nodes
A
A→B
B
A→B
A
X
B
Source Timed;
- UDP Port ID
- Multicast Groups
- Other ways
C
Destination Timed;
Switch Timed;
- VBI line switch (~SDI)
- Controller or switch timed
- SDN methods
1.
2.
3.
4.
Receive A
Receive A + B (2x)
Switch A to B
Receive B
Codecs Reduce the 4K/8K Burden
Video Codec
Raw Video
10b 4:2:2
UHD/4K/8K
•
•
•
•
Visually lossless (6:1)
Very low latency; few lines
"cheap and simple"
Frame switchable
10G
Form
UHD/60
8K/60
SDI
12G
48G
Rate w/codec
2G
8G
Form
HD/60
SDI
3G
Rate w/codec
.5G
Ethernet
1G
CHEAP!
Progress from JTF-Networked Media
• JTF received 136 User Stories
• I want to losslessly stream AV using Ethernet…because…
• Distilled to ~16 Super User Stories
• Received technology from 27 companies/groups (RFT)
• Published Final Summary Report in December 2013 (117 pages)
Path to the Interoperable All-IT Facility
•
•
•
•
•
•
Demand "no proprietary, no closed solutions"; IT COTS
Standardize "SDI Payload over L2/L3" (2022-6)
Standardize frame accurate switch method(s)
Select audio over L2/L3 method (AES 67, AVB?)
Define best practices for network path QoS (loss, delay)
Leverage all things IT/Cloud; cloud first, ask why not.