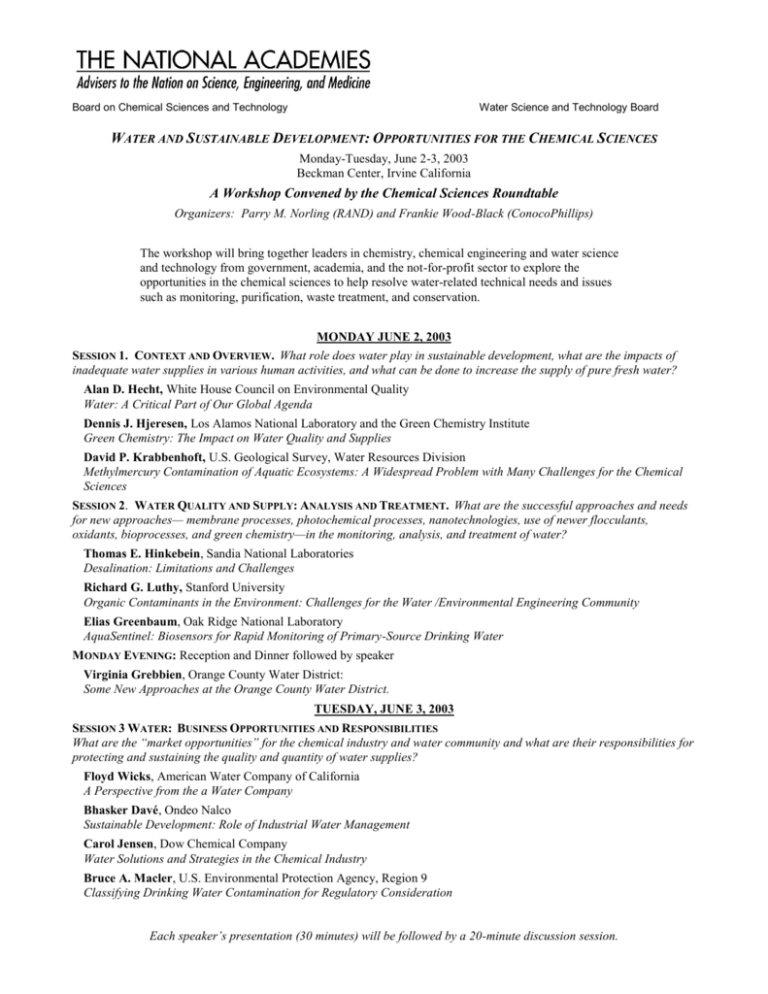 Board on Chemical Sciences and Technology
Water Science and Technology Board
WATER AND SUSTAINABLE DEVELOPMENT: OPPORTUNITIES FOR THE CHEMICAL SCIENCES
Monday-Tuesday, June 2-3, 2003
Beckman Center, Irvine California
A Workshop Convened by the Chemical Sciences Roundtable
Organizers: Parry M. Norling (RAND) and Frankie Wood-Black (ConocoPhillips)
The workshop will bring together leaders in chemistry, chemical engineering and water science
and technology from government, academia, and the not-for-profit sector to explore the
opportunities in the chemical sciences to help resolve water-related technical needs and issues
such as monitoring, purification, waste treatment, and conservation.
MONDAY JUNE 2, 2003
SESSION 1. CONTEXT AND OVERVIEW. What role does water play in sustainable development, what are the impacts of
inadequate water supplies in various human activities, and what can be done to increase the supply of pure fresh water?
Alan D. Hecht, White House Council on Environmental Quality
Water: A Critical Part of Our Global Agenda
Dennis J. Hjeresen, Los Alamos National Laboratory and the Green Chemistry Institute
Green Chemistry: The Impact on Water Quality and Supplies
David P. Krabbenhoft, U.S. Geological Survey, Water Resources Division
Methylmercury Contamination of Aquatic Ecosystems: A Widespread Problem with Many Challenges for the Chemical
Sciences
SESSION 2. WATER QUALITY AND SUPPLY: ANALYSIS AND TREATMENT. What are the successful approaches and needs
for new approaches— membrane processes, photochemical processes, nanotechnologies, use of newer flocculants,
oxidants, bioprocesses, and green chemistry—in the monitoring, analysis, and treatment of water?
Thomas E. Hinkebein, Sandia National Laboratories
Desalination: Limitations and Challenges
Richard G. Luthy, Stanford University
Organic Contaminants in the Environment: Challenges for the Water /Environmental Engineering Community
Elias Greenbaum, Oak Ridge National Laboratory
AquaSentinel: Biosensors for Rapid Monitoring of Primary-Source Drinking Water
MONDAY EVENING: Reception and Dinner followed by speaker
Virginia Grebbien, Orange County Water District:
Some New Approaches at the Orange County Water District.
TUESDAY, JUNE 3, 2003
SESSION 3 WATER: BUSINESS OPPORTUNITIES AND RESPONSIBILITIES
What are the "market opportunities" for the chemical industry and water community and what are their responsibilities for
protecting and sustaining the quality and quantity of water supplies?
Floyd Wicks, American Water Company of California
A Perspective from the a Water Company
Bhasker Davé, Ondeo Nalco
Sustainable Development: Role of Industrial Water Management
Carol Jensen, Dow Chemical Company
Water Solutions and Strategies in the Chemical Industry
Bruce A. Macler, U.S. Environmental Protection Agency, Region 9
Classifying Drinking Water Contamination for Regulatory Consideration
Each speaker's presentation (30 minutes) will be followed by a 20-minute discussion session.