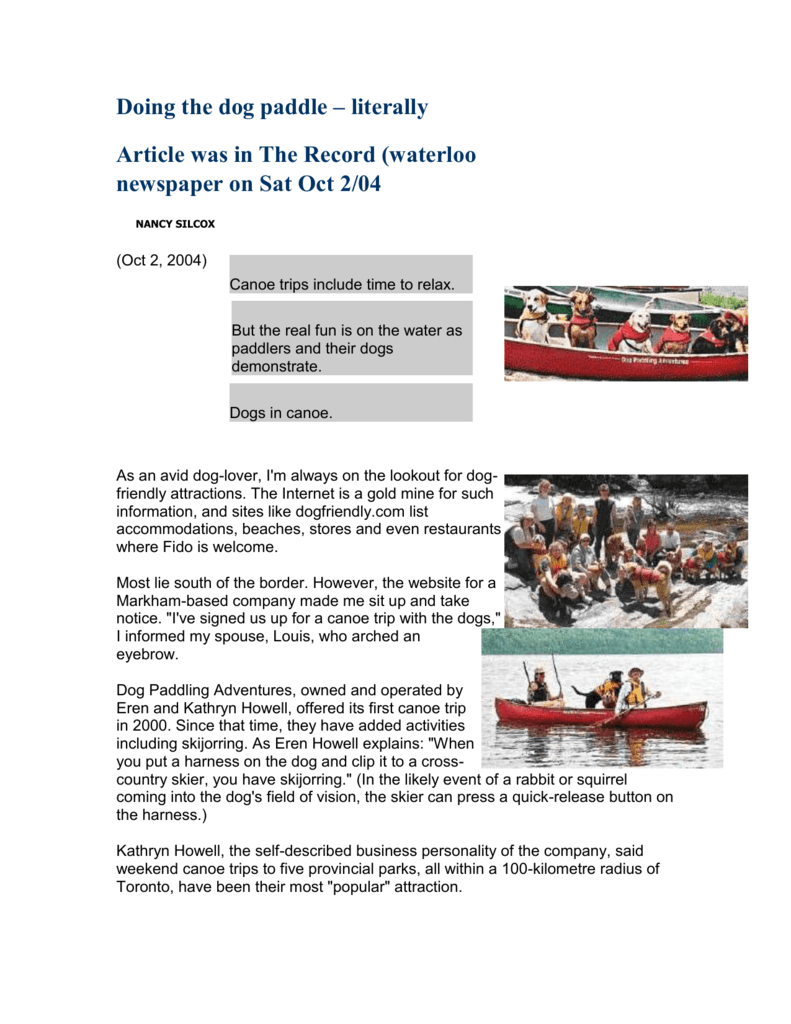 Doing the dog paddle – literally
Article was in The Record (waterloo
newspaper on Sat Oct 2/04
NANCY SILCOX
(Oct 2, 2004)
Canoe trips include time to relax.
But the real fun is on the water as
paddlers and their dogs
demonstrate.
Dogs in canoe.
As an avid dog-lover, I'm always on the lookout for dogfriendly attractions. The Internet is a gold mine for such
information, and sites like dogfriendly.com list
accommodations, beaches, stores and even restaurants
where Fido is welcome.
Most lie south of the border. However, the website for a
Markham-based company made me sit up and take
notice. "I've signed us up for a canoe trip with the dogs,"
I informed my spouse, Louis, who arched an
eyebrow.
Dog Paddling Adventures, owned and operated by
Eren and Kathryn Howell, offered its first canoe trip
in 2000. Since that time, they have added activities
including skijorring. As Eren Howell explains: "When
you put a harness on the dog and clip it to a crosscountry skier, you have skijorring." (In the likely event of a rabbit or squirrel
coming into the dog's field of vision, the skier can press a quick-release button on
the harness.)
Kathryn Howell, the self-described business personality of the company, said
weekend canoe trips to five provincial parks, all within a 100-kilometre radius of
Toronto, have been their most "popular" attraction.
Eren Howell, a whitewater and flatwater paddler, is the manpower behind Dog
Paddling Adventures. Having worked for several years as a professional guide
on humans-only excursions, he saw a niche howling to be filled. "After we got
Jessie (a blue-eyed husky-Akita cross breed), I started taking her on the hikes
and paddling trips I led," he explained. "People would say they wished that they
had been able to bring their own pet along."
The Howells now cater to every level of activity and expertise. Beginner-level
outings don't require paddling, hiking or camping experience for either human or
dog. Everything is provided, from tents, canoes and lifejackets to meals and
snacks.
A one-day hike, including lunch, admission to parks and a guide, runs about $50
per person and dog. Extended hikes or paddling trips run to $699 per person for
a seven-day Algonquin Park canoe trip. This year, the Howells added a five-day
"ruff water adventure" on the Madawaska River for more adventurous clients. It
costs $525 per person and dog.
For us, the one-day Toronto Harbour Paddle seemed to be a good place to
begin. Although Louis and I are experienced canoeists, our two golden retrievers
are less comfortable in a boat. Indeed, one of our "girls," Amber, is downright
unpredictable on the water. On her first canoe outing down the muddy Nith River
late last summer, she sailed over the side of the craft and headed for a small
island off in the distance in hot pursuit of a bird.
We hoped for less commotion in the big city. Eren and dog Jessie, and assistant
Donna Steele and her pooch, Rose, welcomed 13 humans and 12 dogs at our
meeting place, the Toronto Harbourfront Kayak and Canoe Club.
We were an eclectic mix. The canines included a pug lapdog, two timid beagles,
a high-sprung springer spaniel, one wheaten terrier, our two goldens, a
handsome Bernese mountain dog and a several pooches of undetermined
parentage. One such beast was bent on mounting all four-legged canoeists,
regardless of sex or size.
Our craft for the day was a large Voyageur canoe. Our destination: the Toronto
islands, just off the shoreline. Only a 15-minute journey by ferry, the islands are a
leisurely one-hour trip by canoe.
For the most part, while humans paddled and got acquainted, the dogs hunkered
low in the bottom of the canoe. Both guides kept an eye out for speeding motor
boats and ferries throwing off their substantial wakes.
Having advertised "swimming opportunities for the dogs," the company did not
disappoint. Twelve exuberant canines rushed Toronto Island's public beach.
Fortunately, the weekend had been rainy and few human swimmers were testing
the waters.
Paula and Sharon Welke of Guelph recalled their recent hike to Mono Hills with
their sheltie, Snickers: "Shelties don't like the water and aren't known for their
swimming ability, but for some reason Snickers decided to follow a bunch of labs
into the pond. He flew into the water like he knew what he was doing, and sank
like a stone."
Tess the Bernese and Bubba the pug provided our comic relief. As we relaxed
while our guides prepared a lunch of cold cuts, bread, veggies and cheese, Tess
snatched a generous stack of Piller's roast beef in her jaws and headed for the
hills, with Eren in hot pursuit. Generously, the Bernese shared his tasty beef with
several other hounds.
In late afternoon, we paddled back to the mainland. Several minutes into the trip,
a splash and a shriek, ''Bubba!'' came from the back of the canoe. Dog
overboard, someone yelled, and Howell scooped the surprised pug back into the
canoe, showing us why the dogs' lifejackets have handles.
After a goodbye snack of watermelon for the people and Meaty Rollover for the
dogs, it was over -- for now. Exercise, good food, like-minded companions and
fun. What more could a dog-lover ask?
Next time, we plan a day of hiking in the fall colours of the Albion Hills -- dogs
welcome, of course.
Nancy Silcox lives in New Hamburg.