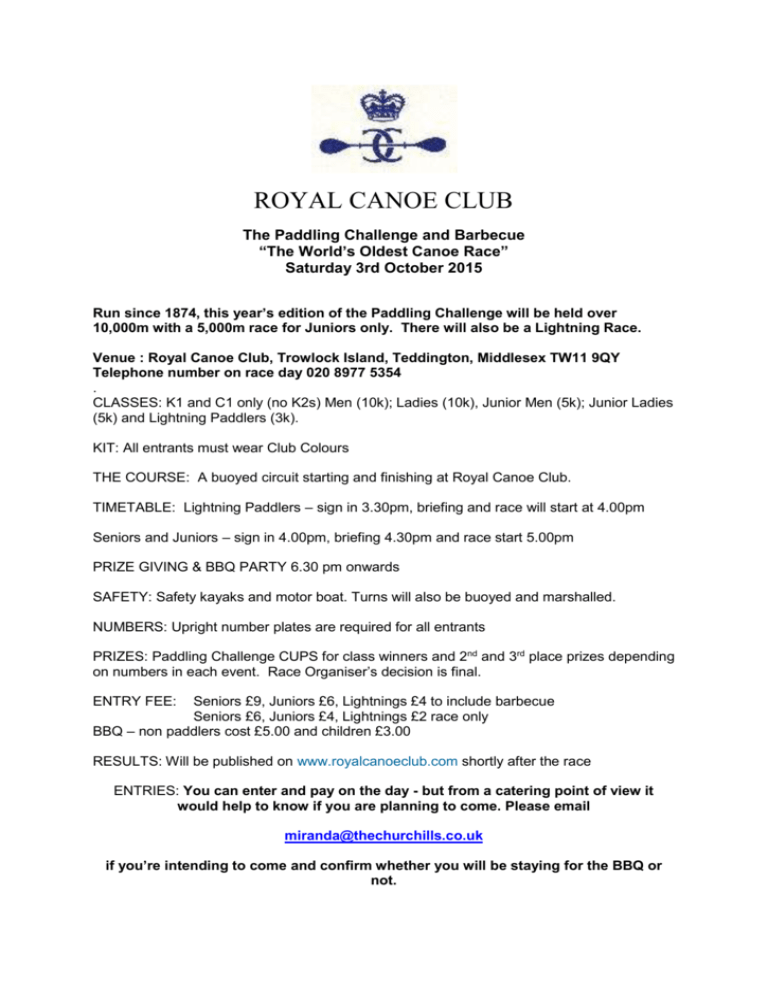 ROYAL CANOE CLUB
The Paddling Challenge and Barbecue
"The World's Oldest Canoe Race"
Saturday 3rd October 2015
Run since 1874, this year's edition of the Paddling Challenge will be held over
10,000m with a 5,000m race for Juniors only. There will also be a Lightning Race.
Venue : Royal Canoe Club, Trowlock Island, Teddington, Middlesex TW11 9QY
Telephone number on race day 020 8977 5354
.
CLASSES: K1 and C1 only (no K2s) Men (10k); Ladies (10k), Junior Men (5k); Junior Ladies
(5k) and Lightning Paddlers (3k).
KIT: All entrants must wear Club Colours
THE COURSE: A buoyed circuit starting and finishing at Royal Canoe Club.
TIMETABLE: Lightning Paddlers – sign in 3.30pm, briefing and race will start at 4.00pm
Seniors and Juniors – sign in 4.00pm, briefing 4.30pm and race start 5.00pm
PRIZE GIVING & BBQ PARTY 6.30 pm onwards
SAFETY: Safety kayaks and motor boat. Turns will also be buoyed and marshalled.
NUMBERS: Upright number plates are required for all entrants
PRIZES: Paddling Challenge CUPS for class winners and 2nd and 3rd place prizes depending
on numbers in each event. Race Organiser's decision is final.
ENTRY FEE:
Seniors £9, Juniors £6, Lightnings £4 to include barbecue
Seniors £6, Juniors £4, Lightnings £2 race only
BBQ – non paddlers cost £5.00 and children £3.00
RESULTS: Will be published on www.royalcanoeclub.com shortly after the race
ENTRIES: You can enter and pay on the day - but from a catering point of view it
would help to know if you are planning to come. Please email
miranda@thechurchills.co.uk
if you're intending to come and confirm whether you will be staying for the BBQ or
not.
(plus an indication of any friends, family or supporters who are
accompanying you and who may wish to eat).