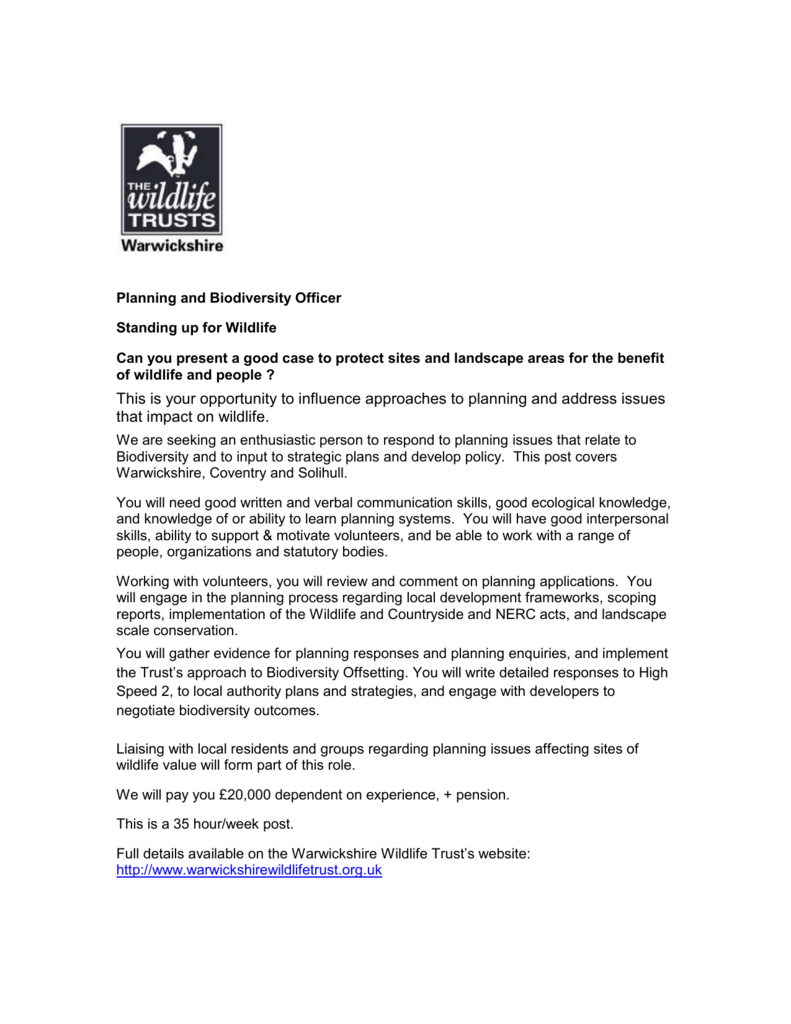 Planning and Biodiversity Officer
Standing up for Wildlife
Can you present a good case to protect sites and landscape areas for the benefit
of wildlife and people ?
This is your opportunity to influence approaches to planning and address issues
that impact on wildlife.
We are seeking an enthusiastic person to respond to planning issues that relate to
Biodiversity and to input to strategic plans and develop policy. This post covers
Warwickshire, Coventry and Solihull.
You will need good written and verbal communication skills, good ecological knowledge,
and knowledge of or ability to learn planning systems. You will have good interpersonal
skills, ability to support & motivate volunteers, and be able to work with a range of
people, organizations and statutory bodies.
Working with volunteers, you will review and comment on planning applications. You
will engage in the planning process regarding local development frameworks, scoping
reports, implementation of the Wildlife and Countryside and NERC acts, and landscape
scale conservation.
You will gather evidence for planning responses and planning enquiries, and implement
the Trust's approach to Biodiversity Offsetting. You will write detailed responses to High
Speed 2, to local authority plans and strategies, and engage with developers to
negotiate biodiversity outcomes.
Liaising with local residents and groups regarding planning issues affecting sites of
wildlife value will form part of this role.
We will pay you £20,000 dependent on experience, + pension.
This is a 35 hour/week post.
Full details available on the Warwickshire Wildlife Trust's website:
http://www.warwickshirewildlifetrust.org.uk
Warwickshire Wildlife Trust is keen to encourage applicants from all sections of the
community.
Closing date:
Interview:
6th January 2015
14th or 15th January 2015.