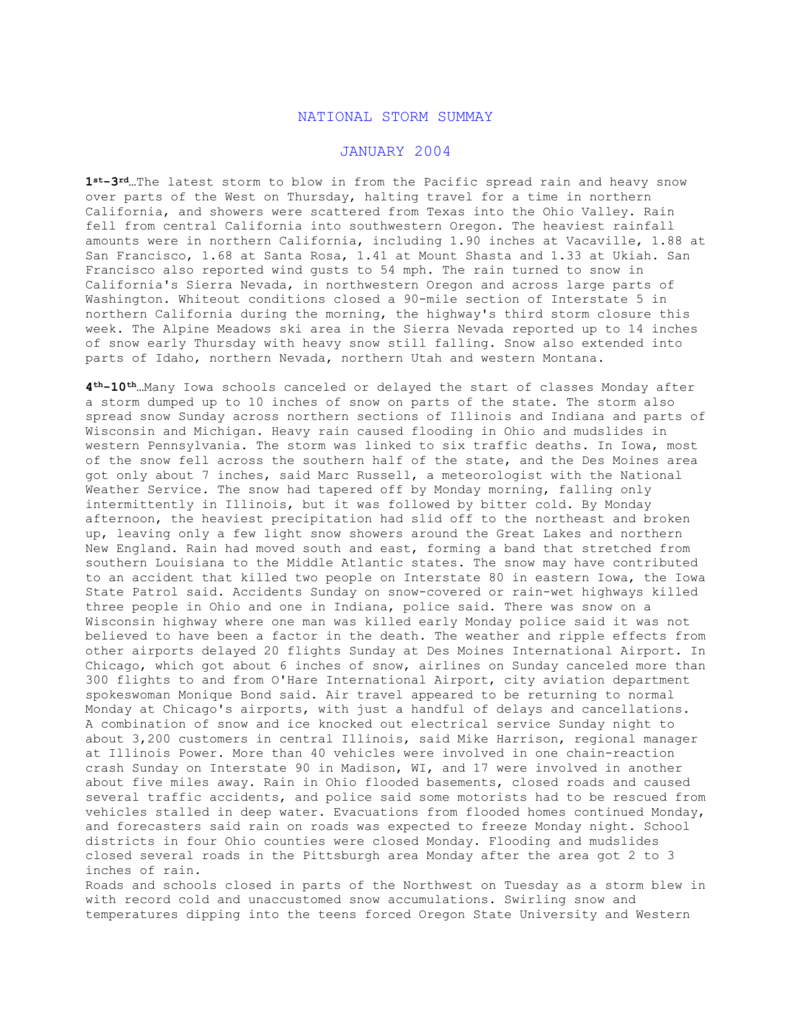 NATIONAL STORM SUMMAY
JANUARY 2004
1st-3rd…The latest storm to blow in from the Pacific spread rain and heavy snow
over parts of the West on Thursday, halting travel for a time in northern
California, and showers were scattered from Texas into the Ohio Valley. Rain
fell from central California into southwestern Oregon. The heaviest rainfall
amounts were in northern California, including 1.90 inches at Vacaville, 1.88 at
San Francisco, 1.68 at Santa Rosa, 1.41 at Mount Shasta and 1.33 at Ukiah. San
Francisco also reported wind gusts to 54 mph. The rain turned to snow in
California's Sierra Nevada, in northwestern Oregon and across large parts of
Washington. Whiteout conditions closed a 90-mile section of Interstate 5 in
northern California during the morning, the highway's third storm closure this
week. The Alpine Meadows ski area in the Sierra Nevada reported up to 14 inches
of snow early Thursday with heavy snow still falling. Snow also extended into
parts of Idaho, northern Nevada, northern Utah and western Montana.
4th-10th…Many Iowa schools canceled or delayed the start of classes Monday after
a storm dumped up to 10 inches of snow on parts of the state. The storm also
spread snow Sunday across northern sections of Illinois and Indiana and parts of
Wisconsin and Michigan. Heavy rain caused flooding in Ohio and mudslides in
western Pennsylvania. The storm was linked to six traffic deaths. In Iowa, most
of the snow fell across the southern half of the state, and the Des Moines area
got only about 7 inches, said Marc Russell, a meteorologist with the National
Weather Service. The snow had tapered off by Monday morning, falling only
intermittently in Illinois, but it was followed by bitter cold. By Monday
afternoon, the heaviest precipitation had slid off to the northeast and broken
up, leaving only a few light snow showers around the Great Lakes and northern
New England. Rain had moved south and east, forming a band that stretched from
southern Louisiana to the Middle Atlantic states. The snow may have contributed
to an accident that killed two people on Interstate 80 in eastern Iowa, the Iowa
State Patrol said. Accidents Sunday on snow-covered or rain-wet highways killed
three people in Ohio and one in Indiana, police said. There was snow on a
Wisconsin highway where one man was killed early Monday police said it was not
believed to have been a factor in the death. The weather and ripple effects from
other airports delayed 20 flights Sunday at Des Moines International Airport. In
Chicago, which got about 6 inches of snow, airlines on Sunday canceled more than
300 flights to and from O'Hare International Airport, city aviation department
spokeswoman Monique Bond said. Air travel appeared to be returning to normal
Monday at Chicago's airports, with just a handful of delays and cancellations.
A combination of snow and ice knocked out electrical service Sunday night to
about 3,200 customers in central Illinois, said Mike Harrison, regional manager
at Illinois Power. More than 40 vehicles were involved in one chain-reaction
crash Sunday on Interstate 90 in Madison, WI, and 17 were involved in another
about five miles away. Rain in Ohio flooded basements, closed roads and caused
several traffic accidents, and police said some motorists had to be rescued from
vehicles stalled in deep water. Evacuations from flooded homes continued Monday,
and forecasters said rain on roads was expected to freeze Monday night. School
districts in four Ohio counties were closed Monday. Flooding and mudslides
closed several roads in the Pittsburgh area Monday after the area got 2 to 3
inches of rain.
Roads and schools closed in parts of the Northwest on Tuesday as a storm blew in
with record cold and unaccustomed snow accumulations. Swirling snow and
temperatures dipping into the teens forced Oregon State University and Western
Oregon University to close, along with dozens of school districts around the
state, including the large metro districts in Portland and the city's suburbs.
Portland's MAX light rail commuter train skidded to a stop on icy rails on some
routes, interrupting service to Portland International Airport. Snow blocked
Interstate 5 between Roseburg and Cottage Grove, in an area that has been closed
several times in recent days. In Washington, classes were canceled for the day
in Seattle and Tacoma public schools and at Evergreen State College in Olympia
and the University of Washington's Tacoma branch.
Frigid air spread out Wednesday over much of the nation, with light freezing
rain making slush of snow dumped earlier in the Pacific Northwest. Cold air
flowed over the warmer waters of the Great Lakes, producing heavy lake effect
snow in northwestern New York and elsewhere. In the West, a large and vigorous
storm system dumped widespread rain and snow. Most of the rain was in coastal
areas, with snow in the region's interior and higher elevations.
11th-17th…A blustery snowstorm combined with painfully cold arctic air descended
on the Northeast on Thursday, trapping New York-bound ferries in the ice,
grounding hundreds of flights and prompting warnings to bundle up from Maine to
Pennsylvania. Fine, powdery snow fell across much of the region, with the
mercury dipping into the single digits in some places, and -20F and -30F in
others.
25th-31st…A pair of storms spread snow, sleet and freezing rain across the
eastern half of the nation, glazing highways with treacherous ice as far south
as Georgia and closing schools and government offices Monday. The weather was
blamed for at least 34 deaths, most of them traffic related, on Sunday and
Monday. The heaviest snowfall was 23 inches at Duluth, MN, as moist air swept
inland from Lake Superior. Drifting snow closed about 70 miles of Interstate 29
overnight in North Dakota, between Fargo and Grand Forks.
Because of the I-29 shutdown, more than 250 truckers had to spend the night at
the Stamart truck stop on the outskirts of Fargo, said desk manager Michelle
Martens. One of the two storms scattered snow Monday along an arc from the
western Plains to Minnesota and Wisconsin, then eastward across the Great Lakes
into Pennsylvania and New York. Ice brought down tree branches and power lines,
knocking out electricity to thousands of customers throughout the region.
A storm carrying the threat of heavy snow for the Northeast coated a wide swath
of the East Coast in ice Tuesday, stopping trains, closing schools and courts,
and knocking out electricity to a quarter-million people. At least 48 deaths
have been blamed on snow, ice and cold from Kansas to the Carolinas since the
weekend. While one low-pressure system pushed a wave of icy weather that
stretched from Georgia into Maryland, another propelled snow across the
Midwest and Great Lakes. The two systems were converging over the Northeast,
threatening Pennsylvania, New Jersey, New York, Connecticut, Rhode Island and
Massachusetts. Freezing rain and drizzle fell from northern Georgia into
Maryland during the morning, creating a layer of ice up to an inch thick in
South Carolina. In the Midwest, snow and sleet fell across Michigan,
Indiana,Illinois and Wisconsin. Dozens of Illinois school districts called off
classes because of slippery roads.
The United Nations was shut down and more than a million children got the day
off from school Wednesday on the heels of a storm that dumped as much as 14
inches of snow in the Northeast. It was the latest in a series of storms that
have spread snow and ice across parts of the eastern half of the nation since
the weekend. Slippery roads have closed schools, businesses and some government
offices from the Plains to the East Coast. Thousands of customers still had no
electricity in the Southeast because of ice that broke tree limbs and power
lines on Tuesday. At least 56 deaths have been blamed on snow, ice and cold this
week from Kansas to the East Coast.