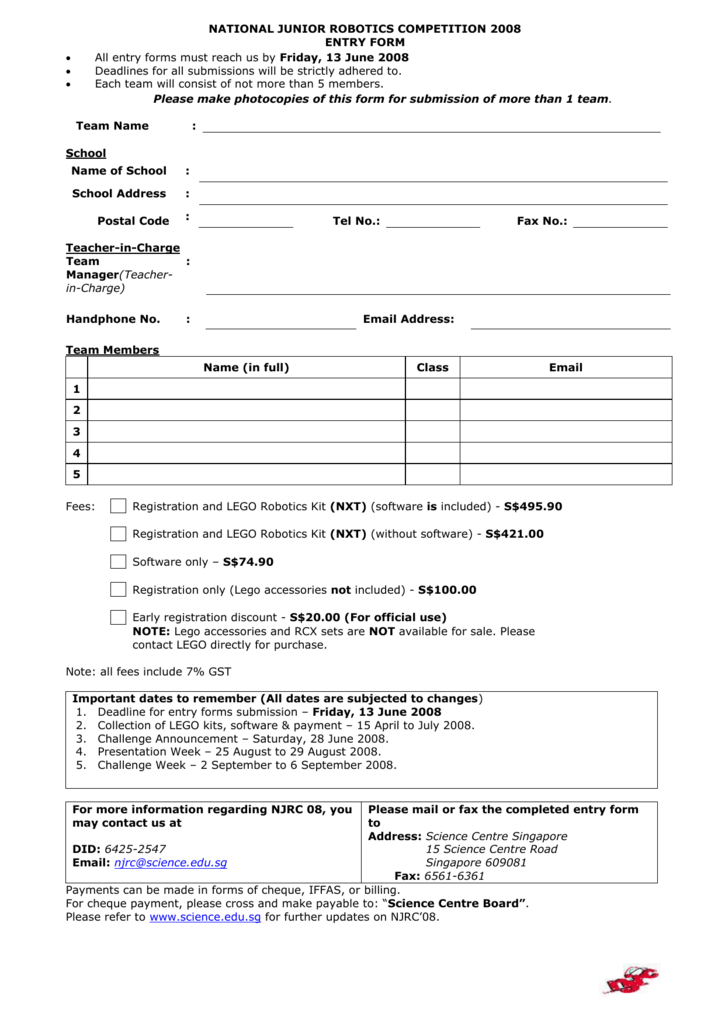 NATIONAL JUNIOR ROBOTICS COMPETITION 2008
ENTRY FORM
All entry forms must reach us by Friday, 13 June 2008
Deadlines for all submissions will be strictly adhered to.
Each team will consist of not more than 5 members.
Please make photocopies of this form for submission of more than 1 team.



Team Name
:
School
Name of School
:
School Address
:
Postal Code
:
Tel No.:
Fax No.:
Teacher-in-Charge
Team
:
Manager(Teacherin-Charge)
Handphone No.
:
Email Address:
Team Members
Name (in full)
Class
Email
1
2
3
4
5
Fees:
Registration and LEGO Robotics Kit (NXT) (software is included) - S$495.90
Registration and LEGO Robotics Kit (NXT) (without software) - S$421.00
Software only – S$74.90
Registration only (Lego accessories not included) - S$100.00
Early registration discount - S$20.00 (For official use)
NOTE: Lego accessories and RCX sets are NOT available for sale. Please
contact LEGO directly for purchase.
Note: all fees include 7% GST
Important dates to remember (All dates are subjected to changes)
1. Deadline for entry forms submission – Friday, 13 June 2008
2. Collection of LEGO kits, software & payment – 15 April to July 2008.
3. Challenge Announcement – Saturday, 28 June 2008.
4. Presentation Week – 25 August to 29 August 2008.
5. Challenge Week – 2 September to 6 September 2008.
For more information regarding NJRC 08, you
may contact us at
Please mail or fax the completed entry form
to
Address: Science Centre Singapore
DID: 6425-2547
15 Science Centre Road
Email: [email protected]
Singapore 609081
Fax: 6561-6361
Payments can be made in forms of cheque, IFFAS, or billing.
For cheque payment, please cross and make payable to: "Science Centre Board".
Please refer to www.science.edu.sg for further updates on NJRC'08.