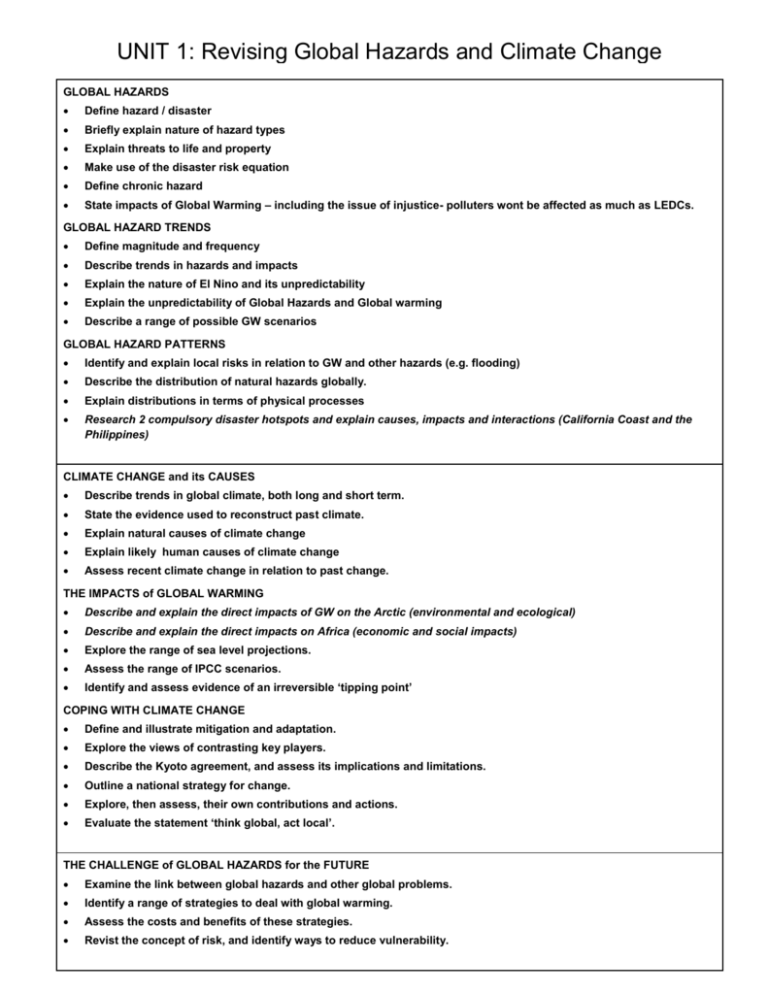 UNIT 1: Revising Global Hazards and Climate Change
GLOBAL HAZARDS

Define hazard / disaster

Briefly explain nature of hazard types

Explain threats to life and property

Make use of the disaster risk equation

Define chronic hazard

State impacts of Global Warming – including the issue of injustice- polluters wont be affected as much as LEDCs.
GLOBAL HAZARD TRENDS

Define magnitude and frequency

Describe trends in hazards and impacts

Explain the nature of El Nino and its unpredictability

Explain the unpredictability of Global Hazards and Global warming

Describe a range of possible GW scenarios
GLOBAL HAZARD PATTERNS

Identify and explain local risks in relation to GW and other hazards (e.g. flooding)

Describe the distribution of natural hazards globally.

Explain distributions in terms of physical processes

Research 2 compulsory disaster hotspots and explain causes, impacts and interactions (California Coast and the
Philippines)
CLIMATE CHANGE and its CAUSES

Describe trends in global climate, both long and short term.

State the evidence used to reconstruct past climate.

Explain natural causes of climate change

Explain likely human causes of climate change

Assess recent climate change in relation to past change.
THE IMPACTS of GLOBAL WARMING

Describe and explain the direct impacts of GW on the Arctic (environmental and ecological)

Describe and explain the direct impacts on Africa (economic and social impacts)

Explore the range of sea level projections.

Assess the range of IPCC scenarios.

Identify and assess evidence of an irreversible 'tipping point'
COPING WITH CLIMATE CHANGE

Define and illustrate mitigation and adaptation.

Explore the views of contrasting key players.

Describe the Kyoto agreement, and assess its implications and limitations.

Outline a national strategy for change.

Explore, then assess, their own contributions and actions.

Evaluate the statement 'think global, act local'.
THE CHALLENGE of GLOBAL HAZARDS for the FUTURE

Examine the link between global hazards and other global problems.

Identify a range of strategies to deal with global warming.

Assess the costs and benefits of these strategies.

Revist the concept of risk, and identify ways to reduce vulnerability.