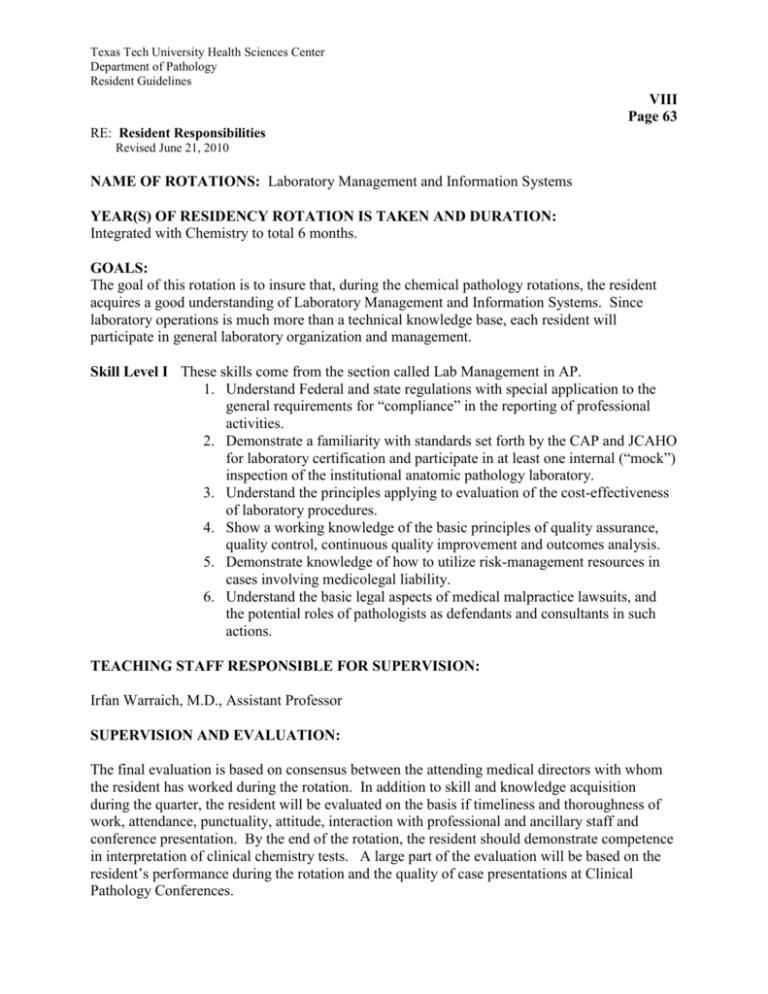 Texas Tech University Health Sciences Center
Department of Pathology
Resident Guidelines
VIII
Page 63
RE: Resident Responsibilities
Revised June 21, 2010
NAME OF ROTATIONS: Laboratory Management and Information Systems
YEAR(S) OF RESIDENCY ROTATION IS TAKEN AND DURATION:
Integrated with Chemistry to total 6 months.
GOALS:
The goal of this rotation is to insure that, during the chemical pathology rotations, the resident
acquires a good understanding of Laboratory Management and Information Systems. Since
laboratory operations is much more than a technical knowledge base, each resident will
participate in general laboratory organization and management.
Skill Level I These skills come from the section called Lab Management in AP.
1. Understand Federal and state regulations with special application to the
general requirements for "compliance" in the reporting of professional
activities.
2. Demonstrate a familiarity with standards set forth by the CAP and JCAHO
for laboratory certification and participate in at least one internal ("mock")
inspection of the institutional anatomic pathology laboratory.
3. Understand the principles applying to evaluation of the cost-effectiveness
of laboratory procedures.
4. Show a working knowledge of the basic principles of quality assurance,
quality control, continuous quality improvement and outcomes analysis.
5. Demonstrate knowledge of how to utilize risk-management resources in
cases involving medicolegal liability.
6. Understand the basic legal aspects of medical malpractice lawsuits, and
the potential roles of pathologists as defendants and consultants in such
actions.
TEACHING STAFF RESPONSIBLE FOR SUPERVISION:
Irfan Warraich, M.D., Assistant Professor
SUPERVISION AND EVALUATION:
The final evaluation is based on consensus between the attending medical directors with whom
the resident has worked during the rotation. In addition to skill and knowledge acquisition
during the quarter, the resident will be evaluated on the basis if timeliness and thoroughness of
work, attendance, punctuality, attitude, interaction with professional and ancillary staff and
conference presentation. By the end of the rotation, the resident should demonstrate competence
in interpretation of clinical chemistry tests. A large part of the evaluation will be based on the
resident's performance during the rotation and the quality of case presentations at Clinical
Pathology Conferences.