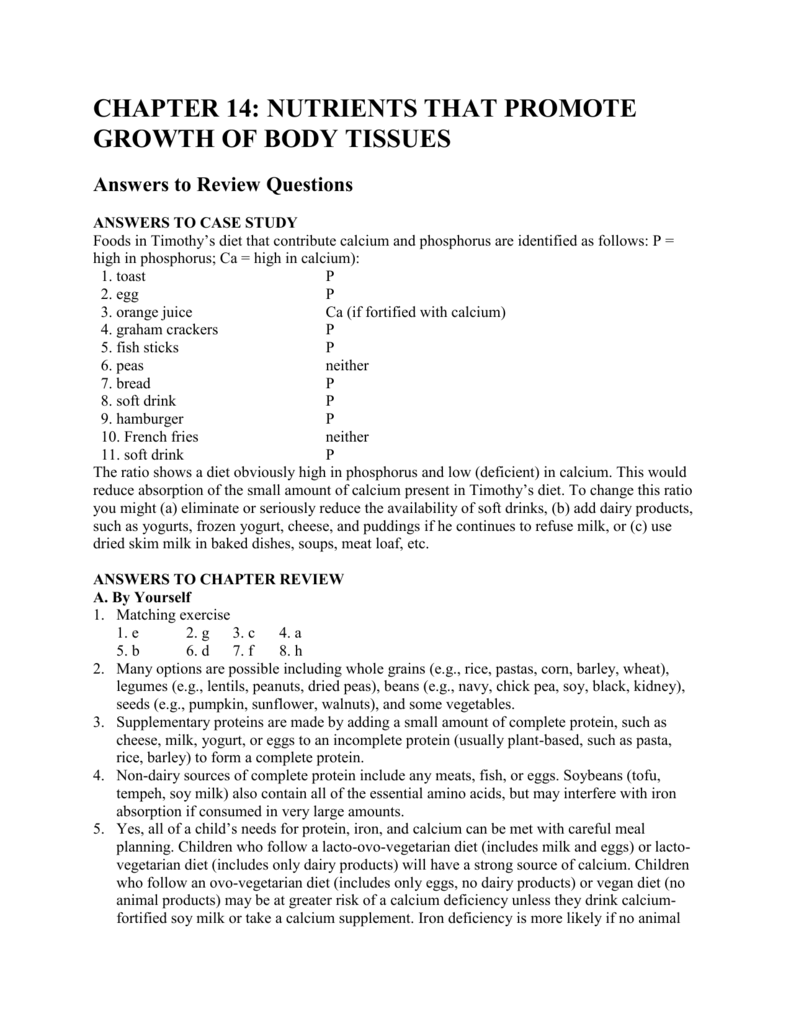 CHAPTER 14: NUTRIENTS THAT PROMOTE
GROWTH OF BODY TISSUES
Answers to Review Questions
ANSWERS TO CASE STUDY
Foods in Timothy's diet that contribute calcium and phosphorus are identified as follows: P =
high in phosphorus; Ca = high in calcium):
1. toast
P
2. egg
P
3. orange juice
Ca (if fortified with calcium)
4. graham crackers
P
5. fish sticks
P
6. peas
neither
7. bread
P
8. soft drink
P
9. hamburger
P
10. French fries
neither
11. soft drink
P
The ratio shows a diet obviously high in phosphorus and low (deficient) in calcium. This would
reduce absorption of the small amount of calcium present in Timothy's diet. To change this ratio
you might (a) eliminate or seriously reduce the availability of soft drinks, (b) add dairy products,
such as yogurts, frozen yogurt, cheese, and puddings if he continues to refuse milk, or (c) use
dried skim milk in baked dishes, soups, meat loaf, etc.
ANSWERS TO CHAPTER REVIEW
A. By Yourself
1. Matching exercise
1. e
2. g
3. c
4. a
5. b
6. d
7. f
8. h
2. Many options are possible including whole grains (e.g., rice, pastas, corn, barley, wheat),
legumes (e.g., lentils, peanuts, dried peas), beans (e.g., navy, chick pea, soy, black, kidney),
seeds (e.g., pumpkin, sunflower, walnuts), and some vegetables.
3. Supplementary proteins are made by adding a small amount of complete protein, such as
cheese, milk, yogurt, or eggs to an incomplete protein (usually plant-based, such as pasta,
rice, barley) to form a complete protein.
4. Non-dairy sources of complete protein include any meats, fish, or eggs. Soybeans (tofu,
tempeh, soy milk) also contain all of the essential amino acids, but may interfere with iron
absorption if consumed in very large amounts.
5. Yes, all of a child's needs for protein, iron, and calcium can be met with careful meal
planning. Children who follow a lacto-ovo-vegetarian diet (includes milk and eggs) or lactovegetarian diet (includes only dairy products) will have a strong source of calcium. Children
who follow an ovo-vegetarian diet (includes only eggs, no dairy products) or vegan diet (no
animal products) may be at greater risk of a calcium deficiency unless they drink calciumfortified soy milk or take a calcium supplement. Iron deficiency is more likely if no animal
products are consumed. However, most grain products, such as breads, cereals, and crackers
are fortified with iron. Also, including a source of vitamin C with meals will boost iron
absorption.
B. As a Group
1. Infants and toddlers are undergoing rapid growth which translates into a greater protein need
per pound of body weight.
2. Young children are not particularly fond of red meats which are typically high in iron
because they tend to be more difficult to chew. Because few other food sources provide as
much iron (heme iron), children may be at greater risk for a deficiency.
3. Excess fluoride can cause fluorosis− a discoloration (white or brown spots) that forms on
teeth
4. Alternative non-dairy sources of calcium can be found in salmon, broccoli, collard greens,
kale, Chinese cabbage, and soy products such as tofu and miso. However, the amount of
calcium derived from these foods is significantly less than what is found in dairy products.