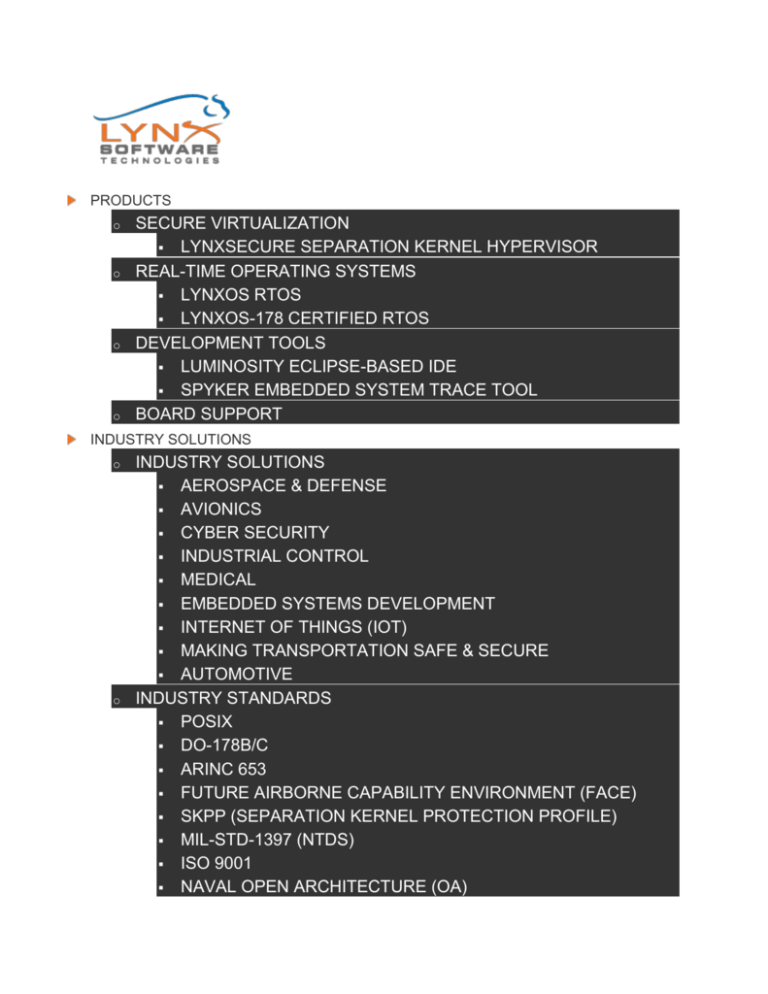 PRODUCTS
o
o
o
o
SECURE VIRTUALIZATION
 LYNXSECURE SEPARATION KERNEL HYPERVISOR
REAL-TIME OPERATING SYSTEMS
 LYNXOS RTOS
 LYNXOS-178 CERTIFIED RTOS
DEVELOPMENT TOOLS
 LUMINOSITY ECLIPSE-BASED IDE
 SPYKER EMBEDDED SYSTEM TRACE TOOL
BOARD SUPPORT
INDUSTRY SOLUTIONS
o
o
INDUSTRY SOLUTIONS
 AEROSPACE & DEFENSE
 AVIONICS
 CYBER SECURITY
 INDUSTRIAL CONTROL
 MEDICAL
 EMBEDDED SYSTEMS DEVELOPMENT
 INTERNET OF THINGS (IOT)
 MAKING TRANSPORTATION SAFE & SECURE
 AUTOMOTIVE
INDUSTRY STANDARDS
 POSIX
 DO-178B/C
 ARINC 653
 FUTURE AIRBORNE CAPABILITY ENVIRONMENT (FACE)
 SKPP (SEPARATION KERNEL PROTECTION PROFILE)
 MIL-STD-1397 (NTDS)
 ISO 9001
 NAVAL OPEN ARCHITECTURE (OA)
o
TECHNOLOGY
 REUSABLE SOFTWARE COMPONENTS (RSC)
 OS SECURITY
 VISUALIZATION SOFTWARE FOR EMBEDED SYSTEMS
 PARTITIONING OPERATING SYSTEMS
TRAINING & SUPPORT
o
o
o
RTOS & VIRTUALIZATION TRAINING
 RTOS TRAINING
 LYNXSECURE TECHNICAL TRAINING
TRAINING AT LYNX SOFTWARE TECHNOLOGIES
 COURSE SCHEDULE
 REGISTRATION
CONTACT SUPPORT
 SUBMIT A SUPPORT REQUEST
 GET A LICENSE KEY
 REQUEST PRODUCT UPDATES
 FTP SITE
 PROFESSIONAL SERVICES
 SOFTWARE CERTIFICATION SUPPORT
 TRAINING FOR EMBEDED SYTEMS
COMPANY
o
o
o
o
o
o
o
o
ABOUT LYNX SOFTWARE TECHNOLOGIES
PRESS RELEASES
WHITE PAPER & APP NOTES
EMBEDDED LYNX BLOG
EVENTS
PARTNERS
CAREERS
CONTACT US
CONTACT RESOURCES
Contact Support
Lynx Software Technologies Distributors
OUR OFFICES
WORLD HEADQUARTERS
Lynx Software Technologies
855 Embedded Way
San José, CA 95138-1018
Phone: 408-979-3900
Fax: 408-979-3920
Email: inside@lynx.com
EUROPE
Lynx Software Technologies
38 avenue Pierre Curie
78210 Saint-Cyr-l'École
France
Phone: (33) 1 30 85 06 00
Fax: (33) 1 30 85 06 06
Email: inside@lynx.com
UK
Lynx Software Technologies
400 Thames Valley Park Drive
Thames Valley Park
Reading, RG6 1PT
United Kingdom
Phone: +44 (118) 965 3827
Fax: +44 (118) 965 3840
Email: inside@lynx.com
Contact Us
Name*
First
Last
Company*
Address*
Street Address
State / Province / Region
United States
Address Line 2
ZIP / Postal Code
Country
Email*
Phone Numer*
City
State
Your Country
Which application or operating system are you interested in?*
Your question, message or comments
City
Would you like to receive Lynx Software Technologies news and events
notices?*
o
Yes
o
No
Captcha
Submit
ARTICLES
Separation Kernels Enable Rapid Development of Trustworthy Systems
Delivering Secure V2V Communications
The Critical Importance of Sicherheit in Embedded Software
Overcome IoT Security Challenges with Wireless Infrastructure
Security Connecting IoT Devices with Real-Time Operating Systems
ABOUT US
Every day, millions of people worldwide are touched by products that rely on Lynx Software
Technologies software—from Internet and phone communications, to airline flight-control
systems, office automation and medical devices. Lynx Software Technologies software
provides the hidden intelligence that empowers, protects and secures our modern world
READ MORE
UPCOMING EVENTS
02 / 23 / 2016Embedded World
02 / 29 / 2016RSA Conference
04 / 27 / 2016The Device Developers' Conference
IN THE NEWS
Embedded Lynx Blog
Press Releases
Recent White Paper & App Notes
Search
408-979-3900 - Headquarters
Contact Us
Mailing List Sign-Up
408-979-3900
© 2015 Lynx Software Technologies, Inc.