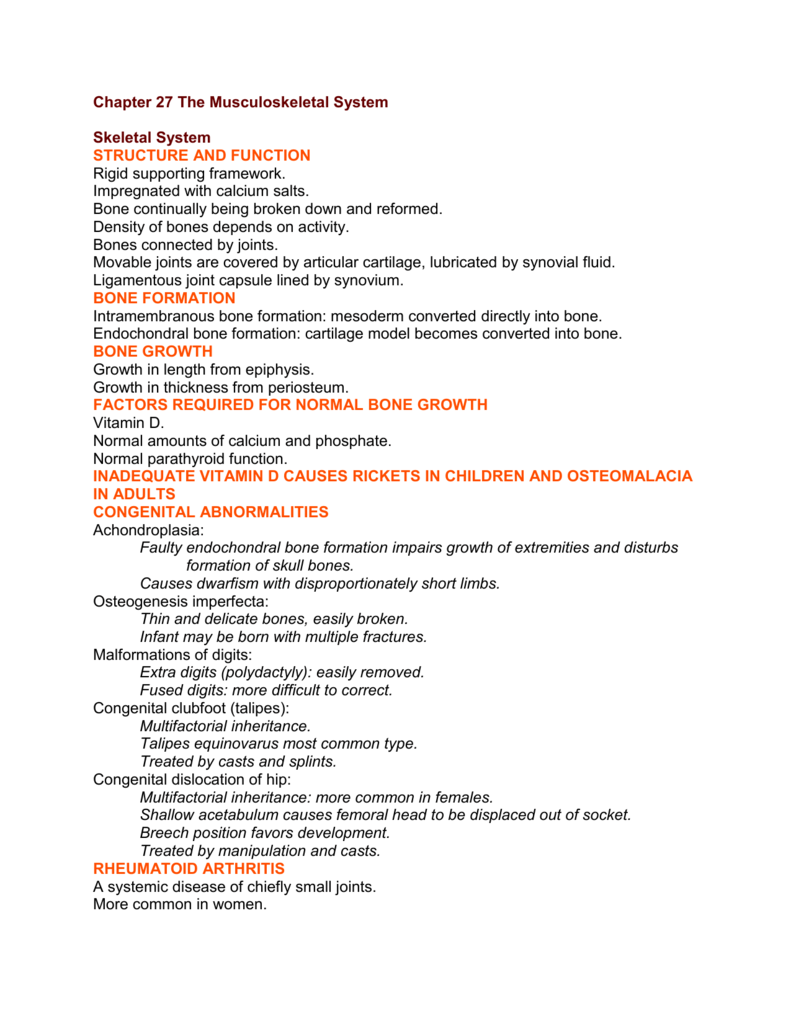 Chapter 27 The Musculoskeletal System
Skeletal System
STRUCTURE AND FUNCTION
Rigid supporting framework.
Impregnated with calcium salts.
Bone continually being broken down and reformed.
Density of bones depends on activity.
Bones connected by joints.
Movable joints are covered by articular cartilage, lubricated by synovial fluid.
Ligamentous joint capsule lined by synovium.
BONE FORMATION
Intramembranous bone formation: mesoderm converted directly into bone.
Endochondral bone formation: cartilage model becomes converted into bone.
BONE GROWTH
Growth in length from epiphysis.
Growth in thickness from periosteum.
FACTORS REQUIRED FOR NORMAL BONE GROWTH
Vitamin D.
Normal amounts of calcium and phosphate.
Normal parathyroid function.
INADEQUATE VITAMIN D CAUSES RICKETS IN CHILDREN AND OSTEOMALACIA
IN ADULTS
CONGENITAL ABNORMALITIES
Achondroplasia:
Faulty endochondral bone formation impairs growth of extremities and disturbs
formation of skull bones.
Causes dwarfism with disproportionately short limbs.
Osteogenesis imperfecta:
Thin and delicate bones, easily broken.
Infant may be born with multiple fractures.
Malformations of digits:
Extra digits (polydactyly): easily removed.
Fused digits: more difficult to correct.
Congenital clubfoot (talipes):
Multifactorial inheritance.
Talipes equinovarus most common type.
Treated by casts and splints.
Congenital dislocation of hip:
Multifactorial inheritance: more common in females.
Shallow acetabulum causes femoral head to be displaced out of socket.
Breech position favors development.
Treated by manipulation and casts.
RHEUMATOID ARTHRITIS
A systemic disease of chiefly small joints.
More common in women.
Inflammatory tissue from synovium destroys joint.
Dislocation occurs owing to joint instability.
Autoantibodies to gamma globulin demonstrated in many patients.
OSTEOARTHRITIS
"Wear and tear" degeneration of joints.
Affects major weight-bearing joints.
Usually little disability.
Severe disability can be treated by joint replacement.
GOUT
Disorder of purine metabolism.
Deposition of uric acid in and around joints.
Frequent acute episodes caused by precipitation of uric acid crystals in joint fluid.
Diet and drugs control disease by lowering uric acid.
FRACTURES
Simple: bone broken into two pieces.
Comminuted: bone shattered.
Compound: overlying skin broken with potential for infection.
Pathologic: secondary to disease such as metastatic carcinoma.
Treatment by reduction and casts or internal fixation.
OSTEOMYELITIS
Hematogenous: predominantly in children.
Occurs at ends of bone.
Spread of infection may strip periosteum from cortex and devitalize bone.
Infection may spread into joint in adults.
Infection in drug abusers tends to localize in vertebral bodies.
As a result of direct implantation: after trauma or surgical procedures.
Manifestations and treatment:
Febrile illness with localizing manifestations.
X-rays reveal changes in bone.
Treatment by antibiotics supplemented by surgical procedures if needed.
BONE TUMORS
Metastatic tumors: relatively common.
Multiple myeloma: plasma cell neoplasm.
Benign cysts and tumors: occur occasionally.
Primary malignant bone tumors: relatively rare.
OSTEOPOROSIS
Generalized thinning of bone.
Most common in postmenopausal women.
Treatment by high-calcium diet.
AVASCULAR NECROSIS
Necrosis and degeneration at ends of bone.
Probably caused by disturbance in blood supply as a result of injury.
Causes local pain and disability.
Structure and Function of the Spine
STRUCTURE
Fibrocartilaginous cushions interposed between adjacent vertebral bodies.
FUNCTION
Spine forms central axis of body.
Disks function as shock absorbers.
SCOLIOSIS
An abnormal lateral curvature of the spine.
Most cases are idiopathic and occur during adolescence.
Large curves cause pronounced disability and reduce size of thoracic cavities.
Treatment depends on extent of curvature.
Intervertebral Disk Disease
PATHOGENESIS
Disk wears out with age.
Nucleus pulposus may be extruded through tear in annulus fibrosus and impinge on
nerve roots.
Sudden onset of back pain radiating down leg.
DIAGNOSIS AND TREATMENT
Protrusion can be demonstrated by myelogram or CT scan.
Disk material may be absorbed but often must be removed surgically.
Skeletal Muscle
CONTRACTION OF SKELETAL MUSCLE
Myofilaments slide together.
Communication between nerve and muscle at myoneural junction.
Nerve stimulation liberates acetycholine, which interacts with receptors on muscle fibers
and initiates contraction.
INFLAMMATION OF MUSCLE
Localized myositis follows injury or overexertion.
Generalized myositis: a systemic disease.
HEREDITARY DISEASES CHARACTERIZED BY MUSCLE ATROPHY AND
DEGENERATION
Progressive muscular atrophy: nerve cell degeneration with secondary muscle atrophy.
Muscular dystrophy: primary degeneration of muscle.
MYASTHENIA GRAVIS
Abnormal fatigability of voluntary muscles.
Autoantibodies formed against acetylcholine receptors at myoneural junction.
Symptoms relieved by drugs that prolong action of acetylcholine.