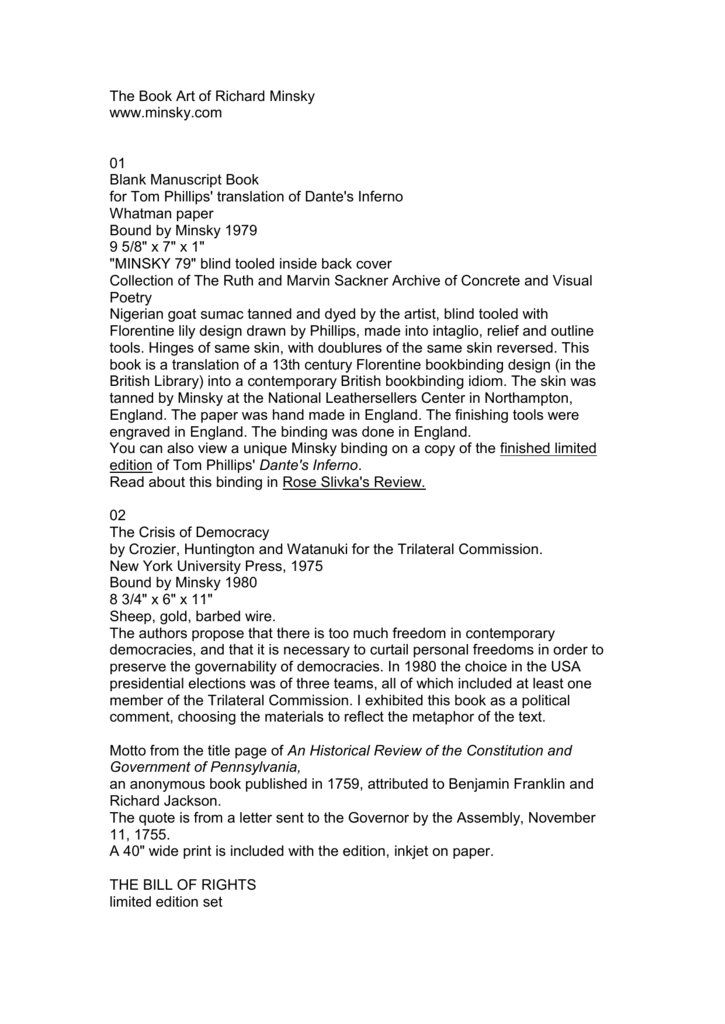 The Book Art of Richard Minsky
www.minsky.com
01
Blank Manuscript Book
for Tom Phillips' translation of Dante's Inferno
Whatman paper
Bound by Minsky 1979
9 5/8" x 7" x 1"
"MINSKY 79" blind tooled inside back cover
Collection of The Ruth and Marvin Sackner Archive of Concrete and Visual
Poetry
Nigerian goat sumac tanned and dyed by the artist, blind tooled with
Florentine lily design drawn by Phillips, made into intaglio, relief and outline
tools. Hinges of same skin, with doublures of the same skin reversed. This
book is a translation of a 13th century Florentine bookbinding design (in the
British Library) into a contemporary British bookbinding idiom. The skin was
tanned by Minsky at the National Leathersellers Center in Northampton,
England. The paper was hand made in England. The finishing tools were
engraved in England. The binding was done in England.
You can also view a unique Minsky binding on a copy of the finished limited
edition of Tom Phillips' Dante's Inferno.
Read about this binding in Rose Slivka's Review.
02
The Crisis of Democracy
by Crozier, Huntington and Watanuki for the Trilateral Commission.
New York University Press, 1975
Bound by Minsky 1980
8 3/4" x 6" x 11"
Sheep, gold, barbed wire.
The authors propose that there is too much freedom in contemporary
democracies, and that it is necessary to curtail personal freedoms in order to
preserve the governability of democracies. In 1980 the choice in the USA
presidential elections was of three teams, all of which included at least one
member of the Trilateral Commission. I exhibited this book as a political
comment, choosing the materials to reflect the metaphor of the text.
Motto from the title page of An Historical Review of the Constitution and
Government of Pennsylvania,
an anonymous book published in 1759, attributed to Benjamin Franklin and
Richard Jackson.
The quote is from a letter sent to the Governor by the Assembly, November
11, 1755.
A 40" wide print is included with the edition, inkjet on paper.
THE BILL OF RIGHTS
limited edition set
An Edition of 25 Copies of a Set of Ten Works by Richard Minsky
Since 1993 Richard Minsky has been working on a series about The Bill of
Rights. The current offering is a set of ten bookworks.
The works are not available individually.
An exhibition of the complete set was installed at the Louis K. Meisel Gallery
April 27 through June 1, 2002.
You can also view the earlier unique objects, representing the first, second,
and eighth amendments. They are not the works which will be included in this
edition. Scroll down to see the current works.
Read the review in The New York Times
Read the Review in the St. Paul Pioneer Press
The Bill of Rights edition is in the permanent collections of
Yale University Arts of the Book Collection
The Art Institute of Chicago Ryerson & Burnham Libraries
Click the links above to make an appointment to view this work.
03
Inlaid Leather Blank Book
Bound by Minsky 1983
10" x 7"
Red Nigerian Goatskin with inlay and onlay panels of a geometric design in
both covers.
Collection of Louis K. and Susan P. Meisel Galleries
Inlaid Leather Blank Book
Bound by Minsky 1983
14 3/4 x 10
Brown Nigerian goatskin with recessed panels of inlaid goatskin, blind and
gold tooled.
Head edge in related pattern, watercolor and beeswax.
04
Nineteenth Century Japanese Photo Album
Bound by Minsky 1984
12" x 9"
Black calf spine, gold leaf, enamel, varnish, polyurethane and shellac over
gessoed boards.
Album of hand-colored albumen prints. There are 35 layers of clear finishes,
paint and gold leaf that create an optical effect of extraordinary depth. The
photo above does not capture the subtle colors in the "black" areas, nor the
illusionistic depth created by the light passing through many layers that refract
it differently.
After completing this work, several other bindings were done using similar
techniques. Click on the small images below to see two of them.
04a
Enamel and Gold Leaf Binding
Blank Book
Bound by Minsky 1985
11" x 10" x 1"
Grey goatskin spine, varnished enamel and gold leaf boards, acrylic and gold
leaf endsheets "Minsky '85" signed inside back cover
04b Lacquer and Gold Leaf Binding
Blank Book
T.H. Saunders Paper
Bound by Minsky 1986
15" x 11"
Black calf spine, lacquered gold leaf and enamel over gessoed boards.
"Minsky 1986" inside back cover
04c
At the Richard Minsky 25-Year Retrospective Exhibition in 1992 sponsored by
HarperCollinsPublishers, the exhibit case pictured below featured four
lacquered bindings on blank books of handmade paper, three miniature books
of studies for geometric binding designs, and a snakeskin binding. The
bindings on the top left (blue and black) constitute a 3-volume set that creates
a continuous design when the books are lined up with both covers open, in
any order. The three on the top right are individual books in full leather
bindings with inlaid recessed lacquer and gold leaf panels.
05
Enamel and Gold Leaf Binding
Blank Book
Bound by Minsky 1985
11" x 10" x 1"
Grey goatskin spine, varnished enamel and gold leaf boards, acrylic and gold
leaf endsheets "Minsky '85" signed inside back cover
06
Gracie Mansion Register
Dieu Donné handmade paper
Bound by Minsky 1985
13" x 10"
Black Chieftain goatskin, recessed pictorial inlay of goat and vellum, blind
tooled, recessed panel with foil stamped title. Letterpress title page,
dedication and colophon, linen endbands, chain ring embedded in head edge
of back board.