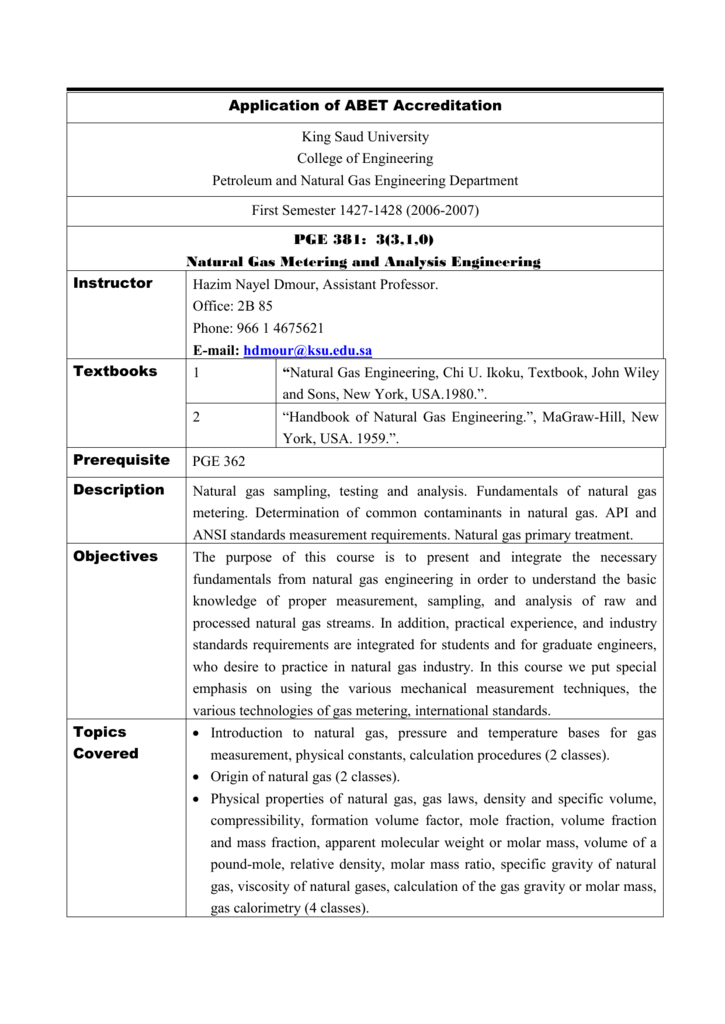 Application of ABET Accreditation
King Saud University
College of Engineering
Petroleum and Natural Gas Engineering Department
First Semester 1427-1428 (2006-2007)
PGE 381: 3(3,1,0)
Natural Gas Metering and Analysis Engineering
Instructor
Hazim Nayel Dmour, Assistant Professor.
Office: 2B 85
Phone: 966 1 4675621
E-mail: [email protected]
Textbooks
1
"Natural Gas Engineering, Chi U. Ikoku, Textbook, John Wiley
and Sons, New York, USA.1980.".
2
"Handbook of Natural Gas Engineering.", MaGraw-Hill, New
York, USA. 1959.".
Prerequisite
PGE 362
Description
Natural gas sampling, testing and analysis. Fundamentals of natural gas
metering. Determination of common contaminants in natural gas. API and
ANSI standards measurement requirements. Natural gas primary treatment.
Objectives
The purpose of this course is to present and integrate the necessary
fundamentals from natural gas engineering in order to understand the basic
knowledge of proper measurement, sampling, and analysis of raw and
processed natural gas streams. In addition, practical experience, and industry
standards requirements are integrated for students and for graduate engineers,
who desire to practice in natural gas industry. In this course we put special
emphasis on using the various mechanical measurement techniques, the
various technologies of gas metering, international standards.
Topics
 Introduction to natural gas, pressure and temperature bases for gas
Covered
measurement, physical constants, calculation procedures (2 classes).
 Origin of natural gas (2 classes).
 Physical properties of natural gas, gas laws, density and specific volume,
compressibility, formation volume factor, mole fraction, volume fraction
and mass fraction, apparent molecular weight or molar mass, volume of a
pound-mole, relative density, molar mass ratio, specific gravity of natural
gas, viscosity of natural gases, calculation of the gas gravity or molar mass,
gas calorimetry (4 classes).
 Types of natural gas, wet, sweet, and sour (2 classes).
 Field equipment, conventional separators (vertical, horizontal, spherical)
filter separators, stage separator, low temperature separators (3 classes).
 Gas measurement, introduction, methods of measurement (volumetric
measurement, displacement metering, differential pressure methods, turbine
meter, elbow meter), orifice meters, description of orifice meters, (basic
equation, computation of volumes, recording charts, orifice meter selection,
uncertainties in flow measurements, mas flow meter), Alterate methods
orifice well tester, orifice assembly with single tap, pulsating flow, critical
flow prover, open flow pitot, choke nipple tube natural gas liquid
measurement (7 classes).
 Determination of common contaminants in natural gas (3 classes).
 API (ANSI) Standard measurement requirements (4 classes).
 Natural gas primary treatment (3 classes).
Classes/Tutor Classes are held two times per week in 50 minutes lectures plus threeials
laboratory class of 150 minutes per week.
Evaluation
10% for Attendance, Participation and labor activities 10% for Quizzes and
Home works. 30% for two midterm exams and 50% for the final examination.
Improvement Some basic background and prerequisite materials are often reviewed during
Actions
this course. Course contents are regularly reviewed and up-to date materials
are quoted.
Science
Design
: 1:3
Relationship This course contributes to the general ABET objectives as well as the listed
with
ABET educational objectives of the Department of Petroleum and Natural Gas
and Program Engineering as follows:
Education
Objectives
(PEO)
ABET a to k Outcomes
Program Education Objectives (PEO)
Criterion
Applicability
Criterion
Applicability
a

1

b

2

c

3

d

4

e

5

f
--
6

g

7

h
--
i
--
J

k
Applications

Design
Design of orifice meter, venture tube and other flow
meters.
Project, Term Laboratory: Methods of measuring the flow rate in a
Paper, … etc. pipeline. Experiment, Gas Hydrates Prediction &
Control.
Computer
Recombination Problems.