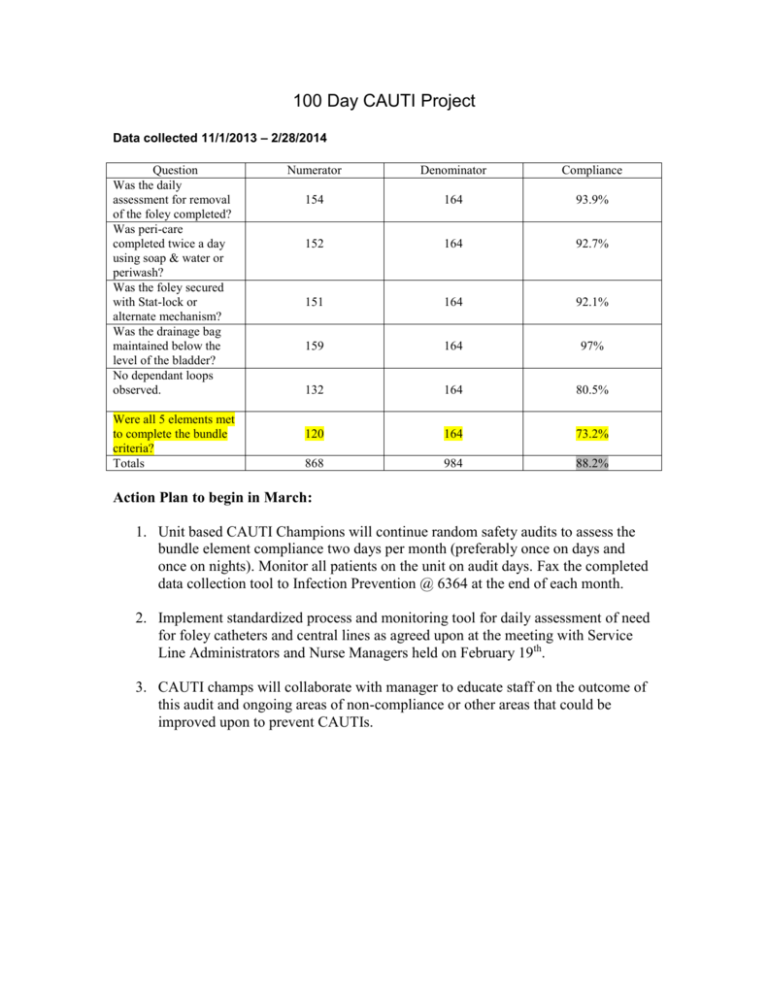 100 Day CAUTI Project
Data collected 11/1/2013 – 2/28/2014
Question
Was the daily
assessment for removal
of the foley completed?
Was peri-care
completed twice a day
using soap & water or
periwash?
Was the foley secured
with Stat-lock or
alternate mechanism?
Was the drainage bag
maintained below the
level of the bladder?
No dependant loops
observed.
Were all 5 elements met
to complete the bundle
criteria?
Totals
Numerator
Denominator
Compliance
154
164
93.9%
152
164
92.7%
151
164
92.1%
159
164
97%
132
164
80.5%
120
164
73.2%
868
984
88.2%
Action Plan to begin in March:
1. Unit based CAUTI Champions will continue random safety audits to assess the
bundle element compliance two days per month (preferably once on days and
once on nights). Monitor all patients on the unit on audit days. Fax the completed
data collection tool to Infection Prevention @ 6364 at the end of each month.
2. Implement standardized process and monitoring tool for daily assessment of need
for foley catheters and central lines as agreed upon at the meeting with Service
Line Administrators and Nurse Managers held on February 19th.
3. CAUTI champs will collaborate with manager to educate staff on the outcome of
this audit and ongoing areas of non-compliance or other areas that could be
improved upon to prevent CAUTIs.