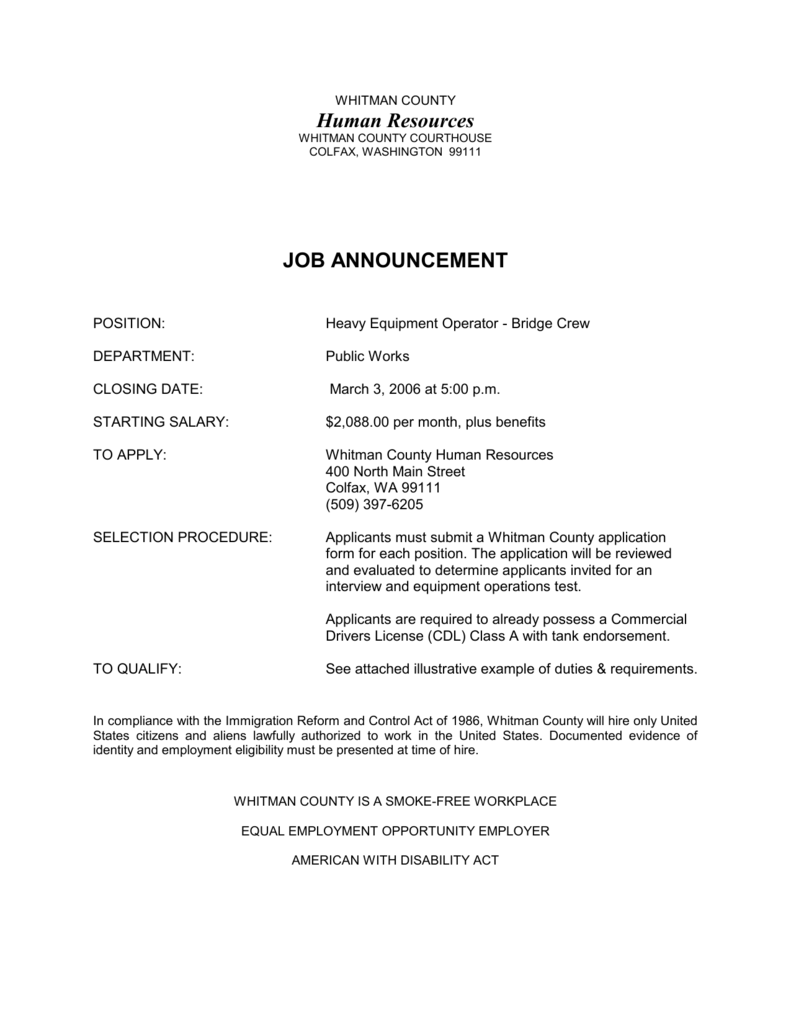 WHITMAN COUNTY
Human Resources
WHITMAN COUNTY COURTHOUSE
COLFAX, WASHINGTON 99111
JOB ANNOUNCEMENT
POSITION:
Heavy Equipment Operator - Bridge Crew
DEPARTMENT:
Public Works
CLOSING DATE:
March 3, 2006 at 5:00 p.m.
STARTING SALARY:
$2,088.00 per month, plus benefits
TO APPLY:
Whitman County Human Resources
400 North Main Street
Colfax, WA 99111
(509) 397-6205
SELECTION PROCEDURE:
Applicants must submit a Whitman County application
form for each position. The application will be reviewed
and evaluated to determine applicants invited for an
interview and equipment operations test.
Applicants are required to already possess a Commercial
Drivers License (CDL) Class A with tank endorsement.
TO QUALIFY:
See attached illustrative example of duties & requirements.
In compliance with the Immigration Reform and Control Act of 1986, Whitman County will hire only United
States citizens and aliens lawfully authorized to work in the United States. Documented evidence of
identity and employment eligibility must be presented at time of hire.
WHITMAN COUNTY IS A SMOKE-FREE WORKPLACE
EQUAL EMPLOYMENT OPPORTUNITY EMPLOYER
AMERICAN WITH DISABILITY ACT
HEAVY EQUIPMENT OPERATOR - BRIDGE CREW
BASIC PURPOSE
Perform highly skilled equipment operations, manual maintenance and other related work.
NATURE OF WORK
This is responsible bridge maintenance and construction work involving, on a continuing basis,
the safe, efficient and highly skilled operation of heavy road and bridge maintenance equipment
and the performance of manual work. Work of this class is distinguished by the higher skill level
necessary to perform the more difficult operations for which the equipment is used, and/or
significantly increased responsibility for the safety of employees working near or in conjunction
with assigned equipment. Work requires employees to exercise considerable initiative and
independent judgment in the performance and completion of assignments. This classification is
characterized by the highly skilled operation, on a continuing basis, of one or more of the
following equipment: bulldozers, hydraulic excavators, loaders, cranes and welding equipment.
Truck, tractor and trailer and rotary snow plow as may be required.
Work is normally performed in the cab of assigned equipment or outdoors in all weather
conditions.
ESSENTIAL JOB FUNCTIONS
Perform highly skilled operation of heavy road and bridge equipment in conformance with
applicable laws, procedures, and standards; detect need for equipment repair, perform
preventive and minor mechanical repair; manual labor; lifting, bending, climbing and walking in
the performance of duties; work outdoors in all weather conditions; knowledge of safety
practices.
NON-TECHNICAL ESSENTIAL JOB FUNCTIONS
Understand and carry out written and oral instructions; evaluate work situations and determine
courses of action; work independently in the performance of assigned tasks; reliability,
cooperation, flexibility, maintain effective working relationships with co-workers and the public.
EXAMPLES OF DUTIES
Operate a hydraulic excavator or crane or backhoe to perform skilled grade alignment on
ditches and culverts and extremely close tolerance work on bridges.
Operate a bulldozer moving large volumes of dirt, rock, sand or stone: cut and fill land surfaces,
in construction of County bridges.
Operate a loader to perform skilled grade alignment on ditches; load and move gravel, rock,
dirt, snow and other materials; Load materials on double and single axle trucks.
Perform a variety of manual bridge maintenance and construction assignments.
Perform skilled arc and acetylene welding work in the construction, modification, maintenance,
and repair of bridges and equipment.
Perform service and preventive maintenance on assigned equipment; assist mechanic in the
completion of repairs as required.
SELECTION CRITERIA
Knowledge
 Knowledge of the care, maintenance and safe operation of assigned equipment.
 Knowledge of the occupational hazards and safety precautions applicable to the work.
Ability
 Ability to meet criteria of essential job functions and non-technical essential job functions.
MINIMUM QUALIFICATIONS
Two (2) years of equipment operation experience, or substituting on a month for month basis,
any experience, education, or training which would demonstrate the level of knowledge and
ability required.
Able to drive a 13-speed road ranger transmission and a tandem axle truck, with a minimum of
one year of full-time driving experience in this equipment.
Possession of a valid Class 'A' Commercial Driver's License (CDL) with tank endorsement,
must have a safe driving record.
Must be able to pass a pre-employment drug screen before beginning work.