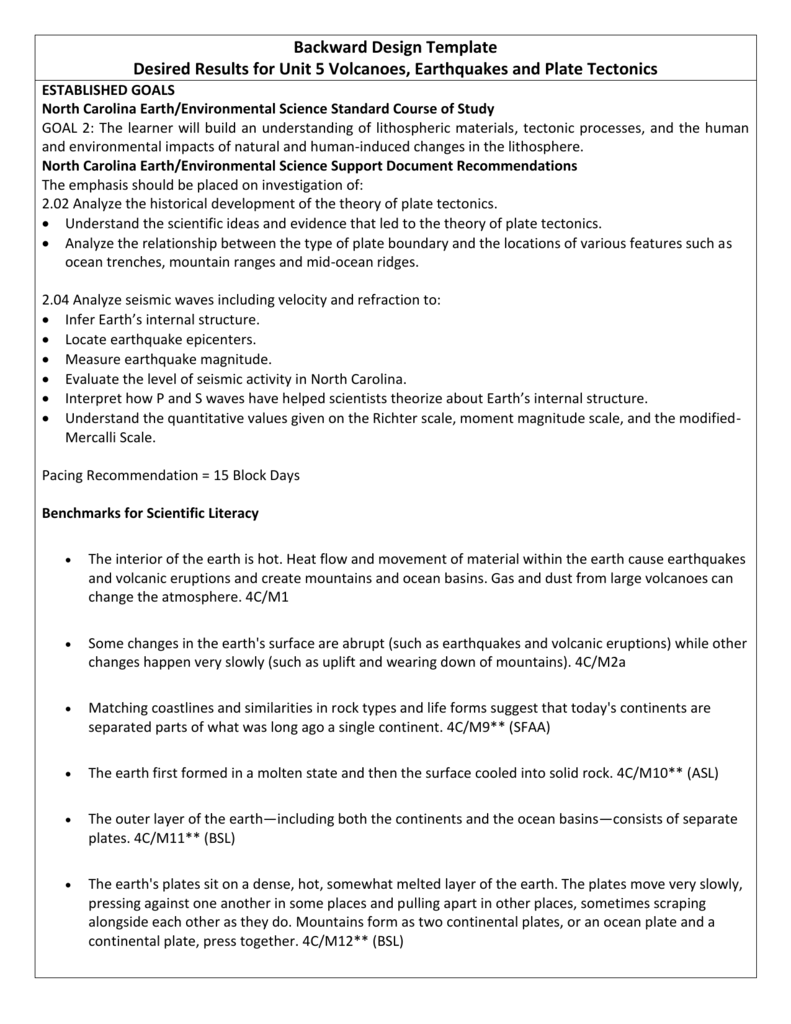 Backward Design Template
Desired Results for Unit 5 Volcanoes, Earthquakes and Plate Tectonics
ESTABLISHED GOALS
North Carolina Earth/Environmental Science Standard Course of Study
GOAL 2: The learner will build an understanding of lithospheric materials, tectonic processes, and the human
and environmental impacts of natural and human-induced changes in the lithosphere.
North Carolina Earth/Environmental Science Support Document Recommendations
The emphasis should be placed on investigation of:
2.02 Analyze the historical development of the theory of plate tectonics.
 Understand the scientific ideas and evidence that led to the theory of plate tectonics.
 Analyze the relationship between the type of plate boundary and the locations of various features such as
ocean trenches, mountain ranges and mid-ocean ridges.
2.04 Analyze seismic waves including velocity and refraction to:
 Infer Earth's internal structure.
 Locate earthquake epicenters.
 Measure earthquake magnitude.
 Evaluate the level of seismic activity in North Carolina.
 Interpret how P and S waves have helped scientists theorize about Earth's internal structure.
 Understand the quantitative values given on the Richter scale, moment magnitude scale, and the modifiedMercalli Scale.
Pacing Recommendation = 15 Block Days
Benchmarks for Scientific Literacy

The interior of the earth is hot. Heat flow and movement of material within the earth cause earthquakes
and volcanic eruptions and create mountains and ocean basins. Gas and dust from large volcanoes can
change the atmosphere. 4C/M1

Some changes in the earth's surface are abrupt (such as earthquakes and volcanic eruptions) while other
changes happen very slowly (such as uplift and wearing down of mountains). 4C/M2a

Matching coastlines and similarities in rock types and life forms suggest that today's continents are
separated parts of what was long ago a single continent. 4C/M9** (SFAA)

The earth first formed in a molten state and then the surface cooled into solid rock. 4C/M10** (ASL)

The outer layer of the earth—including both the continents and the ocean basins—consists of separate
plates. 4C/M11** (BSL)

The earth's plates sit on a dense, hot, somewhat melted layer of the earth. The plates move very slowly,
pressing against one another in some places and pulling apart in other places, sometimes scraping
alongside each other as they do. Mountains form as two continental plates, or an ocean plate and a
continental plate, press together. 4C/M12** (BSL)

There are worldwide patterns to major geological events (such as earthquakes, volcanic eruptions, and
mountain building) that coincide with plate boundaries. 4C/M13** (BSL)

The outward transfer of the earth's internal heat causes regions of different temperatures and densities.
The action of a gravitational force on regions of different densities causes the rise and fall of material
between the earth's surface and interior, which is responsible for the movement of plates. 4C/H3*

Earthquakes often occur along the boundaries between colliding plates, and molten rock from below
creates pressure that is released by volcanic eruptions, helping to build up mountains. Under the ocean
basins, molten rock may well up between separating plates to create new ocean floor. Volcanic activity
along the ocean floor may form undersea mountains, which can thrust above the ocean's surface to
become islands. 4C/H5
UNDERSTANDINGS:
Students will continue to develop the broader
understandings that…
- The Earth is 4.6 billion years old and is constantly
changing, even if we can't see it in day to day life.
- The theories that are widely accepted today have
not always been accepted.
- Scientific theories are based on evidence and
experimentation.
- Scientific discoveries are made possible through
technology.
And that ….
- The continents were once connected in a single land
mass (Pangaea).
MISUNDERSTANDINGS
Students are likely to think that:

ESSENTIAL QUESTIONS
Student will focus on answering the following
questions…
What causes earthquakes?
What causes earth's land or plates to move?
How do we know that all the continents were once
connected?
Who came up with the theory of plate tectonics
and how?
How do tectonic plates help form certain features
of the earth's surface?
What is earth like beneath the surface?
How do we measure earthquakes and find out
where they begin?
Are there ever earthquakes in NC?
Why do volcanoes form?
Specifically, students will know…
Students will be able to….
- In the 1500s, mapmakers noticed that the

continents on either side of the Atlantic Ocean
match up, but they incorrectly thought they were
separated by earthquakes and floods.
- In the late 1800s the existence of a single landmass
called Gondwanaland was proposed.
- In 1912, Alfred Wegener proposed the theory of
continental drift.
- Continental drift – hypothesis that all Earth's
continents were joined as a single landmass
(Pangaea) that broke apart about 200 million years
ago and slowly moved to their present positions.
- Evidence for the theory of continental drift can be
found in rock formations (similar rock types at
edges of continents), fossils (of animals that could
not have swum the long distance between
-
-
-
continents are found on both continents), and
ancient climates (glacial deposits in Africa, coal
deposits in Antarctica)
The theory of continental drift was not accepted
until the 1960s because scientists were not sure
what force could move continents and how the
could move without shattering (they thought the
continents plowed through the sea floor).
With the invention of SONAR, scientists discovered
that the ocean floor was not flat but instead
contained large underwater mountain chains
(ocean ridges) and deep trenches.  longest
continuous mountain range on earth.
These underwater features are a result of seafloor
spreading  hot, less dense magma rises to the
surface and fills the gap at the top of an ocean
ridge. It cools, adding more crust to earth's surface
-
What students do not need to know…
1.