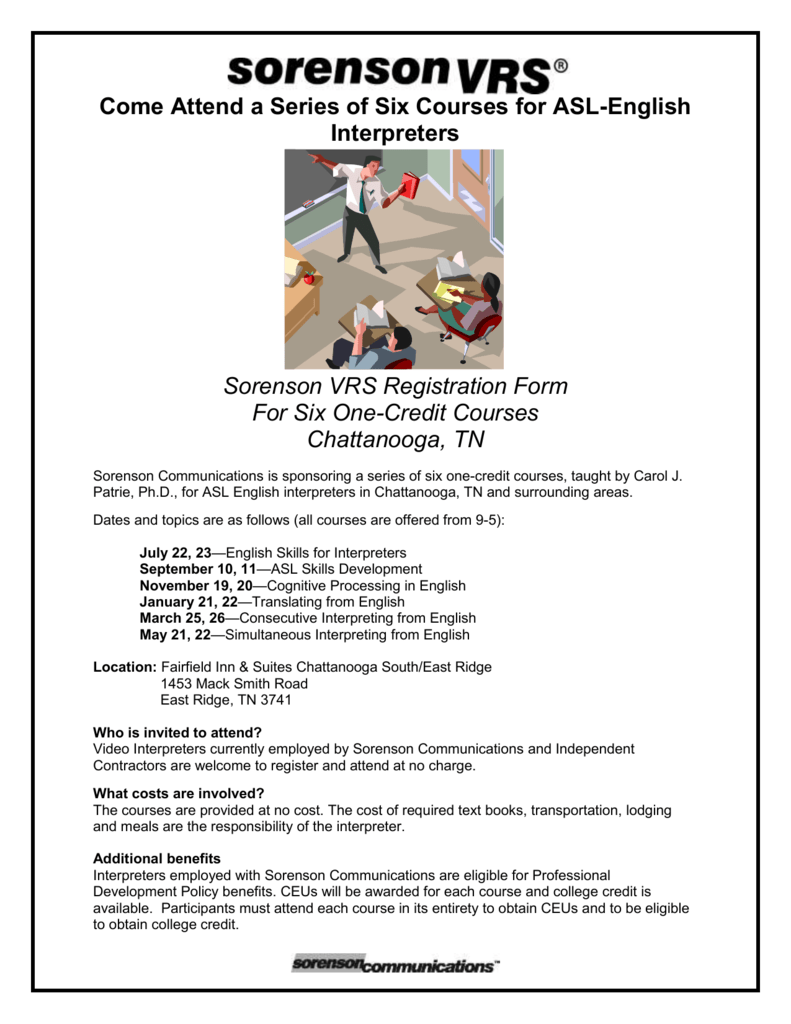 Come Attend a Series of Six Courses for ASL-English
Interpreters
Sorenson VRS Registration Form
For Six One-Credit Courses
Chattanooga, TN
Sorenson Communications is sponsoring a series of six one-credit courses, taught by Carol J.
Patrie, Ph.D., for ASL English interpreters in Chattanooga, TN and surrounding areas.
Dates and topics are as follows (all courses are offered from 9-5):
July 22, 23—English Skills for Interpreters
September 10, 11—ASL Skills Development
November 19, 20—Cognitive Processing in English
January 21, 22—Translating from English
March 25, 26—Consecutive Interpreting from English
May 21, 22—Simultaneous Interpreting from English
Location: Fairfield Inn & Suites Chattanooga South/East Ridge
1453 Mack Smith Road
East Ridge, TN 3741
Who is invited to attend?
Video Interpreters currently employed by Sorenson Communications and Independent
Contractors are welcome to register and attend at no charge.
What costs are involved?
The courses are provided at no cost. The cost of required text books, transportation, lodging
and meals are the responsibility of the interpreter.
Additional benefits
Interpreters employed with Sorenson Communications are eligible for Professional
Development Policy benefits. CEUs will be awarded for each course and college credit is
available. Participants must attend each course in its entirety to obtain CEUs and to be eligible
to obtain college credit.
Why is Sorenson VRS providing these courses for interpreters?
Sorenson Communications encourages all interpreters to pursue and maintain the highest
standards of excellence. Cutting edge training is one of the ways in which we support our
interpreters in reaching their professional goals. Sorenson is proud to partner with Language
Matters, Inc. to bring college level courses to interpreters.
To register, please fill out the following information (Note: Filling out this form will register
you for all six courses). Participants are expected to attend the full series as the courses are
interdependent. Partial CEUs are not available. Carefully read the full course descriptions and
requirements before registering. By registering, you agree to all requirements and to attending
all six classes.
Applicants must meet a minimum of one of the following requirements to attend the
workshops. Please check all that apply:
Completion of an Interpreter Training Program
(Name of School:
)
Hold State Certification or QA
(Level:
_____________
)
Hold RID National Certification CI/CT, NIC Certified, Advanced, Master
(Level:
)
Non-Certified Practicing Interpreter
Documented proof of at least one year of experience in the interpreting field
required (e.g., letter from manager stating that you are currently employed as a
Video Interpreter with Sorenson Communications).
Name
E-mail Address
Home Address
Daytime Phone Number
Certification Level
Please e-mail the completed registration form to [email protected] before July 15, 2008.
You may also send it by mail to:
Sorenson VRS, attn: Amy Kalmus
1755 Telstar Suite 304
Colorado Springs, CO 80920
Upon receipt of your registration form, you will be sent an e-mail confirmation. The e-mail will
contain the location where the classes will be held along with other information regarding the
classes. For more information, please contact Amy Kalmus, Sorenson VRS National Director of
Professional Development at [email protected]
This series of workshops is open to the first 20 registrants.
Carol J. Patrie, Ph.D., CSC, SC:L, CI, CT
Patrie is a national and international consultant on interpretation and
teaching interpretation. In addition to being President of Spectrum
Concepts, Inc., she is Director of Curriculum and Instruction for The
Effective Interpreting Professional Education Series, Language Matters,
Inc. She is a past president of the Conference of Interpreter Trainers
and is a recipient of the Mary Stotler Award. In 1998 she was awarded
the Outstanding Graduate Faculty award at Gallaudet University where
she was professor and director of the MA in Interpretation. She is currently a
Commissioner on the Commission on Collegiate Interpreter Education. Patrie is the
author of the six-volume series, The Effective Interpreting Series and the video series,
Interpreting in Medical, Legal, and Insurance Settings, all published by DawnSignPress.
Her most recent release is The Effective Interpreting Series: ASL Skills Development.
She is currently developing a multi-media package focusing on fingerspelled word
recognition and Cognitive Processing in ASL.
LMI Course Descriptions:
A Text is required for each course
Consecutive Processing in English
1 credit
Prerequisite: communicative competence in English
This course presents information on the importance of rapid and efficient cognitive processing in English.
Exercises include: comprehension, memory, acuity and discrimination, immediate and delayed repetition,
pattern inference, and multi-tasking. Text required.
English Skills Development El
1 credit
Prerequisite: Cognitive Processing in English (I-E)
This class presents information and exercises in English skill development for interpreters or future
interpreters. The importance of distinguishing between form and meaning is emphasized. Lexical
substitution, paraphrasing, main idea identification, and summarizing are also addressed. Text required.
ASL Skills Development
1 credit
Prerequisite: Cognitive Processing in ASL
Prerequisite waived
This course presents information on the importance of rapid and efficient cognitive processing in ASL.
Exercises include: comprehension, memory, acuity and discrimination, immediate and delayed repetition,
pattern inference, and multi-tasking. Text required.
Translating from English
1 credit
Prerequisite: English Skills Development (II-E)
Translation can be a developmental skill or a professional tool. Basic approaches to creating and
evaluating a translation from English are included. Practical experience in translation is an integral part of
the course. Text required.
Consecutive Interpreting from English1 credit)
Prerequisite: Translating From English (III-E)
This course introduces the theoretical and practical basis for consecutive interpretation of English
monologues. Topics include: History and uses of consecutive interpreting, intralingual exercises, errors in
interpretation, listening phase, note-taking and analysis, memory, reformulation, and monitoring and
correction..
Simultaneous Interpreting from English
1 credit.
Prerequisite: Consecutive Interpreting From English (IV-E)
This introduction to the simultaneous interpretation of English monologues includes topics on effort in
interpretation, restructuring, coping skills, monitoring and repair strategies.
Link to LMI website
http://www.language-matters.com/SLIeducation.php3
This workshop is pending approval for 9 RID CEUs in the Content Area of: Professional Studies. The instructional
level is beginning through advanced.