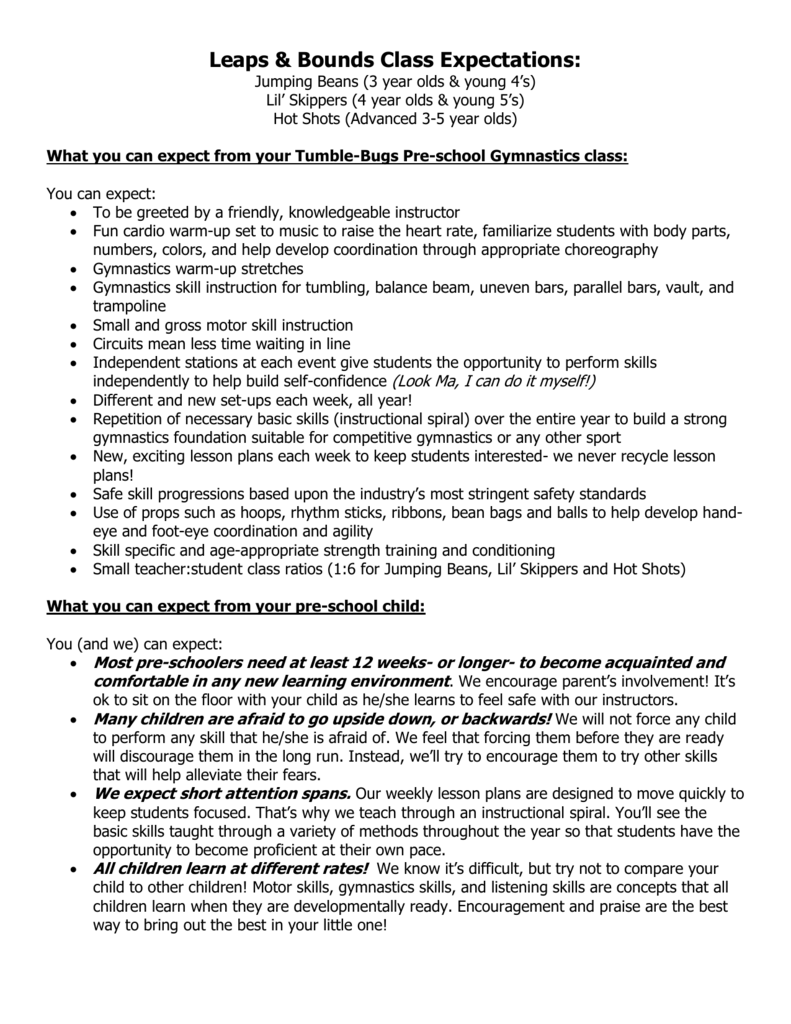 Leaps & Bounds Class Expectations:
Jumping Beans (3 year olds & young 4's)
Lil' Skippers (4 year olds & young 5's)
Hot Shots (Advanced 3-5 year olds)
What you can expect from your Tumble-Bugs Pre-school Gymnastics class:
You can expect:
 To be greeted by a friendly, knowledgeable instructor
 Fun cardio warm-up set to music to raise the heart rate, familiarize students with body parts,
numbers, colors, and help develop coordination through appropriate choreography
 Gymnastics warm-up stretches
 Gymnastics skill instruction for tumbling, balance beam, uneven bars, parallel bars, vault, and
trampoline
 Small and gross motor skill instruction
 Circuits mean less time waiting in line
 Independent stations at each event give students the opportunity to perform skills
independently to help build self-confidence (Look Ma, I can do it myself!)
 Different and new set-ups each week, all year!
 Repetition of necessary basic skills (instructional spiral) over the entire year to build a strong
gymnastics foundation suitable for competitive gymnastics or any other sport
 New, exciting lesson plans each week to keep students interested- we never recycle lesson
plans!
 Safe skill progressions based upon the industry's most stringent safety standards
 Use of props such as hoops, rhythm sticks, ribbons, bean bags and balls to help develop handeye and foot-eye coordination and agility
 Skill specific and age-appropriate strength training and conditioning
 Small teacher:student class ratios (1:6 for Jumping Beans, Lil' Skippers and Hot Shots)
What you can expect from your pre-school child:
You (and we) can expect:
 Most pre-schoolers need at least 12 weeks- or longer- to become acquainted and
comfortable in any new learning environment. We encourage parent's involvement! It's
ok to sit on the floor with your child as he/she learns to feel safe with our instructors.
 Many children are afraid to go upside down, or backwards! We will not force any child
to perform any skill that he/she is afraid of. We feel that forcing them before they are ready
will discourage them in the long run. Instead, we'll try to encourage them to try other skills
that will help alleviate their fears.
 We expect short attention spans. Our weekly lesson plans are designed to move quickly to
keep students focused. That's why we teach through an instructional spiral. You'll see the
basic skills taught through a variety of methods throughout the year so that students have the
opportunity to become proficient at their own pace.
 All children learn at different rates! We know it's difficult, but try not to compare your
child to other children! Motor skills, gymnastics skills, and listening skills are concepts that all
children learn when they are developmentally ready. Encouragement and praise are the best
way to bring out the best in your little one!
Did you know that our program is a stepping-stone for your child's reading development?
In the book, How to Teach Your Baby to Read, Glenn Doman states that a child below the age of five
absorbs tremendous amounts of information at a remarkable rate. He continues to say that the
young child has a tremendous amount of energy combined with a monumental desire to learn.
Furthermore, a child under the age of five can and wants to learn to read. (However, many
subsequent studies have proven that forcing reading instruction before age 5, or when the child
expresses the desire to learn to read, can lead to a permanent dislike of reading.) According to Frost
and Kissinger in The Young Child and the Educative Process, and Spache in The Teaching of Reading,
some of the basic categories of reading readiness are quite similar to the components of motor skill
development. Our Tumble-Bugs Pre-school Gymnastics Program has been designed to promote the
development of reading readiness, gross and fine motor skills and gymnastics skills. Below are some
examples of how we implement these ideas:
Visual differentiation- seeing and feeling the different size of bars and how far to swing to
dismount
Laterality- moving sideways across a beam
Directionality- understanding left and right when learning a handstand and cartwheel
Hand-eye coordination- throwing a hoop over a cone, or beanbag into a hole
Distance, size, shape in space- how far to roll to stay on the mat and land correctly
Small muscle coordination- pointing toes during a skill
Large muscle coordination- learning gymnastics skills
Word and letter discrimination- we label certain items in the gym and use letters as props
Sensory discrimination- squeezing the bar with the right grip to spin around the bar
Auditory factors- listening to the teacher
Awareness, perception, and memory- understanding the teacher, remembering a skill pattern or
sequence of skills
Attention spans- ability to stay at a station and work on one skill
Imitating- watching the instructor or other children do the skills and repeating it
It's important to note that we believe you are your child's first teacher. You set the tone for your
child's learning behaviors and attitudes for a lifetime. By enrolling your child in a class such as this
you are teaching your child that 1) Learning new skills is important to you; 2) Movement is important
to you; and 3) Your child is important to you! These are gifts that will last a lifetime!
Thanks for being here! We sincerely hope you and your child enjoy your gymnastics class with us.
Please let us know if there is anyway we can improve your experience here at Leaps & Bounds.