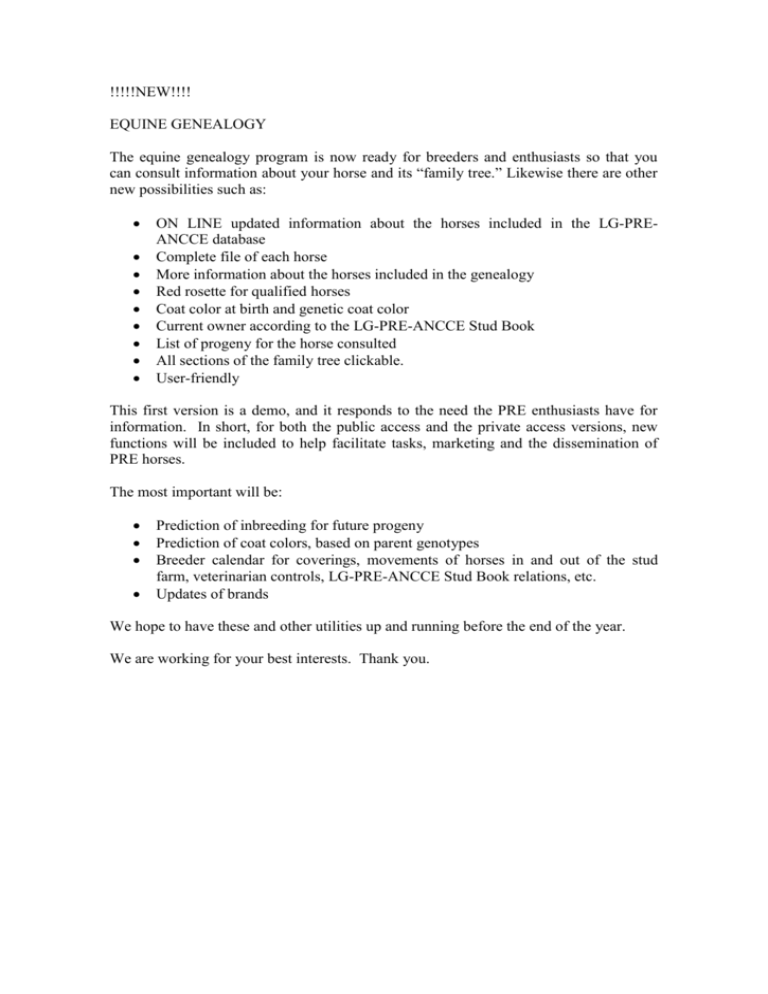 !!!!!NEW!!!!
EQUINE GENEALOGY
The equine genealogy program is now ready for breeders and enthusiasts so that you
can consult information about your horse and its "family tree." Likewise there are other
new possibilities such as:









ON LINE updated information about the horses included in the LG-PREANCCE database
Complete file of each horse
More information about the horses included in the genealogy
Red rosette for qualified horses
Coat color at birth and genetic coat color
Current owner according to the LG-PRE-ANCCE Stud Book
List of progeny for the horse consulted
All sections of the family tree clickable.
User-friendly
This first version is a demo, and it responds to the need the PRE enthusiasts have for
information. In short, for both the public access and the private access versions, new
functions will be included to help facilitate tasks, marketing and the dissemination of
PRE horses.
The most important will be:




Prediction of inbreeding for future progeny
Prediction of coat colors, based on parent genotypes
Breeder calendar for coverings, movements of horses in and out of the stud
farm, veterinarian controls, LG-PRE-ANCCE Stud Book relations, etc.
Updates of brands
We hope to have these and other utilities up and running before the end of the year.
We are working for your best interests. Thank you.