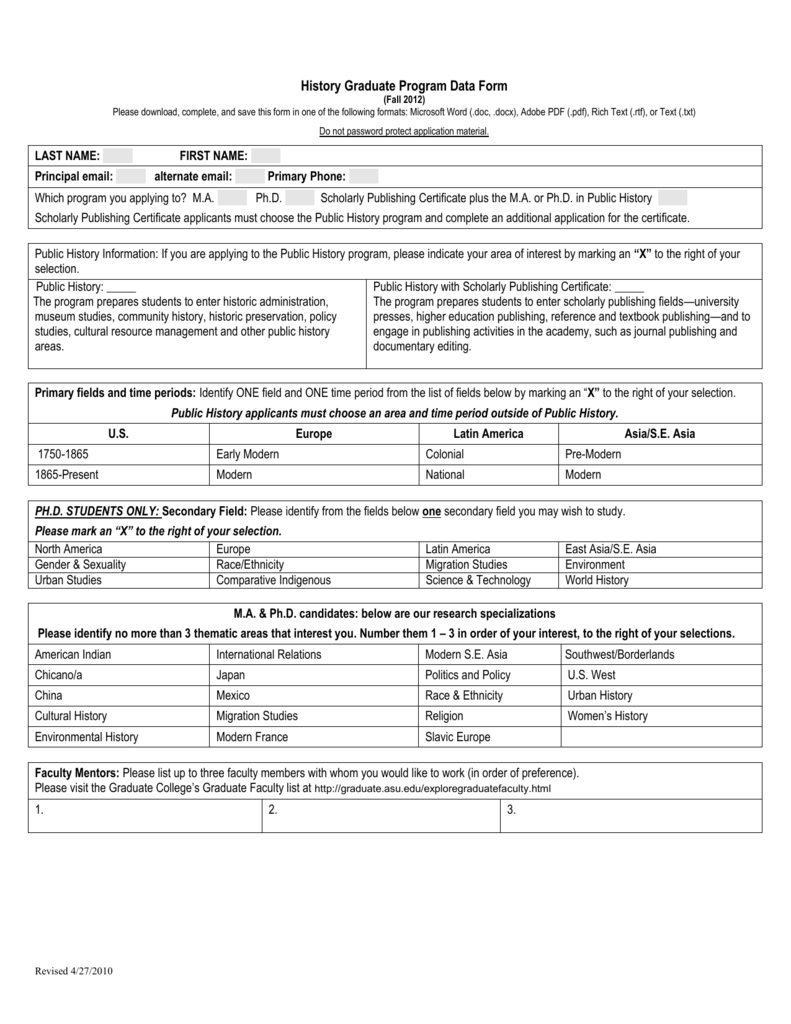 History Graduate Program Data Form
(Fall 2012)
Please download, complete, and save this form in one of the following formats: Microsoft Word (.doc, .docx), Adobe PDF (.pdf), Rich Text (.rtf), or Text (.txt)
Do not password protect application material.
LAST NAME:
FIRST NAME:
Principal email:
alternate email:
Primary Phone:
Which program you applying to? M.A.
Ph.D.
Scholarly Publishing Certificate plus the M.A. or Ph.D. in Public History
Scholarly Publishing Certificate applicants must choose the Public History program and complete an additional application for the certificate.
Public History Information: If you are applying to the Public History program, please indicate your area of interest by marking an "X" to the right of your
selection.
Public History: _____
Public History with Scholarly Publishing Certificate: _____
The program prepares students to enter historic administration,
The program prepares students to enter scholarly publishing fields—university
museum studies, community history, historic preservation, policy
presses, higher education publishing, reference and textbook publishing—and to
studies, cultural resource management and other public history
engage in publishing activities in the academy, such as journal publishing and
areas.
documentary editing.
Primary fields and time periods: Identify ONE field and ONE time period from the list of fields below by marking an "X" to the right of your selection.
Public History applicants must choose an area and time period outside of Public History.
U.S.
Europe
Latin America
Asia/S.E. Asia
1750-1865
Early Modern
Colonial
Pre-Modern
1865-Present
Modern
National
Modern
PH.D. STUDENTS ONLY: Secondary Field: Please identify from the fields below one secondary field you may wish to study.
Please mark an "X" to the right of your selection.
North America
Europe
Gender & Sexuality
Race/Ethnicity
Urban Studies
Comparative Indigenous
Latin America
Migration Studies
Science & Technology
East Asia/S.E. Asia
Environment
World History
M.A. & Ph.D. candidates: below are our research specializations
Please identify no more than 3 thematic areas that interest you. Number them 1 – 3 in order of your interest, to the right of your selections.
American Indian
International Relations
Modern S.E. Asia
S Southwest/Borderlands
Chicano/a
Japan
Politics and Policy
U.S. West
China
Mexico
Race & Ethnicity
Urban History
Cultural History
Migration Studies
Religion
Women's History
Environmental History
Modern France
Slavic Europe
Faculty Mentors: Please list up to three faculty members with whom you would like to work (in order of preference).
Please visit the Graduate College's Graduate Faculty list at http://graduate.asu.edu/exploregraduatefaculty.html
1.
Revised 4/27/2010
2.
3.
Language and computer skills (Only those in which you can claim competency) Rate your proficiency 5=highest 1=lowest
Language:
Speaking
Reading
Writing
Language:
Speaking
Reading
Writing
MS Word / Word processing
Webpage Design
Excel / Spreadsheet
Desktop Publishing
MS Access
MS PowerPoint
Briefly describe degree, coursework, or professional experience outside of history that contributes to your skills in historical
analysis.