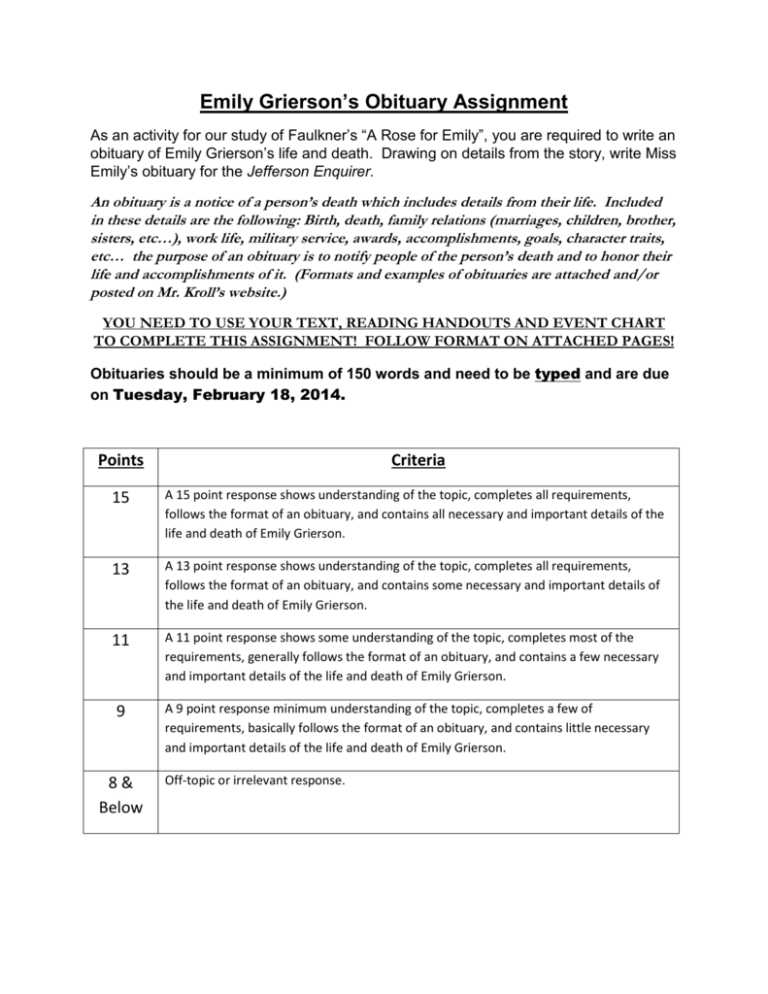 Emily Grierson's Obituary Assignment
As an activity for our study of Faulkner's "A Rose for Emily", you are required to write an
obituary of Emily Grierson's life and death. Drawing on details from the story, write Miss
Emily's obituary for the Jefferson Enquirer.
An obituary is a notice of a person's death which includes details from their life. Included
in these details are the following: Birth, death, family relations (marriages, children, brother,
sisters, etc…), work life, military service, awards, accomplishments, goals, character traits,
etc… the purpose of an obituary is to notify people of the person's death and to honor their
life and accomplishments of it. (Formats and examples of obituaries are attached and/or
posted on Mr. Kroll's website.)
YOU NEED TO USE YOUR TEXT, READING HANDOUTS AND EVENT CHART
TO COMPLETE THIS ASSIGNMENT! FOLLOW FORMAT ON ATTACHED PAGES!
Obituaries should be a minimum of 150 words and need to be typed and are due
on Tuesday, February 18, 2014.
Points
Criteria
15
A 15 point response shows understanding of the topic, completes all requirements,
follows the format of an obituary, and contains all necessary and important details of the
life and death of Emily Grierson.
13
A 13 point response shows understanding of the topic, completes all requirements,
follows the format of an obituary, and contains some necessary and important details of
the life and death of Emily Grierson.
11
A 11 point response shows some understanding of the topic, completes most of the
requirements, generally follows the format of an obituary, and contains a few necessary
and important details of the life and death of Emily Grierson.
9
8&
Below
A 9 point response minimum understanding of the topic, completes a few of
requirements, basically follows the format of an obituary, and contains little necessary
and important details of the life and death of Emily Grierson.
Off-topic or irrelevant response.
OBITUARY
Writing an obituary can be a daunting task so often funeral homes and mortuaries will write the obituary for you based
on the information you provide to them. Once you have collected the information about the deceased that you'd like
to include in the obituary, writing it is not that difficult.
The hardest aspect of obituary writing is collecting the dates and information about the deceased's life. Writing the
obituary for a loved one can be a therapeutic and welcomed task. This is your opportunity to show your loved one in
the best possible light and to include information about the deceased that may not be widely known.
An obituary is a celebration of the deceased and it is an honor to be the one to write it. Now that you have
taken on this task, here are some ways to make the writing go a little easier.
How to Write an Obituary, Sentence by Sentence
If you've read obituaries in the newspaper or online, you'll notice that there is a pattern to them. They always have
certain elements included and the information flows from specifics of the death and funeral, to details about the
deceased and surviving family.





The first sentence starts with the full name of the deceased, the city in which they resided, the date
they died, where they died and sometimes cause of death.
The next sentence often tells when and where the deceased was born, and the names of parents.
Then the obituary can go on to give accomplishments and a chronological account of the person's
life and education.
A list of surviving family usually is at the end, but can also be included right after the first sentence
announcing the death.
The obituary closes with the funeral, burial, wake, or memorial details and a foundation where
memorial gifts can be donated.
This is another sample of a funeral obituary outline that you may need to write.
You will want to make note of this information before actually sitting down to write the obituary.
1.
2.
3.
4.
5.
6.
Start with noting the person's full name, date of birth and date of death.
In chronological form, indicate the account of the person's life starting from place of birth, where
they grew up, where they received their education and place of residency for the majority of their life
and death. Include a list of schools attended, degrees received, vocation and hobbies, if applicable.
Make acknowledge to any surviving family members who includes parents, siblings, spouse,
children, and grandchildren, if any. The surviving relatives can be listed by name if you desire.
Make the announcement on when and where the funeral, burial, wake and/or memorial service will
take place.
Conclude with a statement regarding memorial contributions and where they can be sent, if
applicable. The initial words can include "In lieu of flowers…" or "Memorial donations may be made
to…"
Make your obituary sound positive and celebrate the life that was lived by including facts about the
person's interest, hobbies, and joys. The people who read your obituary will read it as if walking down
memory lane in reflection to his or her life.
EXAMPLE OBITUARIES can be found on Mr. Kroll's website and/or in print newspapers.
Another Sample Format
The second type of obituary will create a longer life sketch of the individual who has passed away, which
may contain several paragraphs. This is typically the type of obituary that is used in funeral programs,
prayer cards and funeral keepsakes. It may include the following information:











Date of birth, place of birth
Date of death, place of death
Circumstances of death (This section is optional, and may be general or specific. Rather
than referring directly to cancer or Alzheimer's, it may be more appropriate to refer to
a "prolonged illness." In cases of suicide, perhaps no information is necessary).
Plans for the viewing (if applicable) and the memorial service
Name of high school or college from which he/she attended or graduated
Military service and decorations
Religious affiliation, such as church or synagogue
Jobs held - including retirement
Names and relations of family members, both surviving and pre-deceased, to include
parents, siblings, spouse, children, stepchildren, grandchildren, and greatgrandchildren
Awards/Recognitions received
Organizations to which the deceased belonged (volunteer work, fraternal organizations,
veterans' groups, religious orders)
Obituary Example 1 -- Young Person
Brad Watson
April 8th 1991 - April 10, 2011
Brad Watson, 20, of Suffolk passed away April 10, 2011 as a result of a long battle with
leukaemia. His friends and family were by his side when he drifted off to be with the Lord. He
was born to Brenda and Jackson Watson of Suffolk Virginia on April 8th 1991. Brad went to
Willoughby Elementary School, Lincoln Middle School, and Wilkerson's High School for Science
in Math in Suffolk.
He was currently a senior at Regent University majoring in Biology. His greatest aspiration was
to become a doctor and help people conflicted with leukaemia. He was a member of the Student
Council and created a student group for people with leukaemia. Brad also wrote the "health
news' column for Regent University Times, the school newspaper. He was dedicated to getting
the word out about Leukaemia along with other health issues. He also attended Friendship
Episcopal Church in Virginia Beach.
Brad is survived by his parents Brenda and Jackson Watson; his brother Koby Jackson and his
sister Linda Jackson all of Suffolk. He also leaves his maternal grandparents, Janet and Jerome
Williams, of Virginia Beach; and his paternal grandparents, Joyce and Reggie Carter of
Indianapolis. He is also survived by his girlfriend, Sharon Pittles of Suffolk and his close friend
John Hillman of Virginia Beach and several loving aunts, uncles, cousins and a host of friends.
Funeral arrangements are being handled by Loveland Funeral Home in Virginia Beach. The
funeral will be held at 11:30 am on Thursday, April 18th at the funeral home; burial will follow at
Shady Acres Cemetery in Virginia Beach. In lieu of flowers, the family asks that you consider
donations to the Leukaemia and Lymphoma Society.
Obituary Example 2 -- Prominent Person
World Renowned Artist Randolph Liddon
May, 11 1943 – April 23, 2011
Randolph Liddon 58, who was killed in a plane crash in the Bahamas on Wednesday, was one of the
most prominent painter, sculptor and educator to grace the south east in more than five decades. Liddon
was known for his artistic depictions of southern culture and life.
A native of Gastonia, N.C., Liddon entered Virginia Commonwealth University intending to be a scientist.
He soon switched to art after being encouraged by art educator Reginald Whitman.
"He was one of my brightest students and I remember one day he showed me some of his paintings. I
was blown away. I told him that the world needed his art. He will be missed but his art will speak for him
now," stated Whitman.
After completing his undergraduate degree Liddon enrolled at Boston University and earned a Masters of
Art and a Doctorate in Art Education. In 1990 he established the Art Department at Norfolk State
University where he taught until his death. Across the nation Liddon left his artistic mark with more than
30 murals and over 100 paintings. His most talked about painting, "A Time Before Sunrise," still graces
the walls of the White House. President Clinton bought the piece during his presidential tenure.
In 2010 a retrospective collaboration of his work, "Randolph Liddon: A Beautiful Love," travelled to
museums from Milan to the District of Columbia. He had pieces at local community galleries as well as
the Smithsonian. Liddon was known to use several platforms to feature his art with an effort to reach
people where they were. He often infused his work with intricate geometric patterns and African motifs,
some of which were inspired by seven trips to Africa and the middle-east.
During an interview about his "Randolph Liddon: A Beautiful Love" project he stated, "Art is about
expressing love visually and I accepted this challenge as my life's true vocation. When you mix love and
art and allow the two to bring people together then you have a wonderful thing. You have something
magical."
Randolph is survived by his wife Sadie Liddon; daughter Renee Liddon; his brother Jackson Liddon all of
Norfolk, Va. He also leaves behind several aunts, uncles, cousins and a host of friends, colleagues, and
students who played very important roles in his life.
His students have organized a memorial celebration of his life at noon tomorrow, April 25th at Brown Hall
on the campus of Norfolk State University. Funeral arrangements are being handled by Love Hall Funeral
Home in Norfolk, Virginia. The funeral will be held at 11:30 am on Wednesday, April 27th at the funeral
home; burial will follow at Sweet Passages Cemetery. In lieu of flowers, the family asks that you consider
donations to the Randolph Liddon College Fund.
Thomas Francis Cannon
Thomas Francis Cannon
AGE: 81 Avon
Thomas Francis Cannon passed away peacefully on Saturday, Jan. 7, 2012, in Salerno,
Italy. He was born in Jersey City, NJ on March 20, 1930 to Thomas Francis Cannon and
Norah Feeney Cannon. He was the youngest of seven children, all predeceased. He
attended St. Aloysius High School and after graduation had a short career at
Metropolitan Life in NYC. Tom entered the United States Merchant Marine Academy-Kings Point
(USMMA) Class of 1955 after which he began his lifetime career in the Merchant Marines sailing for
much of his career with American Export Lines and Sea Land Services. In 1961, while working for RCA in
Hoboken, he earned his Master in Mechanical Engineering at Stevens Institute of Technology. In 1995,
Tom received the Silver Mariner Award from USMMA. This award recognizes graduates of the USMMA
who through their career have fulfilled the principal goal of the Academy. He was inducted in 1997 to
the USMMA Athletic Hall of Fame; while at USMMA he earned 10 varsity letters (more than any cadet
before him) in baseball, football and basketball. He led the football team in pass receptions for 3 of 4
years and led the baseball team batting average and home runs for two years. Later in life, he would go
on to proudly coach baseball for Avon Elementary School for seven years. In 2008, Tom was honored
with the Maritime Administration's Merchant Marine Medal for Outstanding Achievement in recognition
of his 50 years of active service, unique career achievements and dedication to the United States
Merchant Marines as an educator. Since his retirement and up to his passing, he remained selflessly
dedicated to teaching and passing on lessons learned to future generations of marine engineers at the
Calhoon MEBA Engineering School in Easton, Md. as an Adjunct instructor. Most marine engineers
aspire to be Chief Engineers. Tom held the distinct honor to be the only Chief Engineer to hold unlimited
Chief Engineer license in Steam, Motor, Gas Turbine and Nuclear commercial vessels. He was the Chief
Engineer of such ships as the GTS Adm. William M. Callaghan with its revolutionary gas turbine
technology and the N/S Savannah the world's first and only commercially operated nuclear ship. He had
many interests, including traveling, fishing, cooking, reading, collecting old maritime books, learning
Italian and crossword puzzles to name a few. Throughout his life, he could always be found fixing
something: whether it was mechanical, electrical or digital he would try and make it work. Tom was an
inspiration to us all and will be sorely missed. He will always be remembered for his way of giving back,
teaching, coaching and mentoring.
He was predeceased by his wife, Teresa L. Wolkoff Cannon and is survived by his wife, Concetta Siano
Cannon and seven children, Mary Anne (Dan), Thomas (Joseph), Suzanne (Ronald), Adrianne (Sean),
Aileen, Piper (John) and Heather (Anthony); and his grandchildren, Ron, Tom, Norah, Joseph, Mickey,
Matthew, Grace and Emma, along with many nieces and nephews.
Visitation will be from 3 to 8 p.m. Sunday, Jan. 15 at the Reilly Funeral Home, 801 D St., Belmar. A Mass
of Christian Burial will be held at 11 a.m. Monday, Jan. 16 at Our Lady of Mount Carmel R.C. Church, 805
Pine St., Asbury Park, followed by interment at St. Ann's Cemetery. In lieu of flowers, donations may be
made to Sloan Kettering Cancer Center for Dr. Slovin's research, St. Jude Children's Research Hospital or
United States Merchant Marine Academy-Kings Point.