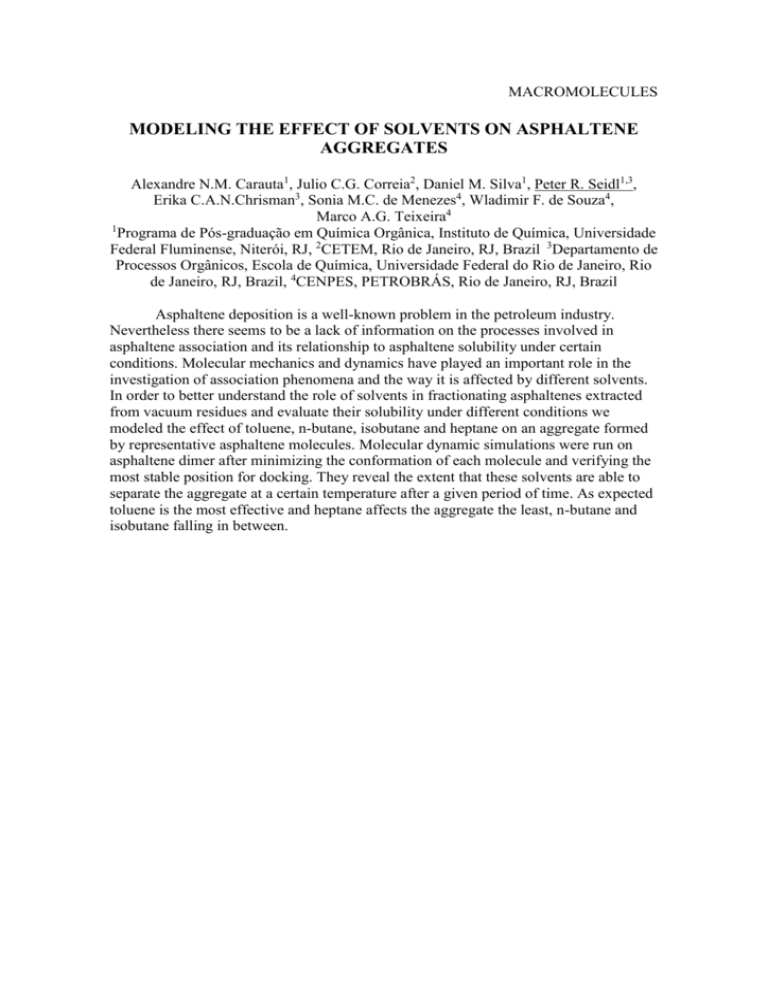 MACROMOLECULES
MODELING THE EFFECT OF SOLVENTS ON ASPHALTENE
AGGREGATES
Alexandre N.M. Carauta1, Julio C.G. Correia2, Daniel M. Silva1, Peter R. Seidl1,3,
Erika C.A.N.Chrisman3, Sonia M.C. de Menezes4, Wladimir F. de Souza4,
Marco A.G. Teixeira4
1
Programa de Pós-graduação em Química Orgânica, Instituto de Química, Universidade
Federal Fluminense, Niterói, RJ, 2CETEM, Rio de Janeiro, RJ, Brazil 3Departamento de
Processos Orgânicos, Escola de Química, Universidade Federal do Rio de Janeiro, Rio
de Janeiro, RJ, Brazil, 4CENPES, PETROBRÁS, Rio de Janeiro, RJ, Brazil
Asphaltene deposition is a well-known problem in the petroleum industry.
Nevertheless there seems to be a lack of information on the processes involved in
asphaltene association and its relationship to asphaltene solubility under certain
conditions. Molecular mechanics and dynamics have played an important role in the
investigation of association phenomena and the way it is affected by different solvents.
In order to better understand the role of solvents in fractionating asphaltenes extracted
from vacuum residues and evaluate their solubility under different conditions we
modeled the effect of toluene, n-butane, isobutane and heptane on an aggregate formed
by representative asphaltene molecules. Molecular dynamic simulations were run on
asphaltene dimer after minimizing the conformation of each molecule and verifying the
most stable position for docking. They reveal the extent that these solvents are able to
separate the aggregate at a certain temperature after a given period of time. As expected
toluene is the most effective and heptane affects the aggregate the least, n-butane and
isobutane falling in between.