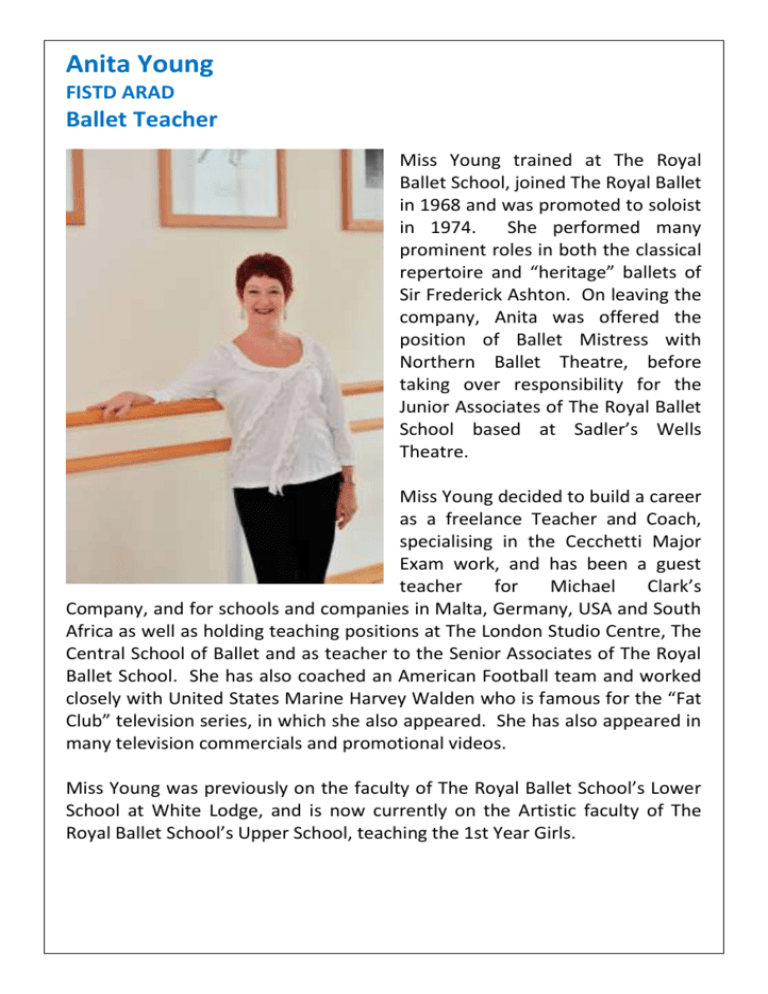 Anita Young
FISTD ARAD
Ballet Teacher
Miss Young trained at The Royal
Ballet School, joined The Royal Ballet
in 1968 and was promoted to soloist
in 1974.
She performed many
prominent roles in both the classical
repertoire and "heritage" ballets of
Sir Frederick Ashton. On leaving the
company, Anita was offered the
position of Ballet Mistress with
Northern Ballet Theatre, before
taking over responsibility for the
Junior Associates of The Royal Ballet
School based at Sadler's Wells
Theatre.
Miss Young decided to build a career
as a freelance Teacher and Coach,
specialising in the Cecchetti Major
Exam work, and has been a guest
teacher
for
Michael
Clark's
Company, and for schools and companies in Malta, Germany, USA and South
Africa as well as holding teaching positions at The London Studio Centre, The
Central School of Ballet and as teacher to the Senior Associates of The Royal
Ballet School. She has also coached an American Football team and worked
closely with United States Marine Harvey Walden who is famous for the "Fat
Club" television series, in which she also appeared. She has also appeared in
many television commercials and promotional videos.
Miss Young was previously on the faculty of The Royal Ballet School's Lower
School at White Lodge, and is now currently on the Artistic faculty of The
Royal Ballet School's Upper School, teaching the 1st Year Girls.