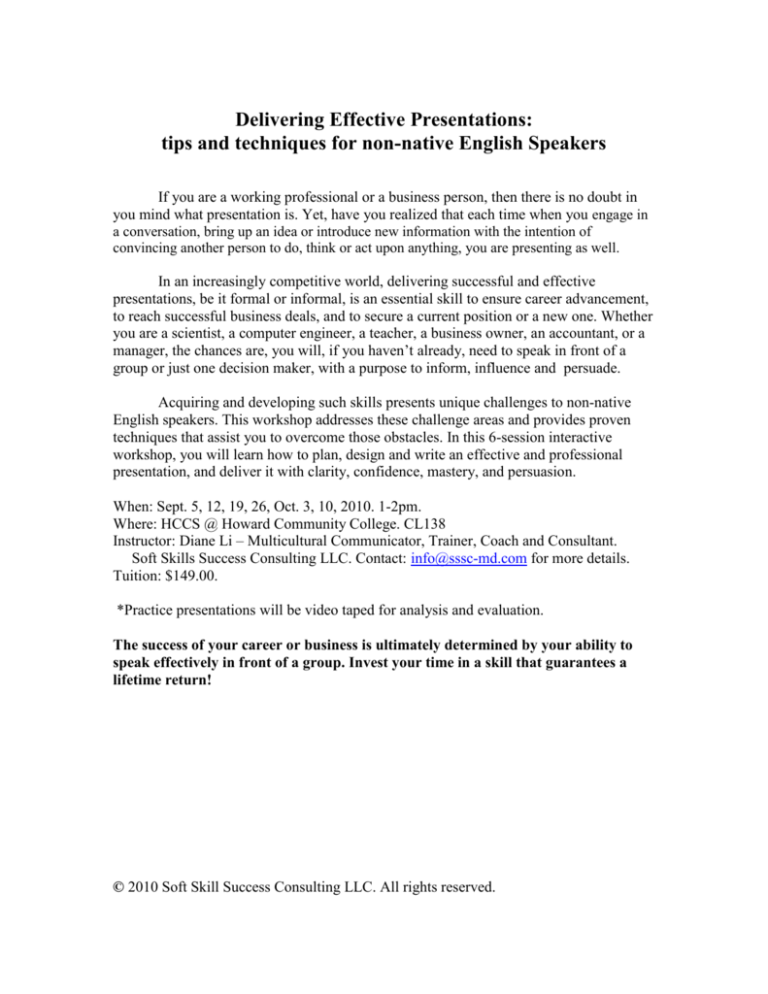 Delivering Effective Presentations:
tips and techniques for non-native English Speakers
If you are a working professional or a business person, then there is no doubt in
you mind what presentation is. Yet, have you realized that each time when you engage in
a conversation, bring up an idea or introduce new information with the intention of
convincing another person to do, think or act upon anything, you are presenting as well.
In an increasingly competitive world, delivering successful and effective
presentations, be it formal or informal, is an essential skill to ensure career advancement,
to reach successful business deals, and to secure a current position or a new one. Whether
you are a scientist, a computer engineer, a teacher, a business owner, an accountant, or a
manager, the chances are, you will, if you haven't already, need to speak in front of a
group or just one decision maker, with a purpose to inform, influence and persuade.
Acquiring and developing such skills presents unique challenges to non-native
English speakers. This workshop addresses these challenge areas and provides proven
techniques that assist you to overcome those obstacles. In this 6-session interactive
workshop, you will learn how to plan, design and write an effective and professional
presentation, and deliver it with clarity, confidence, mastery, and persuasion.
When: Sept. 5, 12, 19, 26, Oct. 3, 10, 2010. 1-2pm.
Where: HCCS @ Howard Community College. CL138
Instructor: Diane Li – Multicultural Communicator, Trainer, Coach and Consultant.
Soft Skills Success Consulting LLC. Contact: info@sssc-md.com for more details.
Tuition: $149.00.
*Practice presentations will be video taped for analysis and evaluation.
The success of your career or business is ultimately determined by your ability to
speak effectively in front of a group. Invest your time in a skill that guarantees a
lifetime return!
© 2010 Soft Skill Success Consulting LLC. All rights reserved.