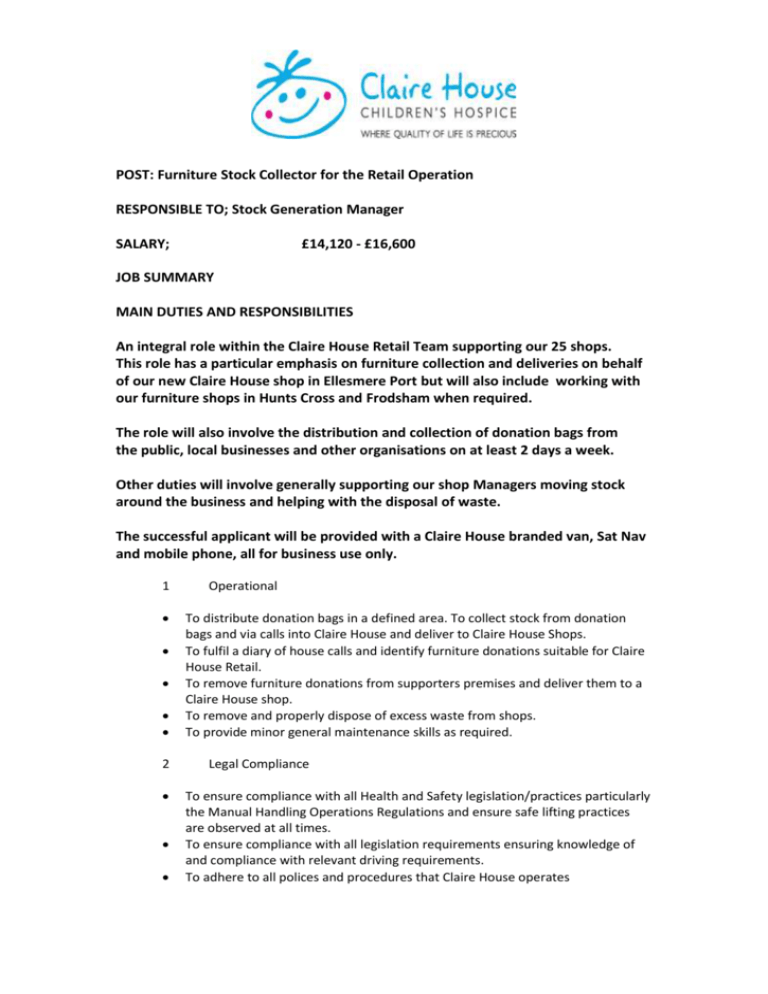 POST: Furniture Stock Collector for the Retail Operation
RESPONSIBLE TO; Stock Generation Manager
SALARY;
£14,120 - £16,600
JOB SUMMARY
MAIN DUTIES AND RESPONSIBILITIES
An integral role within the Claire House Retail Team supporting our 25 shops.
This role has a particular emphasis on furniture collection and deliveries on behalf
of our new Claire House shop in Ellesmere Port but will also include working with
our furniture shops in Hunts Cross and Frodsham when required.
The role will also involve the distribution and collection of donation bags from
the public, local businesses and other organisations on at least 2 days a week.
Other duties will involve generally supporting our shop Managers moving stock
around the business and helping with the disposal of waste.
The successful applicant will be provided with a Claire House branded van, Sat Nav
and mobile phone, all for business use only.
1





2



Operational
To distribute donation bags in a defined area. To collect stock from donation
bags and via calls into Claire House and deliver to Claire House Shops.
To fulfil a diary of house calls and identify furniture donations suitable for Claire
House Retail.
To remove furniture donations from supporters premises and deliver them to a
Claire House shop.
To remove and properly dispose of excess waste from shops.
To provide minor general maintenance skills as required.
Legal Compliance
To ensure compliance with all Health and Safety legislation/practices particularly
the Manual Handling Operations Regulations and ensure safe lifting practices
are observed at all times.
To ensure compliance with all legislation requirements ensuring knowledge of
and compliance with relevant driving requirements.
To adhere to all polices and procedures that Claire House operates
3



Administration
To maintain accurate and up to date records to Claire House requirements of
work done.
To ensure any Claire House vehicle allocated to you is maintained in a road
worthy condition. Ensuring regular vehicle checks (minimum monthly) are made,
recorded and given to the Stock Generation Manager.
To monitor and check the security of the stock and cash under his/her care and
report any shortfalls or concerns to the Stock Generation Manager.
4



General
To act as the representative of Claire House Shops and to implement the highest
standards of customer care and services.
To attend any meetings as required by the Stock Generation Manager.
To perform all reasonable and related duties as required by the Charity.
All Parking/Spending Fines etc. incurred will be paid by the employee.
Claire House General Responsibilities
Every employee is required to:








Adhere to and comply with organisational policies, procedures and
guidelines at all times.
Implement Risk Management strategies (including reporting, registering risk
and learning) - taking all reasonable steps to manage and promote a safe
and healthy working environment which is free from discrimination.
Comply with the organisational policy on confidentiality, and the Data
Protection Act 1998 as amended relating to information held manually or on
computerised systems.
Respect the confidentiality and privacy of guests, volunteers and staff at all
times.
Implement Health and Safety regulations – through risk assessment.
Maintaining a constant awareness of health, welfare and safety issues
affecting colleagues, service users, volunteers, visitors and themselves,
reporting any accidents or faults in line with organisational policy, and fully
participating in health and safety training.
Participate in personal training, development, appraisal, and attend all
relevant training courses as required.
Take part in Research Governance (If required)
Embrace the volunteer culture which exists in the organisation
All employees will have an understanding of Children's Hospices and an empathy with the
philosophy of Claire House Children's Hospice in particular and the hospice movement in
general.
The post holder must act at all times in a professional and responsible manner and have due
regard to confidentiality and Health & Safety legislation.
This job description does not attempt to describe all the tasks and responsibilities of the
post, but rather illustrates with examples, the main role of the post-holder. It is therefore
subject to alteration and development as and when required.
Stock Collectors - Person Specification
Essential
Qualifications
Good demonstrable level of numeracy
and literacy
Desirable
Full Clean driving licence
Full driving licence – No more than 3
points
Experience
Working in a similar type role either
delivery driving or posting house to
house
Being responsible for paperwork
relating to deliveries and collections
Completing very basic maintenance
tasks
Working for a recognised local or
national courier company
Conducting basic vehicle
maintenance checks
Experience of driving a 3.5 tonne
vehicle
Working to targets within pre agreed
time scales
Skills
A good level of physical fitness as the
role requires a significant amount of
walking and lifting of full donation bags
and furniture some of it heavy.
Knowledge of Health & Safety
requirements
Experience of planning delivery
routes
An ability to work alone, organising and
prioritising a work load and routes on a
daily basis
An awareness of being part of a larger
overall team
An ability to organise and store
documentation generated during the
course of deliveries and collections
A willingness to record data as
requested
An ability to inspire and supervise
volunteers
Achieve given targets
Personal
Attributes/Abilities
Honest open and reliable
Good team player
Committed to the aims and objectives
A willingness to exceed
expectations
of Claire House
Committed to success and to achieving
organisational excellence
Excellent attention to detail
Committed to promoting and securing
equality of opportunity
Flexible approach to working hours and
locations
A target driven person
Due to the high volume of applications anticipated, unfortunately we will not be able to
notify unsuccessful applicants. If you have not heard from us by 8th January 2016
please assume that your application has not been successful.