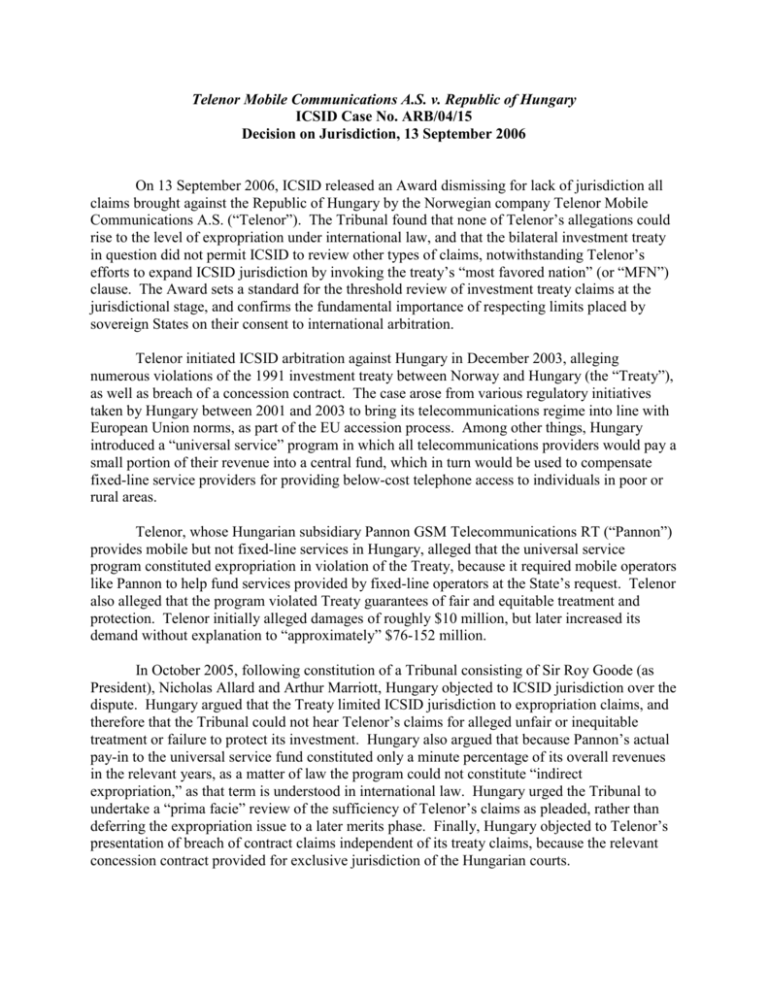 Telenor Mobile Communications A.S. v. Republic of Hungary
ICSID Case No. ARB/04/15
Decision on Jurisdiction, 13 September 2006
On 13 September 2006, ICSID released an Award dismissing for lack of jurisdiction all
claims brought against the Republic of Hungary by the Norwegian company Telenor Mobile
Communications A.S. ("Telenor"). The Tribunal found that none of Telenor's allegations could
rise to the level of expropriation under international law, and that the bilateral investment treaty
in question did not permit ICSID to review other types of claims, notwithstanding Telenor's
efforts to expand ICSID jurisdiction by invoking the treaty's "most favored nation" (or "MFN")
clause. The Award sets a standard for the threshold review of investment treaty claims at the
jurisdictional stage, and confirms the fundamental importance of respecting limits placed by
sovereign States on their consent to international arbitration.
Telenor initiated ICSID arbitration against Hungary in December 2003, alleging
numerous violations of the 1991 investment treaty between Norway and Hungary (the "Treaty"),
as well as breach of a concession contract. The case arose from various regulatory initiatives
taken by Hungary between 2001 and 2003 to bring its telecommunications regime into line with
European Union norms, as part of the EU accession process. Among other things, Hungary
introduced a "universal service" program in which all telecommunications providers would pay a
small portion of their revenue into a central fund, which in turn would be used to compensate
fixed-line service providers for providing below-cost telephone access to individuals in poor or
rural areas.
Telenor, whose Hungarian subsidiary Pannon GSM Telecommunications RT ("Pannon")
provides mobile but not fixed-line services in Hungary, alleged that the universal service
program constituted expropriation in violation of the Treaty, because it required mobile operators
like Pannon to help fund services provided by fixed-line operators at the State's request. Telenor
also alleged that the program violated Treaty guarantees of fair and equitable treatment and
protection. Telenor initially alleged damages of roughly $10 million, but later increased its
demand without explanation to "approximately" $76-152 million.
In October 2005, following constitution of a Tribunal consisting of Sir Roy Goode (as
President), Nicholas Allard and Arthur Marriott, Hungary objected to ICSID jurisdiction over the
dispute. Hungary argued that the Treaty limited ICSID jurisdiction to expropriation claims, and
therefore that the Tribunal could not hear Telenor's claims for alleged unfair or inequitable
treatment or failure to protect its investment. Hungary also argued that because Pannon's actual
pay-in to the universal service fund constituted only a minute percentage of its overall revenues
in the relevant years, as a matter of law the program could not constitute "indirect
expropriation," as that term is understood in international law. Hungary urged the Tribunal to
undertake a "prima facie" review of the sufficiency of Telenor's claims as pleaded, rather than
deferring the expropriation issue to a later merits phase. Finally, Hungary objected to Telenor's
presentation of breach of contract claims independent of its treaty claims, because the relevant
concession contract provided for exclusive jurisdiction of the Hungarian courts.
In response, Telenor argued that indirect expropriation required only some demonstrated
diminution of investment value as a result of government regulation, not a devastating impact
equivalent to the effects of traditional direct expropriation or nationalization. Telenor also
argued that the MFN clause of the Treaty allowed the Tribunal to exercise jurisdiction over
claims other than expropriation, because Hungary had entered into treaties with other States that
did not contain the same limitation on consent to ICSID as reflected in its treaty with Norway.
The jurisdictional hearing was held in London on April 28, 2006. The Tribunal heard
oral argument from both sides.
On 22 June 2006, the Tribunal issued its Award, which for administrative reasons was
first released to the parties on 13 September 2006. The Tribunal upheld all of Hungary's
objections to jurisdiction. It accepted that Hungary's consent in the Treaty to ICSID jurisdiction
did not extend to breach of contract claims or to treaty claims other than expropriation, and
rejected Telenor's invocation of the MFN clause to expand its substantive jurisdiction. The
Tribunal noted the prior decision to the same effect in Plama Consortium Ltd. v. Republic of
Bulgaria, and distinguished the circumstances of Plama and this case from other ICSID
decisions (such as Maffezini v. Kingdom of Spain, Siemens A.G. v. Argentine Republic, and more
recently Suez v. Argentine Republic) that had allowed investors to invoke MFN clauses to
circumvent procedural prerequisites to ICSID jurisdiction, as opposed to expanding the scope of
ICSID jurisdiction to substantive claims that the Contracting Parties had deliberately excluded
from submission. "In these circumstances," the Tribunal reasoned, "to invoke the MFN clause to
embrace the method of dispute resolution is to subvert the intention of the parties to the basic
treaty, who have made it clear that this is not what they wish."
The Tribunal also found that in ICSID proceedings, "there is an initial threshold that has
to be crossed by any claimant resisting objections to jurisdiction in that the claimant must at least
adduce facts showing a prima facie case in favour of jurisdiction if the arbitration is to proceed
to a hearing on the merits." In this case, the Tribunal found that even assuming all of Telenor's
factual allegations to be true for purposes of jurisdictional analysis, those allegations could not
satisfy the legal requirements of expropriation under international law. The Tribunal noted that
"the mere exercise by government of regulatory powers that create impediments to business or
entail the payment of taxes or other levies does not by itself constitute expropriation…. The
conduct complained of must be such as to have a major adverse impact on the economic value of
the investment," as "substantially to deprive the investor of the economic value, use or
enjoyment of its investment." Because Pannon's losses from the alleged regulatory violations
did not constitute "substantial erosion of value," according to its own annual financial
statements, Telenor could not claim its investment in Hungary (Pannon) had been expropriated.
The Tribunal ordered Telenor to bear the full costs of the proceeding, including 100% of
the Tribunal's fees and expenses and the administrative expenses of the Tribunal. It also ordered
Telenor to reimburse Hungary for all legal costs and expenses associated with its defense.
Hungary was represented by an Arnold & Porter LLP team of Whitney Debevoise and
Jean Kalicki on arbitration issues and Michael Ryan and Emma Wright on telecommunications
issues, and by Tamas Kende and Janos Katona of the Law Firm of Tamas Kende in Budapest.
Telenor was represented by Péter Nagy, Ágnes Szarka, Gergely Szikla and Janos Burai-Kovács
of Nagy És Trócsányi Ügyvédi Iroda of Budapest.