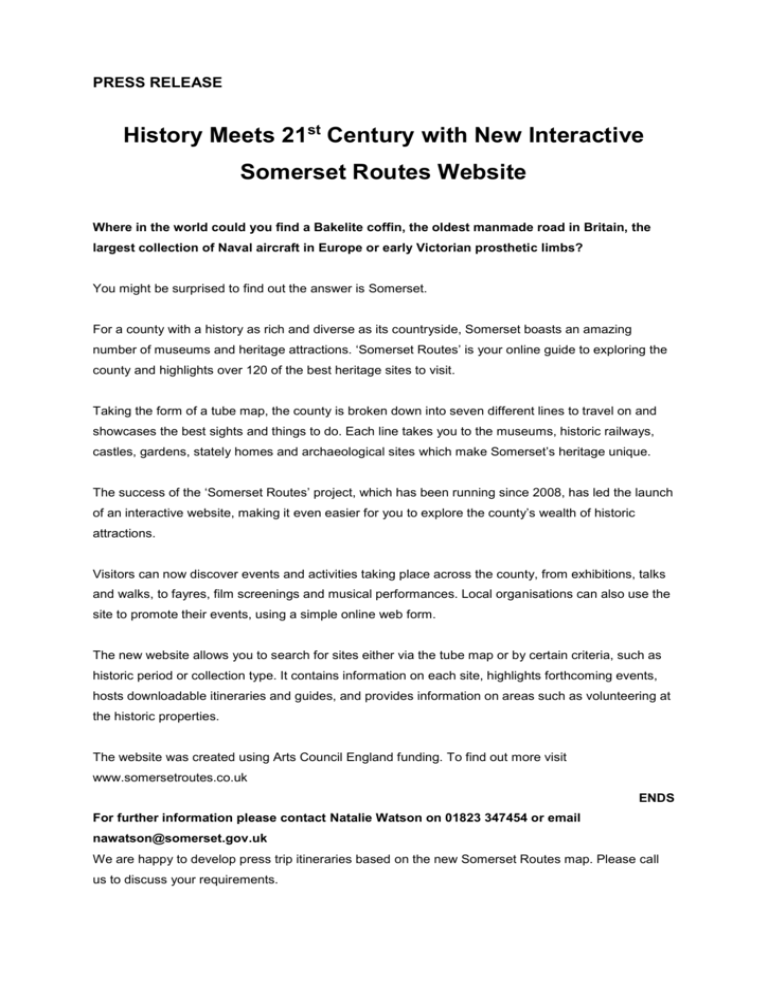 PRESS RELEASE
History Meets 21st Century with New Interactive
Somerset Routes Website
Where in the world could you find a Bakelite coffin, the oldest manmade road in Britain, the
largest collection of Naval aircraft in Europe or early Victorian prosthetic limbs?
You might be surprised to find out the answer is Somerset.
For a county with a history as rich and diverse as its countryside, Somerset boasts an amazing
number of museums and heritage attractions. 'Somerset Routes' is your online guide to exploring the
county and highlights over 120 of the best heritage sites to visit.
Taking the form of a tube map, the county is broken down into seven different lines to travel on and
showcases the best sights and things to do. Each line takes you to the museums, historic railways,
castles, gardens, stately homes and archaeological sites which make Somerset's heritage unique.
The success of the 'Somerset Routes' project, which has been running since 2008, has led the launch
of an interactive website, making it even easier for you to explore the county's wealth of historic
attractions.
Visitors can now discover events and activities taking place across the county, from exhibitions, talks
and walks, to fayres, film screenings and musical performances. Local organisations can also use the
site to promote their events, using a simple online web form.
The new website allows you to search for sites either via the tube map or by certain criteria, such as
historic period or collection type. It contains information on each site, highlights forthcoming events,
hosts downloadable itineraries and guides, and provides information on areas such as volunteering at
the historic properties.
The website was created using Arts Council England funding. To find out more visit
www.somersetroutes.co.uk
ENDS
For further information please contact Natalie Watson on 01823 347454 or email
nawatson@somerset.gov.uk
We are happy to develop press trip itineraries based on the new Somerset Routes map. Please call
us to discuss your requirements.
Notes to the Editor:

The Tube Lines are as follows:

Alfred and Levels Line
Travel through 45 miles of the evocative Somerset Levels and explore ancient settlements,
medieval abbeys and civil war sites.

Battle Line
This 85-mile circular line takes you through a range of different landscapes including the
Somerset Levels, the Mendip Hills, Polden Hills and coastline.

Castle Line
From England's smallest city, to Somerset's border with Bath, over 30 miles of scenic roads
take you to some of the finest castles, buildings and palaces in the county.

Country Line
Get the taste of Somerset in just 23 miles. Uncover ancient sites, glorious gardens and
picturesque parks or stop for the obligatory cricket and cider experience.

Hamstone Line
This circular line showcases 55 miles of stately homes and beautiful gardens nestled between
traditional orchards and rural villages.

Kings' Line
Travel the 40-mile line named after the area's royal connections with King Alfred and the
mythical King Arthur. The Kings' Line leads you from historic Montacute at the foot of Ham
Hill, to the very borders of Somerset and Dorset.

Quantock and Coast Line
Stretching across the west, this line encompasses 60 miles of the widest variety of castles,
abbeys, railways and quirky museum collections.

Somerset-based museums grouped together to form the self-help group Museums in Somerset.
The group meet three times a year to discuss issues of mutual interest, share news, participate in
training and plan partnership projects. The county has over 50 museums and heritage
organisations. The County Council and the District Council of South Somerset all run museums.
The National Trust and English Heritage also have properties in the region, but by far the largest
number of museums are run by independent charitable trusts - and many of these only flourish
due to the commitment of volunteers.