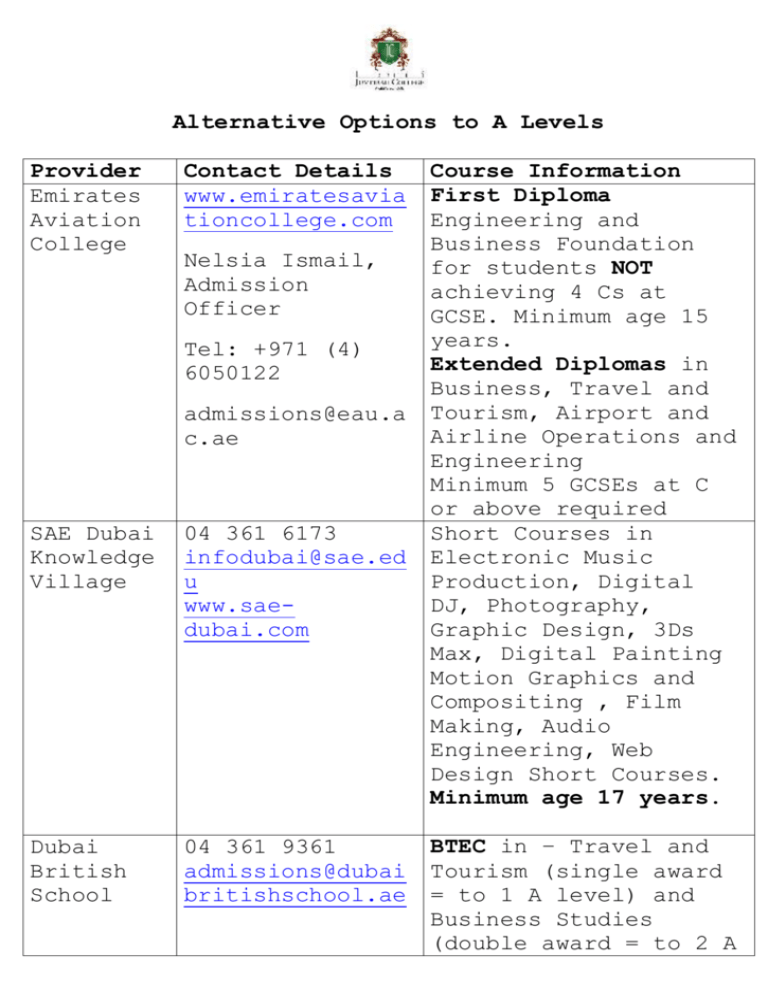 Alternative Options to A Levels
Provider
Emirates
Aviation
College
Contact Details
www.emiratesavia
tioncollege.com
Nelsia Ismail,
Admission
Officer
Tel: +971 (4)
6050122
admissions@eau.a
c.ae
SAE Dubai
Knowledge
Village
04 361 6173
infodubai@sae.ed
u
www.saedubai.com
Dubai
British
School
04 361 9361
admissions@dubai
britishschool.ae
Course Information
First Diploma
Engineering and
Business Foundation
for students NOT
achieving 4 Cs at
GCSE. Minimum age 15
years.
Extended Diplomas in
Business, Travel and
Tourism, Airport and
Airline Operations and
Engineering
Minimum 5 GCSEs at C
or above required
Short Courses in
Electronic Music
Production, Digital
DJ, Photography,
Graphic Design, 3Ds
Max, Digital Painting
Motion Graphics and
Compositing , Film
Making, Audio
Engineering, Web
Design Short Courses.
Minimum age 17 years.
BTEC in – Travel and
Tourism (single award
= to 1 A level) and
Business Studies
(double award = to 2 A
levels). 4 GCSEs C or
above including maths
and English required
for entry.
EYES-ME
www.eyes-me.com
04 446 5820
Cambridge 04 282 4646
Internatio info_cis@gemsedu
nal School .com
Cordoba
Institute
Knowledge
Village &
Karama
04-370 6303
www.cordobainstitute.com
Greenfield 04 885 6600
Community IBCCSchool
info@gcschool.ae
Dubai
Check with
school for entry
requirements
CACHE Diploma in
Childcare at levels 1,
2 and 3. Minimum age
16 years
BTEC Business Studies
Diploma
BTEC Media
BTEC Performing Arts
BTEC IT Practitioners
Diploma
BTEC Applied Science
Entry Requirements 4
GCSEs at D or above
plus C in English.
Offer a range of GCSE,
AS and A2 level
courses. Entry
requirements for A
levels are minimum age
16 years and
completion of their
GCSEs.
International
Baccalaureate
Career-related
Certificate (IBCP) a
qualification that
combines the IB
Diploma Programme with
a work
placement/vocational
training. Subjects
Include Business, Art,
Graphic Design,
Regent
04 360 8830
Internatio
ext. 100/101
nal School
04 360 8831
The Greens www.risdubai.com
GEMS
Contactus_wso@ge
Wellington msdu.com
Academy
04 342 4040
Silicon
Oasis
Dubai
English
Speaking
School
DESC
04
3604866
English
College
04 394 3465
assistantregistr
ar@descdubai.com
Mr Jon Kendry
Interior Design, Media
& photography,
Jewellery design,
Sculpture and ICT-web
design.
A range of A levels
see website for
details and entry
requirements.
C grades at GCSE
minimum entry
requirements.
International
Baccalaureate Careers
Related Programme
(IBCP) in Sport, IT,
Creative Media, Music
Technology and
Business
5 GCSEs at A* to C
BTEC National Level 3
Diploma in Sport and
BTEC National Level 3
Diploma in Enterprise
and Entrepreneurship.
Both are the
equivalent of 2 A
Levels and have an
entry requirement of 5
A*-C.
They offer a selection
of A levels including
Applied Travel and
Tourism. The minimum
entry requirements are
5 GCSEs at C or above
and Bs in the subjects
they want to take at A
level
GEMS
FirstPoint
School.
The Villa
04 278 9700
Email:
registrar_fps@ge
msedu.com
A level Subjects Offered
Art, Biology, Business,
Chemistry, Computer Science,
DT: Engineering, DT: Fashion
Design, DT: Product Design,
Economics, English Language,
English Literature, Food
Preparation and Nutrition,
French, Further Mathematics,
Geography, History,
Mathematics, Physics,
Physical Education,
Psychology, Spanish Entry
requirements 5 Cs at GCSE or
above.
It is really important to check the suitability
of all these courses and institutions for your
son or daughter, and to ensure the
international recognition of the qualifications
on offer. All schools will have an application
deadline so please check to ensure you apply on
time.