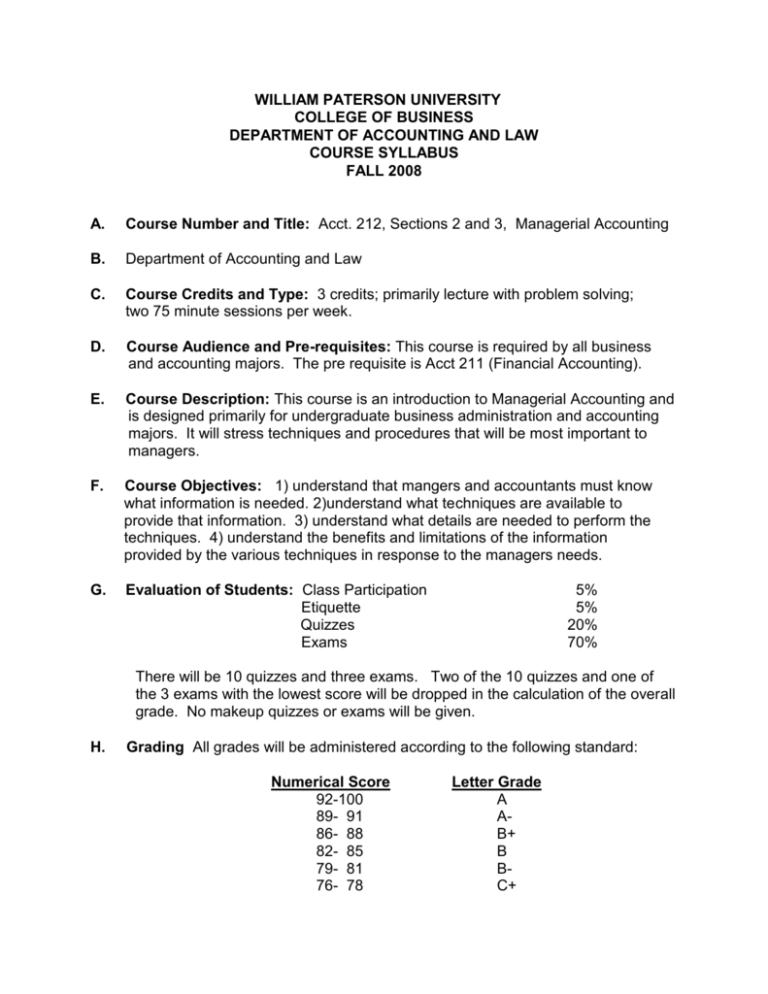 WILLIAM PATERSON UNIVERSITY
COLLEGE OF BUSINESS
DEPARTMENT OF ACCOUNTING AND LAW
COURSE SYLLABUS
FALL 2008
A.
Course Number and Title: Acct. 212, Sections 2 and 3, Managerial Accounting
B.
Department of Accounting and Law
C.
Course Credits and Type: 3 credits; primarily lecture with problem solving;
two 75 minute sessions per week.
D.
Course Audience and Pre-requisites: This course is required by all business
and accounting majors. The pre requisite is Acct 211 (Financial Accounting).
E.
Course Description: This course is an introduction to Managerial Accounting and
is designed primarily for undergraduate business administration and accounting
majors. It will stress techniques and procedures that will be most important to
managers.
F.
Course Objectives: 1) understand that mangers and accountants must know
what information is needed. 2)understand what techniques are available to
provide that information. 3) understand what details are needed to perform the
techniques. 4) understand the benefits and limitations of the information
provided by the various techniques in response to the managers needs.
G.
Evaluation of Students: Class Participation
Etiquette
Quizzes
Exams
5%
5%
20%
70%
There will be 10 quizzes and three exams. Two of the 10 quizzes and one of
the 3 exams with the lowest score will be dropped in the calculation of the overall
grade. No makeup quizzes or exams will be given.
H.
Grading All grades will be administered according to the following standard:
Numerical Score
92-100
89- 91
86- 88
82- 85
79- 81
76- 78
Letter Grade
A
AB+
B
BC+
72- 75
69- 71
64- 68
59- 63
58 or below
C
CD+
D
F
I. Textbook:
Weygandt, Kieso and Kimmel Managerial Accounting 4th Edition
J. Contact: Prof. Hannah Wong
Valley Road Building - Room 4076 - Telephone: (973) 720-3618
Office Hours:
Monday 11:00am-1:00pm,
Wednesday 2:30-3:30pm
Thursday 6:00-7:00pm
E-Mail: wongc1@wpunj.edu
K.
.
L.
Teaching Methods:
Each class will be devoted to a lecture of the material in the textbook. Initially the
content of each chapter will be reviewed in detail by the professor. This
discussion will be followed by a discussion of the problems assigned at the
back of each chapter. Every student is expected to come to class to fully
prepared to participate in discussion and review of all assignments
Examinations:
1. The exam questions will include materials covered in lecture, exercises,
handouts, and assigned readings.
2. The quizzes and exams are closed-book closed-notes in-class exams with no
formula sheet allowed.
3. The exams will test your reading comprehension as well as your ability to grasp
concepts and retain facts, including equations.
4. Only regular calculators can be used. No manual of calculator, scrap paper,
cellular phone, pager, or sharing of calculator are allowed in an exam.
5. Do NOT leave the room until the exam has been handed in.
6. A copy of the exam solutions will be made available for your review in my office
during office hours. If you have any questions, please feel free to stop by.
M.
Policy on Cheating:
Anyone caught cheating on a quiz or an exam will be given a zero (0) for such
quiz/exam.
N.
Attendance and Make-up Policy:
If you are absent on a day when a quiz/exam is given, you will receive 0 for the
quiz/exam. I.e. the missed quiz/exam will count as one of the dropped quiz/exam
score from the overall grade. No make-up exams are given.
O.
Etiquettes: All students are expected to attend the class without causing any
disturbance/distraction. If a student arrives late, talks to another student, has a cell
phone ringing, or cause a distraction in other ways, he/she will be given a warning on
the first offense. After that, each offense will result in 1 point reduction in the
overall course grade.
P.
TOPICAL OUTLINE OF COURSE CONTENT
September 3
Introduction to managerial accounting
September 8, 10
Managerial Accounting
Read Chapter 1 in textbook
Assignments from chapter E1-2; E1-3; E1-4; E1-5, E1-8, P1-4, P1-3A
September 15, 17
Job Order Cost Accounting
Read Chapter 2 in textbook
Assignments from chapter E2-2; E2-4; E2-5; E2-8; E2-7; E2-10, P2-1A, P2-2A
September 22, 24
Process Cost Accounting
Read Chapter 3 in textbook
Assignments from chapter E3-3; E3-4; E3-5; E3-6, P3-1A, P3-3A, P3-5A
September 29, October 1
Activity Based Accounting
Read Chapter 4 in textbook
Assignments from chapter BE4-3; BE4-4; BE4-6; BE4-8, E4-1, E4-3, E4-4,
P4-1A
October 6, 8
Cost-Volume-Profit Relationships
Read Chapter 5 in textbook
Assignments from chapter E5-2; E5-3; E5-4; E5-5; E5-8; E5-9, E5-14(b), P5-1A,
P5-2A
October 13, 15
Chapter 5 continued
October 20
Review for exam Chapters 1-5
`
October 22
Exam chapters 1-5
October 27, 29
Incremental Analysis
Read Chapter 6 in textbook
Assignments from chapter E6-1; E6-2; E6-3; E6-4; E6-6, E6-8. E6-9, E6-10,
P6-4A
November 3, 5
Variable Costing: A Decision-Making Perspective
Read Chapter 7 in textbook
Assignments from chapter E7-1; E7-2; E7-3; E7-5; E7-6; E7-7, P7-2A
November 10, 12
Budgetary Planning
Read Chapter 9 in textbook
Assignments from chapter BE9-2 to 7, E9-2; E9-3; E9-4, E9-12, E9-13, P9-2A
November 17, 19
Standard Costing
Read Chapter 11 in textbook
Assignments from chapter E11-2; E11-3; E11-5; E11-6; E11-7, P11-2A
November 24, 26
Chapter 11 continued
December 1
Review for exam Chapters 6, 7, 9, 11
December 3
Exam chapters 6, 7, 9, 11
December 8, 10
Budgetary Control and Responsibility Accounting
Read Chapter 10 in textbook
Assignments from chapter E10-2; E10-12; E10-14; E10-16
Exam Week
Final Exam (Chapters 6, 7, 9, 10, 11)
Q.
The instructor reserves all rights to make changes to the course as necessary.