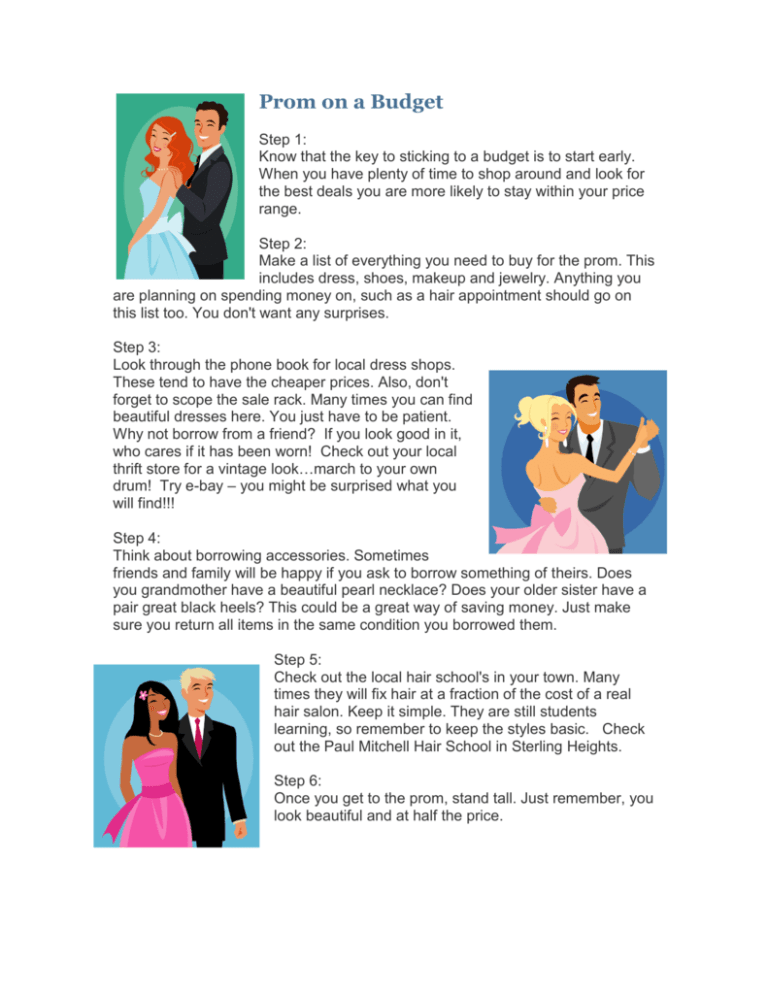 Prom on a Budget
Step 1:
Know that the key to sticking to a budget is to start early.
When you have plenty of time to shop around and look for
the best deals you are more likely to stay within your price
range.
Step 2:
Make a list of everything you need to buy for the prom. This
includes dress, shoes, makeup and jewelry. Anything you
are planning on spending money on, such as a hair appointment should go on
this list too. You don't want any surprises.
Step 3:
Look through the phone book for local dress shops.
These tend to have the cheaper prices. Also, don't
forget to scope the sale rack. Many times you can find
beautiful dresses here. You just have to be patient.
Why not borrow from a friend? If you look good in it,
who cares if it has been worn! Check out your local
thrift store for a vintage look…march to your own
drum! Try e-bay – you might be surprised what you
will find!!!
Step 4:
Think about borrowing accessories. Sometimes
friends and family will be happy if you ask to borrow something of theirs. Does
you grandmother have a beautiful pearl necklace? Does your older sister have a
pair great black heels? This could be a great way of saving money. Just make
sure you return all items in the same condition you borrowed them.
Step 5:
Check out the local hair school's in your town. Many
times they will fix hair at a fraction of the cost of a real
hair salon. Keep it simple. They are still students
learning, so remember to keep the styles basic. Check
out the Paul Mitchell Hair School in Sterling Heights.
Step 6:
Once you get to the prom, stand tall. Just remember, you
look beautiful and at half the price.