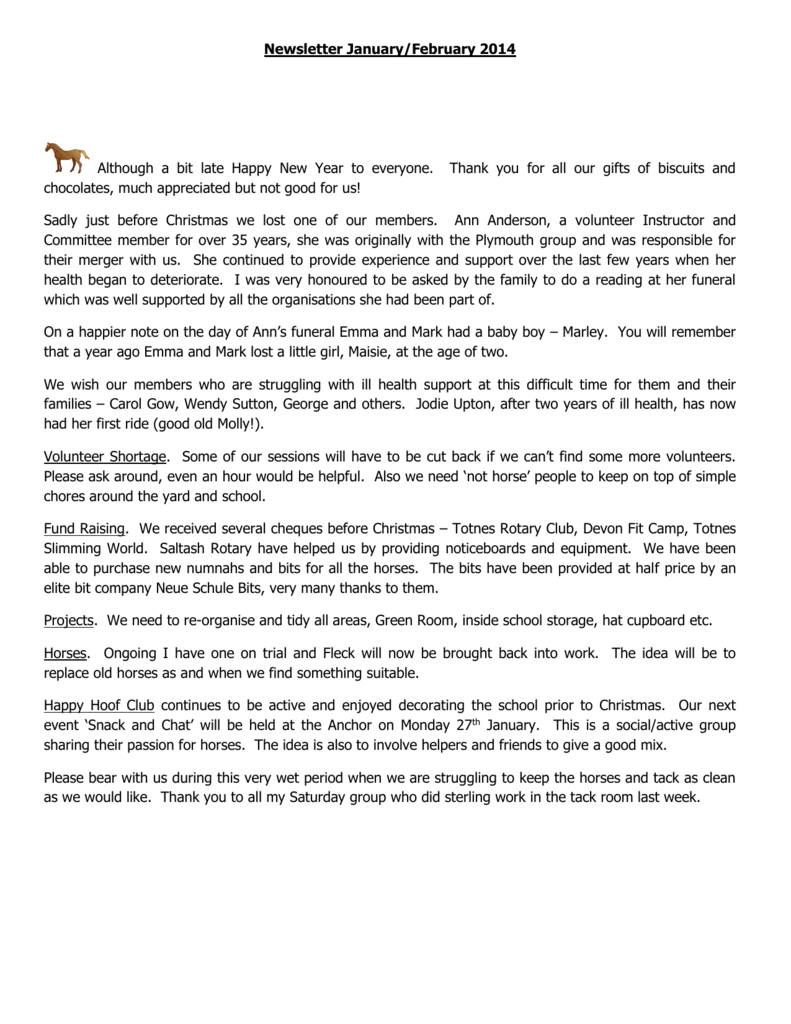 Newsletter January/February 2014
Although a bit late Happy New Year to everyone.
chocolates, much appreciated but not good for us!
Thank you for all our gifts of biscuits and
Sadly just before Christmas we lost one of our members. Ann Anderson, a volunteer Instructor and
Committee member for over 35 years, she was originally with the Plymouth group and was responsible for
their merger with us. She continued to provide experience and support over the last few years when her
health began to deteriorate. I was very honoured to be asked by the family to do a reading at her funeral
which was well supported by all the organisations she had been part of.
On a happier note on the day of Ann's funeral Emma and Mark had a baby boy – Marley. You will remember
that a year ago Emma and Mark lost a little girl, Maisie, at the age of two.
We wish our members who are struggling with ill health support at this difficult time for them and their
families – Carol Gow, Wendy Sutton, George and others. Jodie Upton, after two years of ill health, has now
had her first ride (good old Molly!).
Volunteer Shortage. Some of our sessions will have to be cut back if we can't find some more volunteers.
Please ask around, even an hour would be helpful. Also we need 'not horse' people to keep on top of simple
chores around the yard and school.
Fund Raising. We received several cheques before Christmas – Totnes Rotary Club, Devon Fit Camp, Totnes
Slimming World. Saltash Rotary have helped us by providing noticeboards and equipment. We have been
able to purchase new numnahs and bits for all the horses. The bits have been provided at half price by an
elite bit company Neue Schule Bits, very many thanks to them.
Projects. We need to re-organise and tidy all areas, Green Room, inside school storage, hat cupboard etc.
Horses. Ongoing I have one on trial and Fleck will now be brought back into work. The idea will be to
replace old horses as and when we find something suitable.
Happy Hoof Club continues to be active and enjoyed decorating the school prior to Christmas. Our next
event 'Snack and Chat' will be held at the Anchor on Monday 27th January. This is a social/active group
sharing their passion for horses. The idea is also to involve helpers and friends to give a good mix.
Please bear with us during this very wet period when we are struggling to keep the horses and tack as clean
as we would like. Thank you to all my Saturday group who did sterling work in the tack room last week.
DATES
(provisional list)
27th January
Happy Hoof Club. Snack and Chat a the Anchor
17th to 21st February
Half Term – no riding
9th March
Para Dressage at the Brook (invitation only)
3rd April
Last Session
23rd April
First session Summer Term
29th April
Suppra Regional Conference, Bristol
5th May
No Riding
13th May
S.J. Regional Competition at the Brook (provisional)
20th May
Regional Dressage (Cornwall) invitation
26th to 30th May
Half Term – no riding
16th to 20th June
Helpers Training Week and Open Week
19th June
Training Evening 7pm (no riding in evening)
3rd July
Coffee Morning (Peg's) – no morning riding
5th July
Group Dressage and Cream Tea, the Brook
7th to 17th July
Activities/Proficiency Awards
17th July
AGM and BBQ at Peg's – no evening riding
18th to 20th July
Nationals
INSTRUCTORS TRAINING EVENING (Directors welcome)
10th or 11th February, 7pm at Peg's – PLEASE LET ME KNOW YOUR AVAILABILITY.