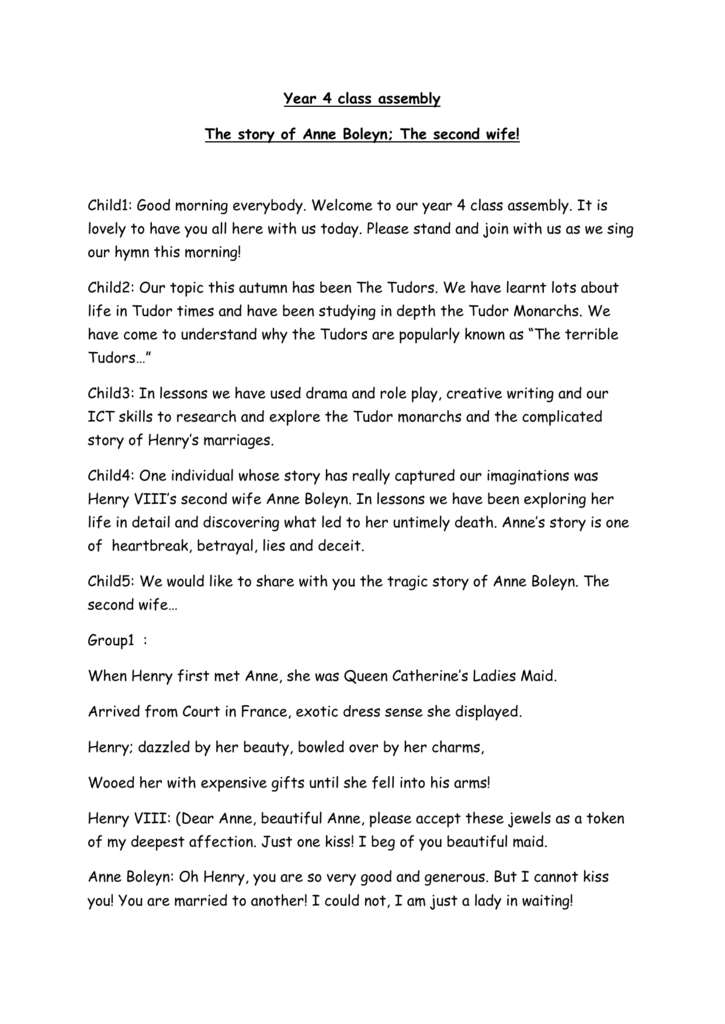 Year 4 class assembly
The story of Anne Boleyn; The second wife!
Child1: Good morning everybody. Welcome to our year 4 class assembly. It is
lovely to have you all here with us today. Please stand and join with us as we sing
our hymn this morning!
Child2: Our topic this autumn has been The Tudors. We have learnt lots about
life in Tudor times and have been studying in depth the Tudor Monarchs. We
have come to understand why the Tudors are popularly known as "The terrible
Tudors…"
Child3: In lessons we have used drama and role play, creative writing and our
ICT skills to research and explore the Tudor monarchs and the complicated
story of Henry's marriages.
Child4: One individual whose story has really captured our imaginations was
Henry VIII's second wife Anne Boleyn. In lessons we have been exploring her
life in detail and discovering what led to her untimely death. Anne's story is one
of heartbreak, betrayal, lies and deceit.
Child5: We would like to share with you the tragic story of Anne Boleyn. The
second wife…
Group1 :
When Henry first met Anne, she was Queen Catherine's Ladies Maid.
Arrived from Court in France, exotic dress sense she displayed.
Henry; dazzled by her beauty, bowled over by her charms,
Wooed her with expensive gifts until she fell into his arms!
Henry VIII: (Dear Anne, beautiful Anne, please accept these jewels as a token
of my deepest affection. Just one kiss! I beg of you beautiful maid.
Anne Boleyn: Oh Henry, you are so very good and generous. But I cannot kiss
you! You are married to another! I could not, I am just a lady in waiting!
Group 2:
Her family were ambitious and had their eyes upon the throne.
They would not rest or give up until the crown was made their own.
Now Henry he was DESPERATE for his wife to have a son,
but many children died back then; he'd been left with only one!
Just one girl named Mary, who was strong and full of grace,
but a boy was Henry's want, after his death to take his place!
Henry VIII: angrily: Why can't Catherine give me a son!? A son is what I need! A
boy to take my place and continue the Tudor name… She is too old to give me
the boy I need.
Anne's advisor: This is your chance Anne – you have cast a spell over Henry – you
could be Queen… Plant the seed Anne, plant the seed…
Anne: Poor, poor sweet Henry, if I were your wife I should provide you with a
strong handsome son in the image of you. In fact I would provide you with many,
many strong sons…
Group 3:
Anne promised she'd provide one, if only they were wed!
So Henry begged the Pope for divorce; "No chance" was what he said!
Henry grew more desperate for a male Tudor heir,
He was filled with desperation and beginning to despair!
The Pope refused his wishes and Henry felt he had no choice!
He broke from Church in Rome! Oh, how Anne's family did rejoice!
Henry VIII: I need to divorce Catherine! Send word to the Pope! If he won't
grant me divorce I will have no choice but to become the head of the Church in
England and grant myself a divorce!
Pope: I cannot grant a divorce! Out of the question! Marriage is under the eyes
of God. What he has brought together no man can break! Tell the King no! NO I
SAY!
Advisor: Sir, the Pope has refused again. Time is running out. The country needs
a male heir!
Henry VIII: So be it! I will become the Church in England! See to it!
Catherine of Aragon: Henry does not love me anymore. I did not give him a son.
I will never see my beloved Mary again!
Mary: Oh mother, how can father do this to us!? Who is this lady's maid who
presumes to be Queen!?
Anne: Henry wants me for a wife! I hope I can provide the son he so desires!
What will become of me if I cannot!?
Group 1: Anne's family got their wish and Queen Catherine was no more!
Sent away from Court, replaced by Anne for Henry to adore!
Her fears and worries were well founded for things do not end well for Anne.
The foolish girl had promised Henry she would provide a little man!
A boy to continue Henry's precious Tudor reign…
But along came Elizabeth, another girl again!
Anne: I have provided a strong girl, but I had promised him a son! Dear sweet
Elizabeth I need to give you a brother and quickly!
Henry: Another girl. But I already have a girl. Anne promised me a boy, she
promised me many boys… Dear oh dear.
Group 2:
The country they were angry; for they did not want Anne as their Queen,
and so began the rumours that unfaithful Anne had been!
Henry felt so angry; she had not delivered the son
that she had promised him when their story first begun!
So he began to listen to the poison in the air,
about his new Queen's actions, a scandal! AN AFFAIR!
Advisor: She has betrayed you my Lord, she has had many men in her
bedchambers.
Advisor2: She has promised a son and yet you have nothing but another girl.
Queen Catherine had already provided you with a daughter your majesty!
Advisor: they say she has six fingers on one hand your majesty!
Advisor2: Six fingers – a witch maybe my Lord.
Both: A witch, a witch… She has bewitched you your majesty!
Henry VIII: A witch. I was tricked! She has not given me the son she promised!
Six fingers, men in her chambers!? I have been deceived!
Group 2: Now Henry was getting older, and there was no time to lose.
So a dilemma was created and Henry had to choose!
Ignore the vicious rumours about Anne and what she'd done,
or replace Queen Anne and try again, marry a new someone…
It just so happened that a girl named Jane had caught his eye!
History was to repeat itself and for poor Anne, we say bye bye…
Messenger: The King has ordered that you are to go to the Tower my lady
where you will await your fate! Come with me your majesty. The tower will be
your new home.
Anne: Why has this happened to me!? I wanted to be a good Queen! Hope rests
with my daughter, Elizabeth now!
Group 3: She was taken to the tower, many accusations made.
Anne Boleyn's life was now to end! Her head the price she paid.
The rumours they had not been true. Betrayed him she had not,
but Henry was manipulated, so Anne was left to rot…
Replaced by her own ladies maid, as she'd replaced Queen number one,
and so our story ends just as it had begun…
Anne: I did not provide him with what he required most. My enemies worked
against me and I could not be saved! Oh how I wish I had never been made
Queen!
Henry VIII: I must marry again; England needs a King to follow me! Find me a
new wife! Find me a wife who can give me a son! FIND ME A NEW WIFE AT
ONCE!
Child1: Phew… As you can see, the Tudors really were terrible! In particular
Henry, who was so obsessed with needing a son that he made many bad choices
in his life.
Child2: Anne's story was indeed a sad one, but she would have been smiling down
from heaven when her daughter Elizabeth finally became Queen!
Child3: Elizabeth's reign became the most successful of all the Tudor monarchs
and was known as "The Golden Age."
Child4: Elizabeth I was hailed as one of the greatest ever English monarchs!
Child5: Seems Henry did not need his son after all! He should have believed in
girl power!
Child1: Since Elizabeths's reign some of the greatest and best loved English
monarchs have been female! Henry should have believed in his daughters!
Child2: Thank you for joining us today and sharing in our assembly.
Child3: We hope you take away the moral of this sad story –
Child4: DON'T UNDERESTIMATE WOMEN!
Child5: Please put your hands together and close your eyes as we pray together
this morning:
Dear Lord,
Thank you for this wonderful day, we ask you that you continue to help us in our
lessons.
Open our eyes and ears to Your wonderful world; the sun and stars and space,
numbers and letters and words, people, places and ideas.
Give us the will to listen and learn; the patience to work well with others; the
courage to seek and to ask questions.
In gratitude we ask You to help all the teachers and teaching assistants as they
continue to help and guide us as we learn in school.
Be close to us and teach us to continue to enjoy our learning and to do our very
best each and every day.
Amen.