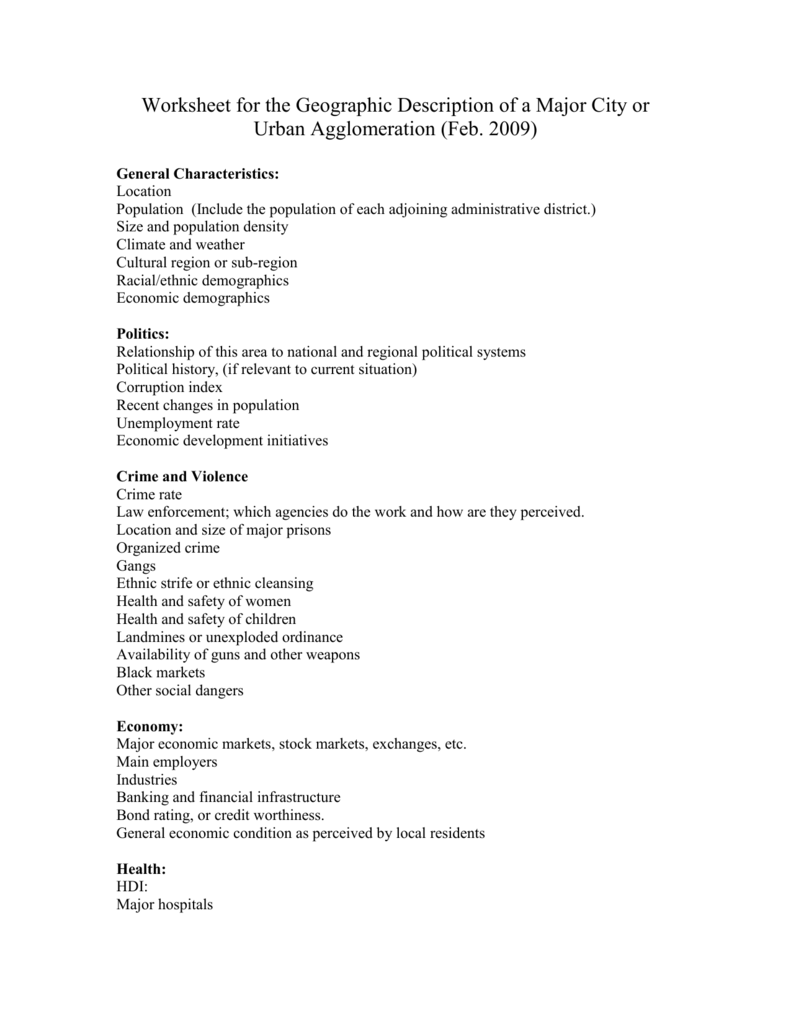 Worksheet for the Geographic Description of a Major City or
Urban Agglomeration (Feb. 2009)
General Characteristics:
Location
Population (Include the population of each adjoining administrative district.)
Size and population density
Climate and weather
Cultural region or sub-region
Racial/ethnic demographics
Economic demographics
Politics:
Relationship of this area to national and regional political systems
Political history, (if relevant to current situation)
Corruption index
Recent changes in population
Unemployment rate
Economic development initiatives
Crime and Violence
Crime rate
Law enforcement; which agencies do the work and how are they perceived.
Location and size of major prisons
Organized crime
Gangs
Ethnic strife or ethnic cleansing
Health and safety of women
Health and safety of children
Landmines or unexploded ordinance
Availability of guns and other weapons
Black markets
Other social dangers
Economy:
Major economic markets, stock markets, exchanges, etc.
Main employers
Industries
Banking and financial infrastructure
Bond rating, or credit worthiness.
General economic condition as perceived by local residents
Health:
HDI:
Major hospitals
Specialty clinics
EMS system; average response times, overall perception of quality.
Average lifespan
Infant mortality
Rates of key infectious diseases:
(HIV, TB, hepatitis, diarrheal disease, Dengue, Chikungunya, others)
Demographics
Percent of population living in poverty
Number or percent of children who do not attend school
Literacy rate
Sex industry
Alcoholism
Drug abuse issues
Religion
Religious demographics
Relationship of religion to civil government
Religious history
Sacred sites
Influence of religion on local politics
Popular Culture:
Cultural attractions
Cultural centers
Performing arts centers
Theaters
Shopping
Importance of tourist industry
Museums
Monuments
Historic areas
Parks
Sports centers
Professional sports
Popular recreational activities
Leisure spots
Educational system (public and private schools)
Major colleges and Universities
Environment
Is the environment regarded as "clean", or "dirty?"
Trash on streets
Dump scavengers
Recycling
Environmental health issues
Air quality
Water quality
Availability and price of gasoline
Market conditions (supply shortages, severe inflation)
Historic, (past) hazard vulnerability
Modern, (future) hazard vulnerability
Infrastructures
Nature and quality of commercial buildings
Nature, quantity, and quality of housing
Building codes enforced? By whom?
Internet access
Media, radio, TV, newspapers, blogspots
Mail
Telecommunications
Availability of water
Storm drainage
Sewage treatment
Solid waste
Electric reliability and availability
Natural Gas
Steam
Streets, nature and quality
Bridges and Tunnels
Rail access
Maritime freight
Air travel
Other Quality of Life Issues
Current news and headlines
News sources, radio stations, newspapers, television; is there a free press?
How easy is it to find meaningful, accurate information about this place?
What issues are of primary concern to the people living in this city?