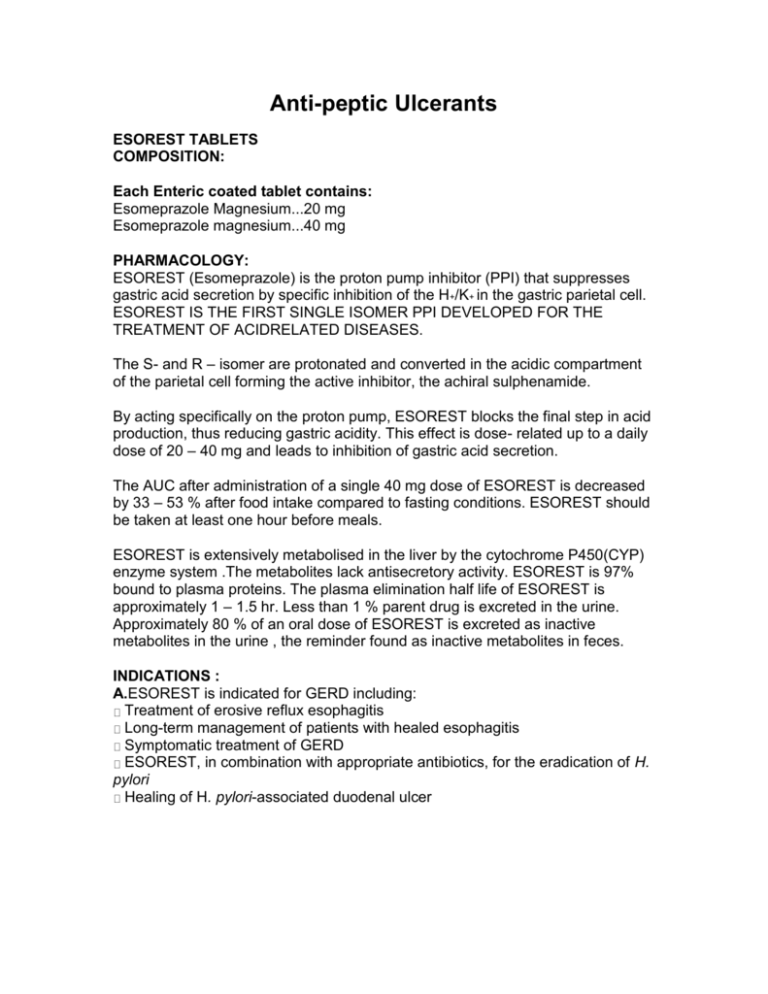 Anti-peptic Ulcerants
ESOREST TABLETS
COMPOSITION:
Each Enteric coated tablet contains:
Esomeprazole Magnesium...20 mg
Esomeprazole magnesium...40 mg
PHARMACOLOGY:
ESOREST (Esomeprazole) is the proton pump inhibitor (PPI) that suppresses
gastric acid secretion by specific inhibition of the H+/K+ in the gastric parietal cell.
ESOREST IS THE FIRST SINGLE ISOMER PPI DEVELOPED FOR THE
TREATMENT OF ACIDRELATED DISEASES.
The S- and R – isomer are protonated and converted in the acidic compartment
of the parietal cell forming the active inhibitor, the achiral sulphenamide.
By acting specifically on the proton pump, ESOREST blocks the final step in acid
production, thus reducing gastric acidity. This effect is dose- related up to a daily
dose of 20 – 40 mg and leads to inhibition of gastric acid secretion.
The AUC after administration of a single 40 mg dose of ESOREST is decreased
by 33 – 53 % after food intake compared to fasting conditions. ESOREST should
be taken at least one hour before meals.
ESOREST is extensively metabolised in the liver by the cytochrome P450(CYP)
enzyme system .The metabolites lack antisecretory activity. ESOREST is 97%
bound to plasma proteins. The plasma elimination half life of ESOREST is
approximately 1 – 1.5 hr. Less than 1 % parent drug is excreted in the urine.
Approximately 80 % of an oral dose of ESOREST is excreted as inactive
metabolites in the urine , the reminder found as inactive metabolites in feces.
INDICATIONS :
A.ESOREST is indicated for GERD including:
Treatment of erosive reflux esophagitis
Long-term management of patients with healed esophagitis
Symptomatic treatment of GERD
ESOREST, in combination with appropriate antibiotics, for the eradication of H.
pylori
Healing of H. pylori-associated duodenal ulcer
CONTRAINDICATIONS:
ESOREST is contraindicated in patients with previous hypersensitivity reactions
to the drug, a component of the product formulation or to substituted
benzimidazole.
DRUG INTERACTIONS:
Changes in gastric pH can affect bioavialability of certain medications.(e.g
Ketoconazole, Iron salts ) ESOREST can decrease the clearance of Diazepam
by 45% and increase the plasma levels of Diazepam. No drug -drug interaction
found btween esomeprazole and phenytoin, r-warfarin, quinidine, amoxicillin, and
clarithromycine.
PRECAUTIONS:
Symptomatic response to therapy with ESOREST does not preclude the
presence of gastric malignancy. Atrophic gastritis has been noted occasionally in
gastric corpus biopsies from patients treated with long term with Omeprazole, of
which Esomeprazole magnesium is an enantiomer.
PREGNANCY AND LACTATION:
There are no adequate and well controlled studies in pregnant women. Sporadic
reports have been received of congenital abnormalities occurring in infants born
to women who have received omeprazole during pregnancy. Omeprazole
classified as Pregnancy Category C. The manufacturer recommends that
Omeprazole only be used during pregnancy if the potential benefit justifies the
potential risk to foetus. Esomeprazole is classified as Pregnancy Category B.
ADVERSE REACTIONS:
The adverse events associated with esorest therapy are similar to those seen
with placebo and omeprazole therapy. this is also similar to other PPIs available.
The most common adverse events reported in the clinical trials were diarrhea,
abdominal pain, flatulence, gastritis, nausea, and headache.
DOSAGE AND ADMINISTRATIONS:
Treatment of erosive esophagitis: ESOREST 40mg once daily for 4 – 8 weeks
Symptomatic GERD/Maintenance of erosive esophagitis: 20 mg once daily for 4
weeks
H.pylori : 40 mg once daily for 10 days in combination with appropriate antibiotics
PRESENTATIONS:
ESOREST is available as an enteric coated and easy-to-swallow small tablet
available in strip of 10 tablets.