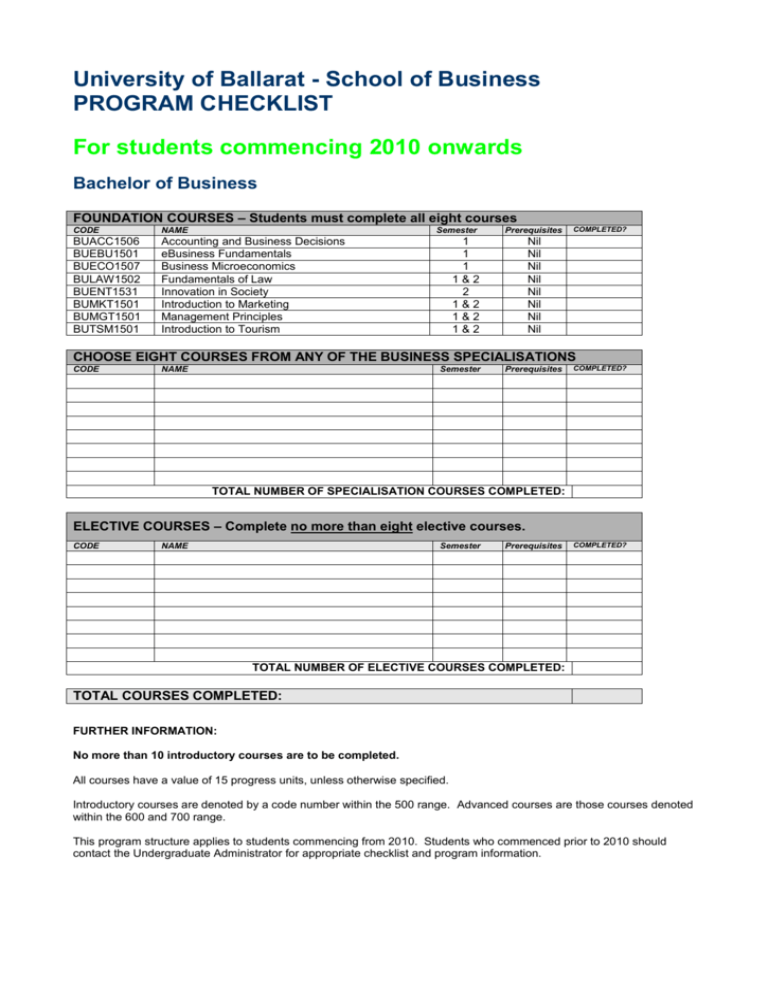 University of Ballarat - School of Business
PROGRAM CHECKLIST
For students commencing 2010 onwards
Bachelor of Business
FOUNDATION COURSES – Students must complete all eight courses
CODE
NAME
BUACC1506
BUEBU1501
BUECO1507
BULAW1502
BUENT1531
BUMKT1501
BUMGT1501
BUTSM1501
Accounting and Business Decisions
eBusiness Fundamentals
Business Microeconomics
Fundamentals of Law
Innovation in Society
Introduction to Marketing
Management Principles
Introduction to Tourism
Semester
Prerequisites
1
1
1
1&2
2
1&2
1&2
1&2
COMPLETED?
Nil
Nil
Nil
Nil
Nil
Nil
Nil
Nil
CHOOSE EIGHT COURSES FROM ANY OF THE BUSINESS SPECIALISATIONS
CODE
NAME
Semester
Prerequisites
COMPLETED?
TOTAL NUMBER OF SPECIALISATION COURSES COMPLETED:
ELECTIVE COURSES – Complete no more than eight elective courses.
CODE
NAME
Semester
Prerequisites
COMPLETED?
TOTAL NUMBER OF ELECTIVE COURSES COMPLETED:
TOTAL COURSES COMPLETED:
FURTHER INFORMATION:
No more than 10 introductory courses are to be completed.
All courses have a value of 15 progress units, unless otherwise specified.
Introductory courses are denoted by a code number within the 500 range. Advanced courses are those courses denoted
within the 600 and 700 range.
This program structure applies to students commencing from 2010. Students who commenced prior to 2010 should
contact the Undergraduate Administrator for appropriate checklist and program information.