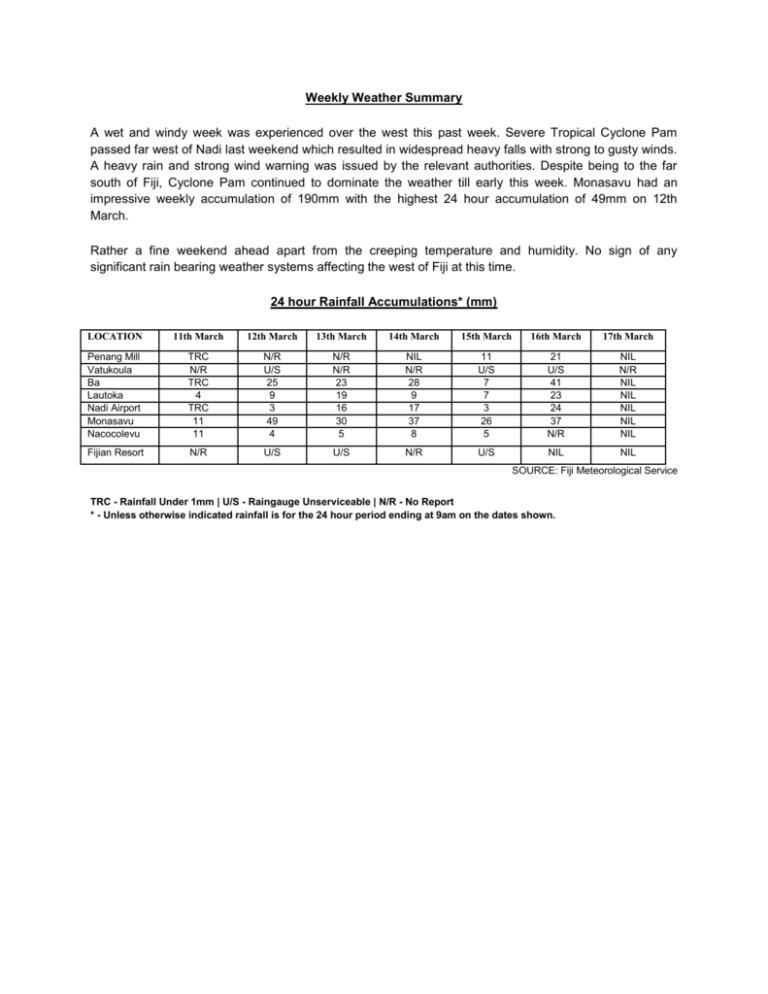 Weekly Weather Summary
A wet and windy week was experienced over the west this past week. Severe Tropical Cyclone Pam
passed far west of Nadi last weekend which resulted in widespread heavy falls with strong to gusty winds.
A heavy rain and strong wind warning was issued by the relevant authorities. Despite being to the far
south of Fiji, Cyclone Pam continued to dominate the weather till early this week. Monasavu had an
impressive weekly accumulation of 190mm with the highest 24 hour accumulation of 49mm on 12th
March.
Rather a fine weekend ahead apart from the creeping temperature and humidity. No sign of any
significant rain bearing weather systems affecting the west of Fiji at this time.
24 hour Rainfall Accumulations* (mm)
LOCATION
11th March
12th March
13th March
14th March
15th March
16th March
17th March
Penang Mill
Vatukoula
Ba
Lautoka
Nadi Airport
Monasavu
Nacocolevu
TRC
N/R
TRC
4
TRC
11
11
N/R
U/S
25
9
3
49
4
N/R
N/R
23
19
16
30
5
NIL
N/R
28
9
17
37
8
11
U/S
7
7
3
26
5
21
U/S
41
23
24
37
N/R
NIL
N/R
NIL
NIL
NIL
NIL
NIL
Fijian Resort
N/R
U/S
U/S
N/R
U/S
NIL
NIL
SOURCE: Fiji Meteorological Service
TRC - Rainfall Under 1mm | U/S - Raingauge Unserviceable | N/R - No Report
* - Unless otherwise indicated rainfall is for the 24 hour period ending at 9am on the dates shown.