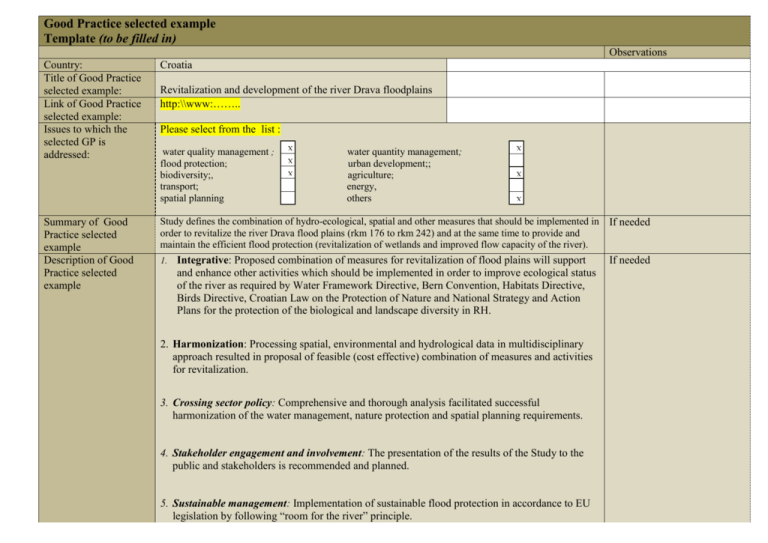 Good Practice selected example
Template (to be filled in)
Observations
Country:
Title of Good Practice
selected example:
Link of Good Practice
selected example:
Issues to which the
selected GP is
addressed:
Summary of Good
Practice selected
example
Description of Good
Practice selected
example
Croatia
Revitalization and development of the river Drava floodplains
http:\\www:……..
Please select from the list :
water quality management ;
flood protection;
biodiversity;,
transport;
spatial planning
X
X
X
water quantity management;
urban development;;
agriculture;
energy,
others
X
X
X
Study defines the combination of hydro-ecological, spatial and other measures that should be implemented in
order to revitalize the river Drava flood plains (rkm 176 to rkm 242) and at the same time to provide and
maintain the efficient flood protection (revitalization of wetlands and improved flow capacity of the river).
1.
Integrative: Proposed combination of measures for revitalization of flood plains will support
and enhance other activities which should be implemented in order to improve ecological status
of the river as required by Water Framework Directive, Bern Convention, Habitats Directive,
Birds Directive, Croatian Law on the Protection of Nature and National Strategy and Action
Plans for the protection of the biological and landscape diversity in RH.
2. Harmonization: Processing spatial, environmental and hydrological data in multidisciplinary
approach resulted in proposal of feasible (cost effective) combination of measures and activities
for revitalization.
3. Crossing sector policy: Comprehensive and thorough analysis facilitated successful
harmonization of the water management, nature protection and spatial planning requirements.
4. Stakeholder engagement and involvement: The presentation of the results of the Study to the
public and stakeholders is recommended and planned.
5. Sustainable management: Implementation of sustainable flood protection in accordance to EU
legislation by following "room for the river" principle.
If needed
If needed
6. Transnational or trans boundary management: Not applicable.
7. Innovative aspects Not applicable.
8.
Risk factors Not applicable.