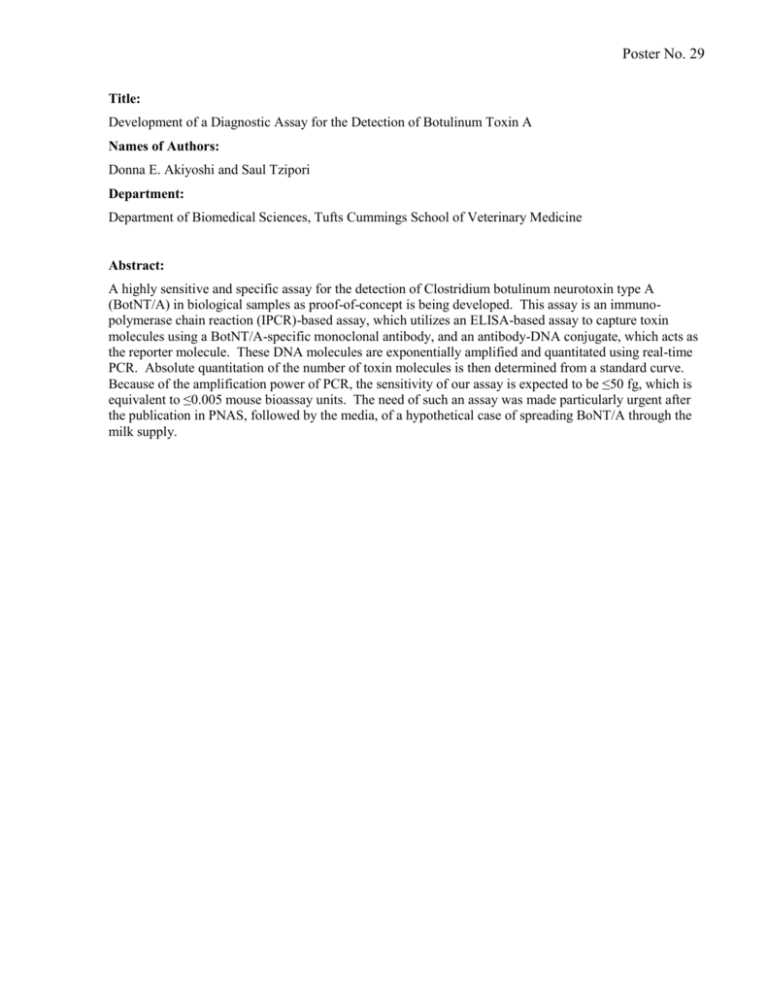 Poster No. 29
Title:
Development of a Diagnostic Assay for the Detection of Botulinum Toxin A
Names of Authors:
Donna E. Akiyoshi and Saul Tzipori
Department:
Department of Biomedical Sciences, Tufts Cummings School of Veterinary Medicine
Abstract:
A highly sensitive and specific assay for the detection of Clostridium botulinum neurotoxin type A
(BotNT/A) in biological samples as proof-of-concept is being developed. This assay is an immunopolymerase chain reaction (IPCR)-based assay, which utilizes an ELISA-based assay to capture toxin
molecules using a BotNT/A-specific monoclonal antibody, and an antibody-DNA conjugate, which acts as
the reporter molecule. These DNA molecules are exponentially amplified and quantitated using real-time
PCR. Absolute quantitation of the number of toxin molecules is then determined from a standard curve.
Because of the amplification power of PCR, the sensitivity of our assay is expected to be ≤50 fg, which is
equivalent to ≤0.005 mouse bioassay units. The need of such an assay was made particularly urgent after
the publication in PNAS, followed by the media, of a hypothetical case of spreading BoNT/A through the
milk supply.