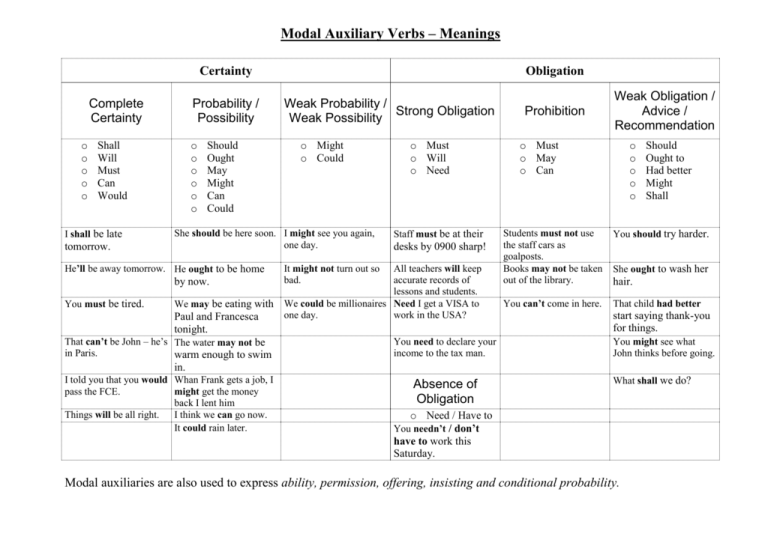 Modal Auxiliary Verbs – Meanings
Certainty
Complete
Certainty
o
o
o
o
o
Shall
Will
Must
Can
Would
I shall be late
tomorrow.
Probability /
Possibility
o
o
o
o
o
o
Should
Ought
May
Might
Can
Could
Weak Probability /
Strong Obligation
Weak Possibility
o Might
o Could
She should be here soon. I might see you again,
one day.
He'll be away tomorrow. He ought to be home
by now.
You must be tired.
Obligation
We may be eating with
Paul and Francesca
tonight.
That can't be John – he's The water may not be
in Paris.
warm enough to swim
in.
I told you that you would Whan Frank gets a job, I
pass the FCE.
might get the money
back I lent him
Things will be all right. I think we can go now.
It could rain later.
o Must
o Will
o Need
Staff must be at their
desks by 0900 sharp!
It might not turn out so
bad.
All teachers will keep
accurate records of
lessons and students.
We could be millionaires Need I get a VISA to
one day.
work in the USA?
You need to declare your
income to the tax man.
Absence of
Obligation
Prohibition
Weak Obligation /
Advice /
Recommendation
o Must
o May
o Can
o
o
o
o
o
Should
Ought to
Had better
Might
Shall
Students must not use
the staff cars as
goalposts.
Books may not be taken
out of the library.
You should try harder.
You can't come in here.
That child had better
She ought to wash her
hair.
start saying thank-you
for things.
You might see what
John thinks before going.
What shall we do?
o Need / Have to
You needn't / don't
have to work this
Saturday.
Modal auxiliaries are also used to express ability, permission, offering, insisting and conditional probability.
Note that intonation and stress can alter the meaning of a sentence with a modal auxiliary verb.