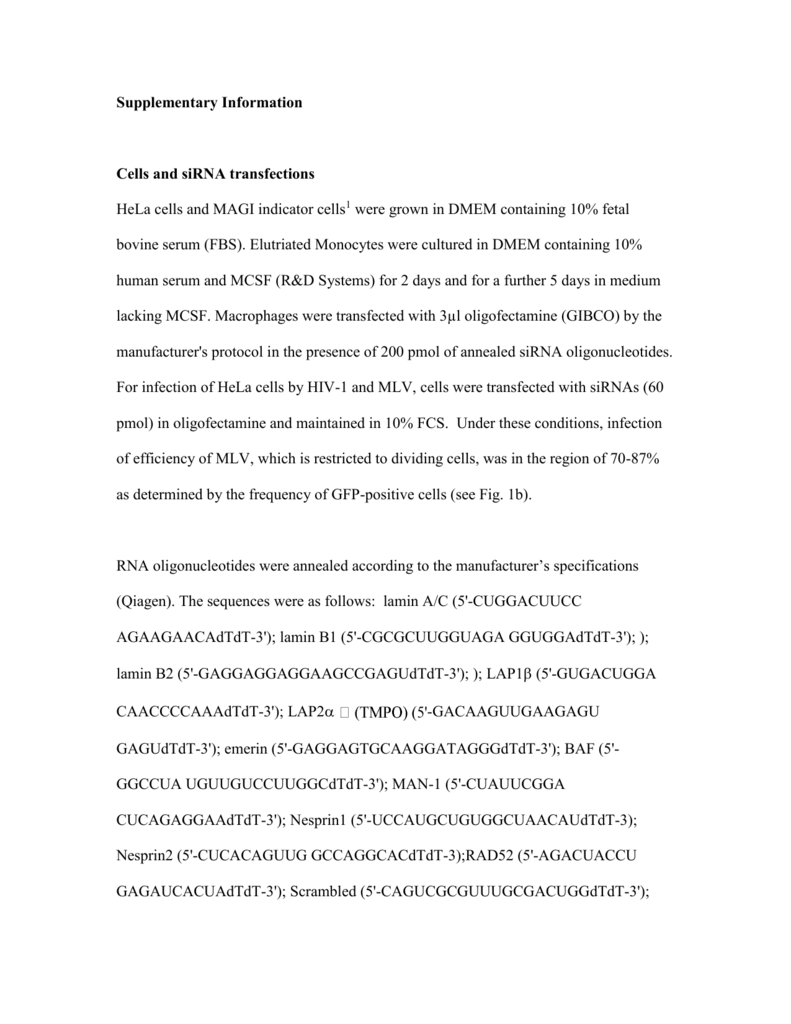 Supplementary Information
Cells and siRNA transfections
HeLa cells and MAGI indicator cells1 were grown in DMEM containing 10% fetal
bovine serum (FBS). Elutriated Monocytes were cultured in DMEM containing 10%
human serum and MCSF (R&D Systems) for 2 days and for a further 5 days in medium
lacking MCSF. Macrophages were transfected with 3µl oligofectamine (GIBCO) by the
manufacturer's protocol in the presence of 200 pmol of annealed siRNA oligonucleotides.
For infection of HeLa cells by HIV-1 and MLV, cells were transfected with siRNAs (60
pmol) in oligofectamine and maintained in 10% FCS. Under these conditions, infection
of efficiency of MLV, which is restricted to dividing cells, was in the region of 70-87%
as determined by the frequency of GFP-positive cells (see Fig. 1b).
RNA oligonucleotides were annealed according to the manufacturer's specifications
(Qiagen). The sequences were as follows: lamin A/C (5'-CUGGACUUCC
AGAAGAACAdTdT-3'); lamin B1 (5'-CGCGCUUGGUAGA GGUGGAdTdT-3'); );
lamin B2 (5'-GAGGAGGAGGAAGCCGAGUdTdT-3'); ); LAP1 (5'-GUGACUGGA
CAACCCCAAAdTdT-3'); LAP2
-GACAAGUUGAAGAGU
GAGUdTdT-3'); emerin (5'-GAGGAGTGCAAGGATAGGGdTdT-3'); BAF (5'GGCCUA UGUUGUCCUUGGCdTdT-3'); MAN-1 (5'-CUAUUCGGA
CUCAGAGGAAdTdT-3'); Nesprin1 (5'-UCCAUGCUGUGGCUAACAUdTdT-3);
Nesprin2 (5'-CUCACAGUUG GCCAGGCACdTdT-3);RAD52 (5'-AGACUACCU
GAGAUCACUAdTdT-3'); Scrambled (5'-CAGUCGCGUUUGCGACUGGdTdT-3');
HMGA1 (5'-GUGCCAAAACCUAAGAGAC dTdT-3); GFP (5'-GACUUCAAGGAA
GAUGGCAdTdT-3).
The LAP1 siRNAs knockdown both LAP 1 and 2. The sequences of the LAP2
siRNAs which knockdown LAP2 1, 2, and 3 are as described in.2
PCR analysis
Late reverse transcription products in HIV-1 infected macrophages comprise full length
(late) viral cDNA, 1 and 2-LTR circle junctions and integrated proviruses. Late products
were amplified with an HIV-1 LTR R-specific primer (primer W) and a primer in Gag
(primer BB) as indicated in Fig. 2. This primer set amplifies all late products of reverse
transcription including linear cDNA, episomal cDNAs and proviral DNA. 2-LTR circle
products were amplified using a 5 LTR R-specific primer (primer C1) and a primer in
the Nef gene (primer C4). These primers have the capacity to amplify autointegrants in
which the 5 prime LTR is integrated within 3 LTR/Nef sequences. Whether amplicons
comprised of 2-LTR circle products or autointegrants was determined by sequencing of
cloned C1-C4 amplicons (see Fig. 2c). 1-LTR circles were amplified with an HIV-1 gagspecific primer (primer LA1) and an envelope-specific primer (primer LA15). These
primers also permit amplification of autointegrants harboring junctions between the 5
LTR and viral DNA as well as the 3 LTR and viral DNA. Under the PCR conditions
used, large amplicons comprising 2-LTR circle junctions are inefficiently generated by
LA1-LA15 primers while smaller 1-LTR circle products are almost exclusively
amplified. This was verified by sequencing of individual amplicons. Viral cDNA was
amplified in 50 l reactions containing 1X HotStar TAQTM buffer, 200 nM dNTPs, 400
nM primers and 1.5 U HotStar TAQ (Qiagen, Valencia, CA). After an initial
denaturation step (95oC for 10 minutes), PCR amplification proceeded for 45 cycles
(95oC for 30 s; 60oC for 30 s; 72oC for 60 s) followed by a final extension (72oC for 5
minutes). PCR reactions were conducted using an ABI prism 7700 sequence detection
system with the addition of 200 nM fluorogenic probe (5AGTGGCGAGCCCTCA
GATGCTGC-3) to the reaction as detailed previously.3 For sequencing, amplicons were
cloned into a TA cloning vector (Invitrogen, San Diego, CA) and analyzed on a ABI 377
DNA sequencer according to the manufacturer protocol. Primer sequencers for
amplification of HIV-1 cDNA are as follows: C4 (5'-TAGACCAGATCTGAG CCT
GGGA -3'); C1, (5'-GTAGTTCTGCCAAT CAGGGAAG -3'); LA1 (5'-GCGCTTCAGC
AAGCCGAGT CCT -3') and LA15 (5'-CACACCTCAGGTACCTT TAAGA -3'); W,
(5'-GGGAGCTCTCTGGCTAACT-3'); BB, (5'-GGATTAACTGCG AATCGTTC-3').
The integration assay was performed on DNAzol-extracted total DNA (Invitrogen) using
the Alu primer (5'-TGCTGGGA TTACAGGCGTGAG-3') and primer C1.
For RT-PCR, 3 µg total RNA (RNAeasy, Qiagen) was reverse transcribed and amplified
by PCR (One step PCR kit, Invitrogen) using the specific primer sets as follows:
MAN-1 (5'-TGACTAACAGCAACTCTG-3') and (5'-TACTATGGGTTCGTCTGG-3');
Emerin (5'-TACCGAGCTGACCACC-3') and (5'-GACCAGGAAAAGCAGCAG-3');
BAF (5'-ATGACAACCTCCCAAAAGCAC-3') and (5'-TCACAAGAAGGCGT CGC
ACC-3'); lamin A/C (5'- CCAAGAAGCA ACTTCAGGATG-3') and (5'- ATTGTCAA
TCTCCACCAGTCG-3'); lamin B1 (5'- TAACGAGACCAGAAGGAAGCA-3') and (5'CATTCTCAAGTTTGG CATGGT-3'); lamin B2 (5'- GCCATGAGGACTGTG AAGA
AG-3') and (5'- AAGGTGTGTGG ATGAGGAGTG-3'); LAP1 (5'- CCCCACAAAC
TGCAAGAATAA-3') and (5'- GGAACTC TTGAACAGCAGTGG-3'); LAP2 (TMPO)
(5'- CTCGGTCCTGACA AAAGACAA-3') and (5'- TCTTCGTCACTGGA GAAGTCC3'); Nesprin1 (5'-ATGGCAACCTCCAGAGGG-3') and (5'-CGCTTCTC
CAACTCTTCC-3'); Nesprin2 (5'-ATGGCATCTAGTCCTGAG-3') and (5'-GGCGC
ATTGTTCCTGAGC-3'); -Actin (5'-ATGTTTGAGACCTTCAACAC-3') and (5'CACGTCACACTTCATGATGG-3').
Western blotting
20 µg of whole-cell lysates in triple detergent lysis buffer were electrophoresed on a 12%
SDS-polyacrylamide gel and electrotransferred to a nitrocellulose membrane (Amersham
Hybond C+). Antibodies to Lamin A/C (sc-7292), Histone H1 (sc-8030), -Actin (sc32251), LAP2 (sc-19784) and RAD52 (sc-8350) were obtained from Santa Cruz
Biotechnologies. The c-myc and 6-His antibodies were purchased from Invitrogen.
1.
2.
3.
Kimpton, J. & Emerman, M. Detection of replication-competent and pseudotyped
human immunodeficiency virus with a sensitive cell line on the basis of activation
of an integrated beta-galactosidase gene. Journal of Virology 66, 2232-2239
(1992).
Suzuki, Y., Yang, H. & Craigie, R. LAP2alpha and BAF collaborate to organize
the Moloney murine leukemia virus preintegration complex. Embo J 23, 46704678 (2004).
Sharkey, M. et al. Persistence of episomal HIV-1 infection intermediates in
patients on highly active antiretroviral therapy. Nature Medicine 6, 76-81 (2000).