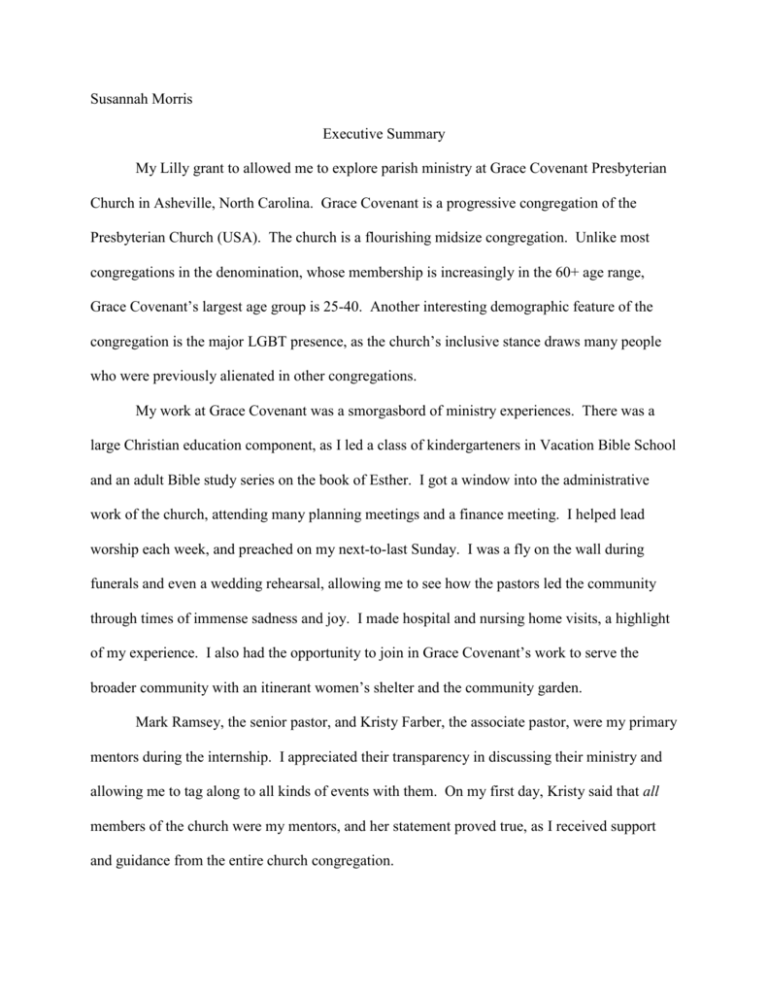 Susannah Morris
Executive Summary
My Lilly grant to allowed me to explore parish ministry at Grace Covenant Presbyterian
Church in Asheville, North Carolina. Grace Covenant is a progressive congregation of the
Presbyterian Church (USA). The church is a flourishing midsize congregation. Unlike most
congregations in the denomination, whose membership is increasingly in the 60+ age range,
Grace Covenant's largest age group is 25-40. Another interesting demographic feature of the
congregation is the major LGBT presence, as the church's inclusive stance draws many people
who were previously alienated in other congregations.
My work at Grace Covenant was a smorgasbord of ministry experiences. There was a
large Christian education component, as I led a class of kindergarteners in Vacation Bible School
and an adult Bible study series on the book of Esther. I got a window into the administrative
work of the church, attending many planning meetings and a finance meeting. I helped lead
worship each week, and preached on my next-to-last Sunday. I was a fly on the wall during
funerals and even a wedding rehearsal, allowing me to see how the pastors led the community
through times of immense sadness and joy. I made hospital and nursing home visits, a highlight
of my experience. I also had the opportunity to join in Grace Covenant's work to serve the
broader community with an itinerant women's shelter and the community garden.
Mark Ramsey, the senior pastor, and Kristy Farber, the associate pastor, were my primary
mentors during the internship. I appreciated their transparency in discussing their ministry and
allowing me to tag along to all kinds of events with them. On my first day, Kristy said that all
members of the church were my mentors, and her statement proved true, as I received support
and guidance from the entire church congregation.