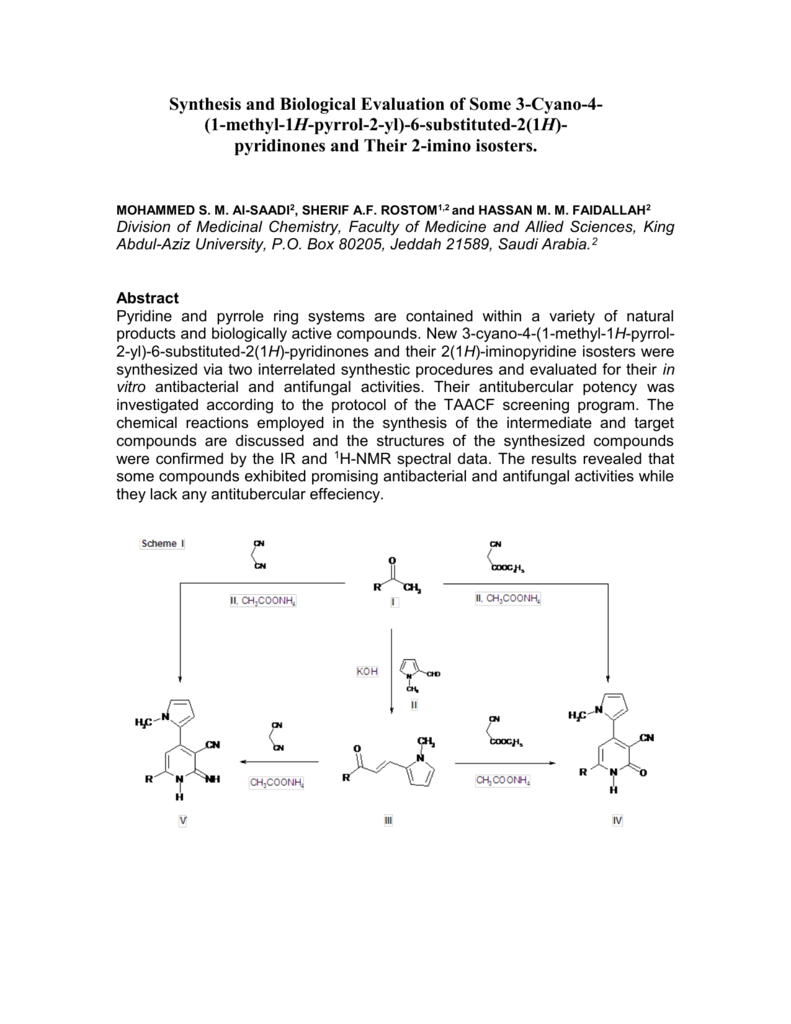 Synthesis and Biological Evaluation of Some 3-Cyano-4(1-methyl-1H-pyrrol-2-yl)-6-substituted-2(1H)pyridinones and Their 2-imino isosters.
MOHAMMED S. M. Al-SAADI2, SHERIF A.F. ROSTOM1,2 and HASSAN M. M. FAIDALLAH2
Division of Medicinal Chemistry, Faculty of Medicine and Allied Sciences, King
Abdul-Aziz University, P.O. Box 80205, Jeddah 21589, Saudi Arabia. 2
Abstract
Pyridine and pyrrole ring systems are contained within a variety of natural
products and biologically active compounds. New 3-cyano-4-(1-methyl-1H-pyrrol2-yl)-6-substituted-2(1H)-pyridinones and their 2(1H)-iminopyridine isosters were
synthesized via two interrelated synthestic procedures and evaluated for their in
vitro antibacterial and antifungal activities. Their antitubercular potency was
investigated according to the protocol of the TAACF screening program. The
chemical reactions employed in the synthesis of the intermediate and target
compounds are discussed and the structures of the synthesized compounds
were confirmed by the IR and 1H-NMR spectral data. The results revealed that
some compounds exhibited promising antibacterial and antifungal activities while
they lack any antitubercular effeciency.