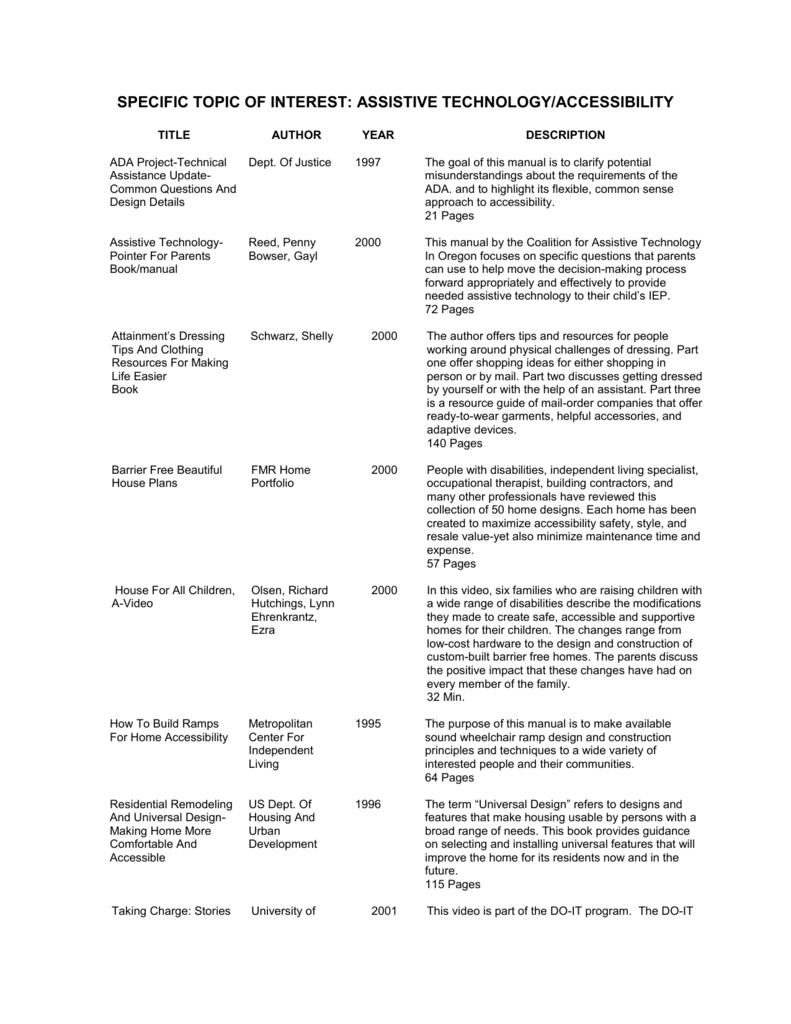 SPECIFIC TOPIC OF INTEREST: ASSISTIVE TECHNOLOGY/ACCESSIBILITY
TITLE
AUTHOR
YEAR
DESCRIPTION
ADA Project-Technical
Assistance UpdateCommon Questions And
Design Details
Dept. Of Justice
1997
The goal of this manual is to clarify potential
misunderstandings about the requirements of the
ADA. and to highlight its flexible, common sense
approach to accessibility.
21 Pages
Assistive TechnologyPointer For Parents
Book/manual
Reed, Penny
Bowser, Gayl
2000
This manual by the Coalition for Assistive Technology
In Oregon focuses on specific questions that parents
can use to help move the decision-making process
forward appropriately and effectively to provide
needed assistive technology to their child's IEP.
72 Pages
Attainment's Dressing
Tips And Clothing
Resources For Making
Life Easier
Book
Schwarz, Shelly
2000
The author offers tips and resources for people
working around physical challenges of dressing. Part
one offer shopping ideas for either shopping in
person or by mail. Part two discusses getting dressed
by yourself or with the help of an assistant. Part three
is a resource guide of mail-order companies that offer
ready-to-wear garments, helpful accessories, and
adaptive devices.
140 Pages
Barrier Free Beautiful
House Plans
FMR Home
Portfolio
2000
People with disabilities, independent living specialist,
occupational therapist, building contractors, and
many other professionals have reviewed this
collection of 50 home designs. Each home has been
created to maximize accessibility safety, style, and
resale value-yet also minimize maintenance time and
expense.
57 Pages
House For All Children,
A-Video
Olsen, Richard
Hutchings, Lynn
Ehrenkrantz,
Ezra
2000
In this video, six families who are raising children with
a wide range of disabilities describe the modifications
they made to create safe, accessible and supportive
homes for their children. The changes range from
low-cost hardware to the design and construction of
custom-built barrier free homes. The parents discuss
the positive impact that these changes have had on
every member of the family.
32 Min.
How To Build Ramps
For Home Accessibility
Metropolitan
Center For
Independent
Living
1995
The purpose of this manual is to make available
sound wheelchair ramp design and construction
principles and techniques to a wide variety of
interested people and their communities.
64 Pages
Residential Remodeling
And Universal DesignMaking Home More
Comfortable And
Accessible
US Dept. Of
Housing And
Urban
Development
1996
The term "Universal Design" refers to designs and
features that make housing usable by persons with a
broad range of needs. This book provides guidance
on selecting and installing universal features that will
improve the home for its residents now and in the
future.
115 Pages
Taking Charge: Stories
University of
2001
This video is part of the DO-IT program. The DO-IT
Of Success And SelfDetermination-Video
Washington
program promotes the success of individuals with
disabilities in academic programs and careers, using
technology as an empowering too.
16 Min.