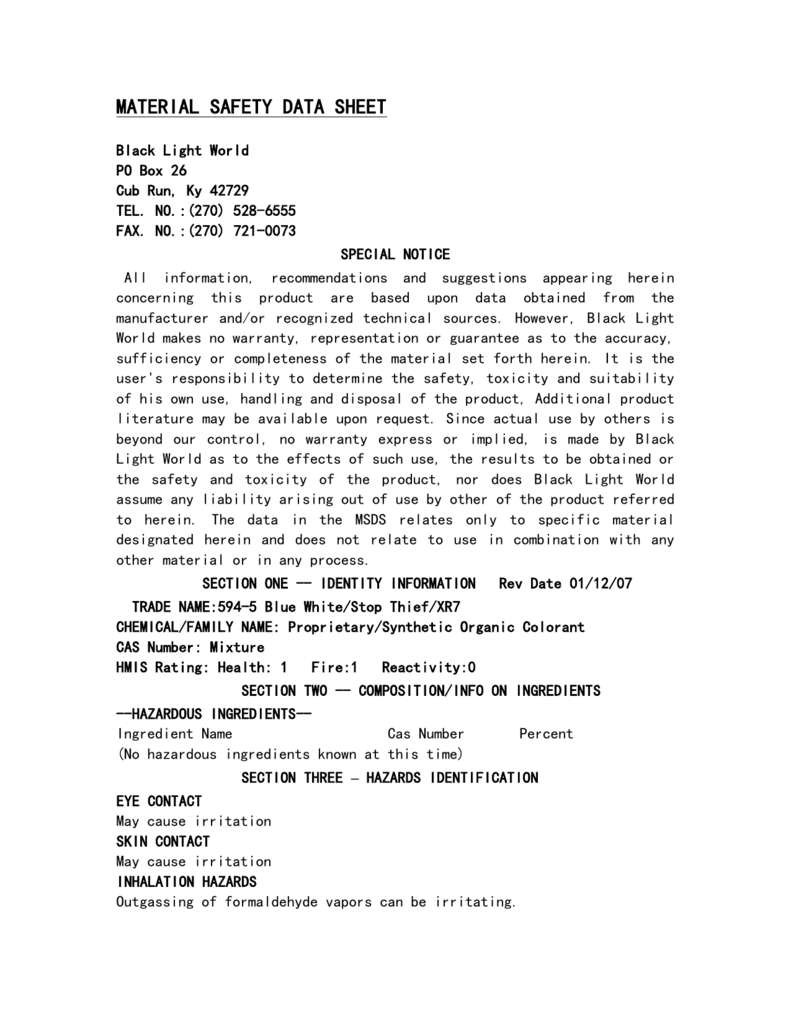 MATERIAL SAFETY DATA SHEET
Black Light World
PO Box 26
Cub Run, Ky 42729
TEL. NO.:(270) 528-6555
FAX. NO.:(270) 721-0073
SPECIAL NOTICE
All information, recommendations and suggestions appearing herein
concerning this product are based upon data obtained from the
manufacturer and/or recognized technical sources. However, Black Light
World makes no warranty, representation or guarantee as to the accuracy,
sufficiency or completeness of the material set forth herein. It is the
user's responsibility to determine the safety, toxicity and suitability
of his own use, handling and disposal of the product, Additional product
literature may be available upon request. Since actual use by others is
beyond our control, no warranty express or implied, is made by Black
Light World as to the effects of such use, the results to be obtained or
the safety and toxicity of the product, nor does Black Light World
assume any liability arising out of use by other of the product referred
to herein. The data in the MSDS relates only to specific material
designated herein and does not relate to use in combination with any
other material or in any process.
SECTION ONE -- IDENTITY INFORMATION
Rev Date 01/12/07
TRADE NAME:594-5 Blue White/Stop Thief/XR7
CHEMICAL/FAMILY NAME: Proprietary/Synthetic Organic Colorant
CAS Number: Mixture
HMIS Rating: Health: 1
Fire:1
Reactivity:0
SECTION TWO -- COMPOSITION/INFO ON INGREDIENTS
--HAZARDOUS INGREDIENTS-Ingredient Name
Cas Number
Percent
(No hazardous ingredients known at this time)
SECTION THREE – HAZARDS IDENTIFICATION
EYE CONTACT
May cause irritation
SKIN CONTACT
May cause irritation
INHALATION HAZARDS
Outgassing of formaldehyde vapors can be irritating.
INGESTION HAZARDS
Small amounts swallowed are not likely to cause injury. Not a hazard in
normal industrial use.
TARGET ORGANS
No organs affected.
CANCER HAZARDS
This product contains less than o,1% free formaldehyde and may be
capable of outgassing formaldehyde at levels in excess of OSHA'S Action
Level under some conditions of use. Formaldehyde is a potential cancer
hazard. Long term exposure may result in dermatitis or respiratory
sensitization for sensitive individuals.
SECTION FOUR -- REACTIVITY DATA
EYE CONTACT: Flush with large amounts of water for 15 minutes while
holding the eyelids open. Call a physician.
SKIN CONTACT: Practice good industrial hygiene. Wash with soap and
water.
INHALATION: Remove to fresh air. Treat symptoms, Call physician.
INGESTION: Do not induce vomiting. Give water. Call a physician.
SECTION FIVE – FIRE-FIGHTING MEASURES
Flammability Class
Flash Point
Explosive Range
NA
None
None
FLAMMABLE PROPERTIES
During a fire, irritating and toxic gases may be formed. Do not breathe
smoke or fumes. Wear suitable protective equipment.
EXTINGUISHING MEDIA
Use dry chemical, alcohol foam, carbon dioxide or water spray when
fighting fires involving this material.
FIRE FIGHTING INSTRUCTIONS
Keep unnecessary people away. Isolate area. Stay upwind. Wear self
contained breathing apparatus.
SECTION SIX – ACCIDENTAL RELEASE MEASURES
CONTAINMENT: This material is hydrophobic and should be prevented from
entering sewer system.
CLEAN-UP: Place in an appropriate recovery or salvage drum for disposal.
CERCLA/SUPERFUND AMENDMENTS AND REAUTHORIZATION ACT (TITLE III)
This is not a regulated material under 40 CFR 117, 302. Notification of
spills is not required.
EVACUATION: Not normally necessary. Refer to your organizations Release
Response Procedures.
SECTION SEVEN – HANDLING AND STORAGE
HANDLING: Use in a well ventilated area. Improper handling may lead to
dust cloud formations which, as with any organic dust, may be an
explosive hazard.
STORAGE: Store in a dry area.
SECTION EIGHT – EXPOSURE CONTROLS/PERSONAL PROTECTION
Occupational Exposure Limits
ACGIH TLV
ACGIH TLV-C
ACGIH STEL
OSHA STEL
OSHA PEL
Although no exposure limit has been established for this product, the
OSHA PEL for nuisance dust of 15 mg/m3 total dust and 5 mg/m3 respirable
dust is recommended. In addition, the ACGIH TLV for nuisance dust is
10mg/m3.
ENGINEERING CONTROLS: General ventilation is recommended. Additional
local exhaust ventilation is recommended where dusts, mists, or vapors
may be released.
RESPIRATORY PROTECTION: A NIOSH approved respirator with a combination
formaldehyde/HEPA cartridge is recommended.
PERSONAL PROTECTON EQUIPMENT: Where contact is likely, chemical
resistant gloves and safety glasses or goggles are recommended.
SECTION NINE – PHYSICAL AND CHEMICAL PROPERTIES
Form:
Powder
Appearance Color:
Colorless
Odor:
Pungent
Solubility (in water):
Insoluble
Boiling Range:
None
Evaporation Rate:
Non Volatile
Vapor Density:
Non Volatile
% Volatile Weight:
0.%
% Volatile Volume:
0.%
Weight/Gallon:
11.41
VOC:
None
SECTION TEN – STABILITY AND REACTIVITY
Stability:
This product is stable
Hazardous Polymerization:
Hazardous polymerization will not occur.
CONDITIONS TO AVOID: Heat, sparks, and open flame.
INCOMPATABILITIES: Strong oxidizers.
HAZARDOUS DECOMPOSITION PRODUCTS: In the event of combustion, oxides of
carbon, nitrogen and sulfur will be formed.
SECTION ELEVEN – TOXICOLOGICAL INFORMATION
Acute oral toxicity (Albino Rats): LD50 >16,000 mg/kg
Acute inhalation (Albino Rats): LD50 >4 mg/l (4 hours)
Acute dermal toxicity (Albino Rats): LD50 >23,000 mg/kg
SECTION TWELVE – ECOLOGICAL INFORMATION
No studies have been conducted on this product.
SECTION THIRTEEN – DISPOSAL
Dispose of in accordance with local, state, and federal regulations.
UN Number
Packing Group
Hazard Clas
Shipping Name
SECTION FOURTEEN – TRANSPORT INFORMATION
NOT REGULATED
SECTION FIFTEEN – REGULATORY INFORMATION
SARA TITLE SECTION 313
This product contains no chemicals subject to the reporting requirements
of Section 313 of the emergency planning and community Right-To-Know Act.
CALIFORNIA PROPOSITION 65 (CARCINOGEN)
This product contains a chemical known to the state of California to
cause cancer.
Ingredient Name
CAS Number
FORMALDEHYDE
00050-00-0
OSHA HAZARD COMMINICATION STANDARD, 29 CFR 1910.1200
This product is not considered hazardous as defined.
SARA SECTIONS 311 AND 312
Reporting of this product is not required.
TOXIC SUBSTANCES CONTROL ACT (TSCA)
All components in this product are listed, or are excluded from listing
on the U.S. Toxic Substances Control Act (TSCA) 8(b) inventory.
CLEAN WATER ACT
This product contains no ingredients regulated by the Clean Water Act.
CLEAN AIR ACT
This product contains no ingredients regulated by the Clean Air Act.
HAZARDOUS AIR POLLUTANTS (HAPS)
This product contains no Hazardous Air Pollutants (HAPs).
CLEAN AIR ACT AMMENDMENTS (ODS)
No Black Light World product contains an ozone depleting substance (ODS),
nor are any of our products manufactured with them.
COALITION OF NORTHEAST GOVERNORS (CONEG)
This product is in compliance with CONEG (i.e., total cadmium, chromium,
lead and mercury < 100ppm).
FDA 21 CFR
Black Light World products are not listed by the FDA for use under 21
CFR since potential applications are so numerous that specific
applications must be submitted to the FDA for inclusion in the 21 CFR
FDA listing.
SECTION SIXTEEN – OTHER INFORMATION
LABEL INFORMATION
594-5 Blue White/Stop Thief/XR7
HEALTH-1 FLAMMABILITY-1 REACTIVITY-0
PRECAUTIONS: Contains less than 0.1% formaldehyde a potential cancer
hazard. May outgas to levels above OSHA'S action level with possible
respiratory sensitization. Use and store with adequate ventilation. As
with most organic dusts there is a possible dust explosion hazard with
ignition source.
FIRST AID: EYES: Flush with water for 15 minutes. SKIN: Wash with soap
and water. INGESTION: Give water, do not induce vomiting. Call a
physician.
FIRE FIGHTING USE: Water spray, dry chemical, foam or CO 2 (Toxic fumes
emitted on burning).
SPILL CONTROL: Sweep up and dispose according to local, state, and
federal regulations.
CONTAINS:
CAS NO. OR NJ TSRN
RESIN
39277-28-6
TARGET ORGANS: NO ORGANS AFFECTED.
MATERIAL V.O.C.: NONE
CALIFORNIA PROP 65: This product contains a component known to the state
of California to cause cancer: Formaldehyde (50-00-0).
DISCLAIMER
The information contained herein is believed to be accurate, but is not
warranted. Nothing contained herein constitutes a specification, nor is
it intended to warrant suitability for the intended use.